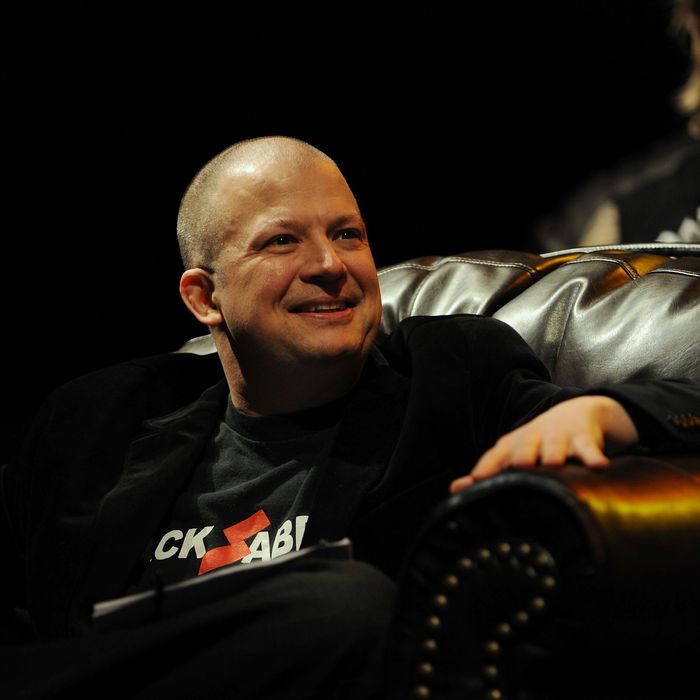 Norton, in what is apparently a very big chair.
Photo: Allen Berezovsky/Getty Images
For a person who spends a lot of time making last-minute cross-country trips, Jim Norton is a surprising creature of habit. "It's so hard for me to not eat badly," says the Opie & Anthony co-host. "When I find something that's healthy that I can tolerate, I eat it every day until I'm sick of it." That means a lot of Weight Watchers Smart Ones when he isn't flying to L.A. (or back). In fact, this past week saw Norton flying to Los Angeles not once, but twice, to do the Tonight Show to promote Please Be Offended, a new stand-up special airing tomorrow night on Epix. For a look at a life that involves impatient Justin Bieber fans, a dinner-companion-for-hire, and great Middle Eastern food from a comedy club, read on in this week's New York Diet.
Friday, June 22
Every morning, I have the same thing for breakfast: scrambled egg whites, a medium Starbucks coffee with skim milk, a banana, and a little bit of low-fat cottage cheese. I eat that every morning. An intern from the radio show gets the coffee for me.
Right after the show, I spent most of the day flying to L.A. for the day to do a segment on Leno called "Woulda Shoulda Coulda" with me and two other guests. I did not want the turkey sandwich option on the plane, so I had the prawns. But I also had pumpkin soup because somebody didn't want their pumpkin soup—which came with the turkey sandwich — so, of course, I took it and shoveled it into my face.
After we taped the show, I did a set at the Improv and went back to the hotel.
Because of the travel, the food on Friday wasn't that interesting. More interesting is what I had for dinner the night before in New York: grilled salmon with Brussels sprouts. I went to Porter House, my favorite restaurant. I was with a woman who was not with me for free. I think she had a filet with some kind of a salad and no vegetables, and I think she had wine. I don't drink at all. I just had unsweetened iced tea.
She didn't charge me for dinner, because I wouldn't pay somebody to eat with them. But as a part of the night, she was like, "Yeah, we can go out and eat first, if you want," so I was like, "Oh, okay," and then we went home and kind of hung out. I had her for technically an hour, but she was cool with doing something else beforehand because she was kind of familiar with me, so she didn't mind going out and eating. So we spent probably two and a half hours together.
Once you have sex, let's be honest — she just wanted to get out of there. She had to fake it like she was having the time of her life. And I had to pretend that it didn't suck — it's a big acting job that you're both doing.
Saturday, June 23
I flew back to New York Saturday morning because I didn't want to lose the Comedy Cellar set that I had that night. I had the regular cheese omelette on the plane coming home.
For lunch, I had a Smart Ones Weight Watchers, one of their six or seven points ones. I'm not obese at all, but I want to lose, like, fifteen pounds, and I just can't stop eating pretzels with mustard. So I'm trying to eat meals so I know how much I'm eating. You don't realize, when you're sitting there shoving pretzels into your face at one o' clock in the morning, that's a lot of weight. It's a low-fat snack, but it's a lot of weight.
Saturday night at the Comedy Cellar, I had my regular tabouleh salad with grilled chicken and a skewer. I always just eat the tabouleh at the Cellar, because I finally found something healthy. They have a great Middle Eastern menu there.
After my set at the Cellar I went to Anthony's house — from Opie and Anthony — and I just hung out with him and two other guys. It was really uneventful, but I wound up eating badly: lime Tostitos, Twizzlers, and potato chips. Anthony drank about a keg of alcohol.
Sunday, June 24
I never cook, and I have a great kitchen. I have an amazing kitchen for New York — it's one of the reasons I bought my condo. But I can't cook for anything, and now I'm learning that plastic gives you cancer. And all this stuff I microwave, like all these Smart Ones, it's like, I gotta start to cook because plastic is obviously very bad for me to be eating.
That said, for lunch, I had a Smart Ones. They have a good Salisbury steak. I like all their stuff, honestly. They have this one fettuccine pasta, which I like, but I think it's, like, seven points.
I did a set at the Cellar, then I went to a place called Gobo on Sixth Avenue and ate vegan. I rarely eat vegan, but I was with a friend. I had Vietnamese stir-fry, some steamed dumplings, and a large veggie juice to drink.
Monday, June 25
I got up at 5:30 and did the radio show for four hours in the morning, where I had my scrambled egg whites, medium Starbucks coffee with skim milk, a banana, and a little bit of low-fat cottage cheese. Then I did a radio interview for the Comedy Channel on Sirius XM.
I was supposed to do Hannity that night, but he canceled because of the impending Supreme Court decision. After I found out I was canceled, I worked on an article for Esquire instead. Then I went to the gym. I go to the gym in my building: I force myself to do the elliptical machine; I can't do anything else.
For lunch, I had the Smart Ones microwavable Asian sweet-and-sour chicken. Then I had one of their low-fat toffee ice-cream bars. I like their ice-cream snacks. They're, like, three or four points, and they're phenomenal. I eat one of those after almost every meal. It's really, really hard to not eat those.
Then I went to the Comedy Cellar that night, where again I had the tabouleh. You always know where I am by my menu.
Tuesday, June 26
Scrambled egg whites, a medium Starbucks coffee with skim milk, a banana, and a little bit of low-fat cottage cheese.
Did morning radio and immediately got in a car to the airport to L.A. Continental is my plane of choice, but NBC has a deal with American, and their plane is great, so I'm happy to take the American plane back and forth. I had the prawn dish in sauce again, this time with some nuts. I flew all day and landed in L.A.
For lunch, I had Caesar salad, with grilled chicken on the side at my hotel, the London. Then I did a set at the Melrose Improv. Then I did the Jim Jeffries and Eddie Ifft podcast in Venice at 9:30 p.m. after my improv set, then I came back to my hotel, and Jay Mohr came to my hotel at midnight and recorded his podcast with me from 12 to 1:30 a.m.
I had some pretzel nuggets before going to bed. It's really hard — like, I try to eat healthy, but when you're in a hotel with a mini bar, it's really hard not to shove a lot of fattening food into my face. I try to eat healthy, but it's very difficult.

Wednesday, June 27
I woke up and had a fruit plate and egg whites from room service, with dry wheat toast, fruit, and coffee. Then I was off to tape Leno.
The green room is great — they have potato chips, and liquor, and soda — I've been in every green room you could be in because of all the time on the Jay Leno show and stuff. I ate some fruit off a fruit plate when I walked in. I only eat fruit in dressing rooms.
The Friday segment was just a little segment after the monologue. This was actually as a guest to promote my special, so it was Mila Kunis and then me, and then Justin Bieber sang. When they first announced Justin Bieber in the beginning of the show — the screams! These are not Leno watchers, these are 16-year-old girls. So they think the longer I talk, the less they see Justin Bieber. Basically they're associating me with not seeing Justin Bieber. So I should have addressed that with them. I wanted to tell them, "Guys, they're not going to bump Justin for me. Relax."
My manager and I flew to some sushi place and made it right before they closed at 9:45. I had salmon, sea urchin, crab — it was amazing. A lot of people won't eat sea urchin because it tastes like the ocean, but if it's a place you trust, it's actually really good. I enjoy it. Afterwards, we went to a place on Santa Monica Boulevard called the Yogurt Shop, where I had cake-batter-and-Oreo-cookie-dough frozen yogurt. Back to the Smart Ones tomorrow.