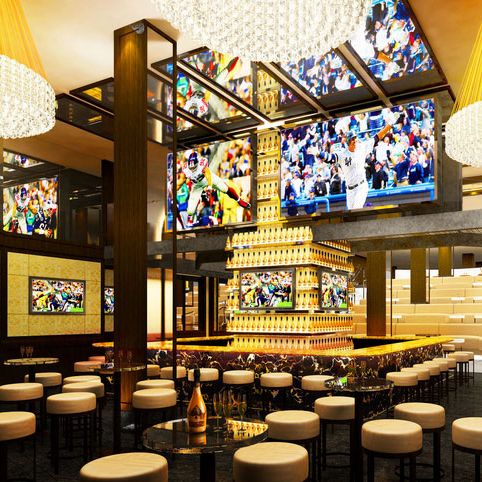 Move over, handcrafted pickles.
Photo: Cynthia Chung
Kings County, that utopia of beardos and their artisanal beef jerky enterprises, is about to get an awakening, courtesy of none other than the H-O-V. Grub learns that Jay-Z's 40/40 Club is headed to the Brooklyn Nets' Barclays Center development. "There is no better home for another 40/40 Club location than the new Barclays Center in Brooklyn," quoth Jay in the press release, so it must be true. Central BK residents, time to stock up on short skirts and high shoes; this one should bow in September. See the announcement below.
JAY Z BRINGS THE 40/40 CLUB TO BROOKLYN'S BARCLAYS CENTER

Brooklyn, NY (June 14, 2012) - JAY Z'S The 40/40 Club will open its new location in Brooklyn's Barclays Center, the new sports and entertainment venue and home to the Brooklyn Nets. The $1 billion arena will house the 9,000 square-foot restaurant slated to debut on the arena's opening night when JAY Z performs in concert on September 28, 2012.

"There is no better home for another 40/40 Club location than the new Barclays Center in Brooklyn," stated JAY Z. "The 40/40 Club has revolutionized restaurants in a way I anticipate Barclays Center to transform the arena watching experience."

Located on the Barclays Brownstone Suite Level, The 40/40 Club will feature key materials and design concepts from its newly renovated New York City flagship location, including the custom illuminated amber resin bar top. The design for the space is by SHoP Architects with consultation from designer Jeffrey Beers to ensure a consistent look and feel with the flagship venue. The new location in Barclays Center will feature 36 TVs, including eight 80'' TVs on the outside of the bar soffit, and will also offer great views of the basketball court.

"The 40/40 Club at Barclays Center will provide a dynamic environment to complement the experience of attending Brooklyn Nets games and other select events," said Barclays Center and Brooklyn Nets CEO Brett Yormark. "The 40/40 Club will deliver the best in service and cuisine, while creating a vibe fitting for such a spectacularly designed venue."

Brooklyn Nets All Access season ticket holders will be offered first access to reservations.

About The 40/40 Club
The 40/40 Club is an all American sports bar and restaurant owned by hip-hop mogul JAY Z and partner Juan Perez with locations in New York City and Atlantic City. For more information visit www.the4040club.com, follow them on Twitter @the4040 or become a fan on Facebook at www.facebook.com/4040club.

About Barclays Center
Scheduled to open in September 2012, Barclays Center will be a major sports and entertainment venue in the heart of Brooklyn, New York. Developed by Brooklyn-based real estate developer Forest City Ratner Companies, and designed by the award-winning architectural firms AECOM (www.aecom.com/architecture) and SHoP Architects (www.shoparc.com), Barclays Center will have one of the most intimate seating configurations ever designed into a modern multi-purpose arena, with unparalleled sightlines and first-class amenities. Barclays Center will offer 18,200 seats for basketball and up to 19,000 seats for concerts, and will also have 100 luxury suites, four bars/lounges, three clubs, and a restaurant, The 40/40 Club.

Barclays Center will host an extensive variety of events, including premier concerts, monthly major professional boxing cards, top college basketball, family shows, professional hockey, and the Brooklyn Nets. Some of the special programming that is already scheduled includes JAY Z, who will open the building on September 28 with the first of his multiple concerts, Barbra Streisand, Andrea Bocelli, Justin Bieber, Journey, Leonard Cohen, Rush,UB40, Maxi Priest, Hezekiah Walker, The King's Men gospel concert with Kirk Franklin, Marvin Sapp, Donnie McClurkin, and Israel Houghton, 2012 Verizon's How Sweet the Sound™, Russell Peters, the Barclays Center Classic men's college basketball tournament, Atlantic 10 Men's Basketball Championship, Coaches vs. Cancer Classic, Islanders vs. Devils game, Ringling Bros. and Barnum & Bailey Circus and Disney on Ice, and the New York Masters equestrian show jumping. Current programming alliances with Barclays Center include Golden Boy Promotions, IMG, Feld Entertainment, Lagardère Unlimited, and the Brooklyn Academy of Music.

In addition to Barclays, the naming rights partner, Founding Partners for Barclays Center include Calvin Klein, Cushman & Wakefield, EmblemHealth, Foxwoods Resort Casino, MetroPCS, Stolichnaya, and Ticketmaster. Other sponsors include: Anheuser-Busch, The Coca-Cola Company, Haier America, HighPoint Solutions, LIU Brooklyn, New York Marriott at the Brooklyn Bridge, Tyco, and Willis.

Located atop one of the largest transportation hubs in New York City, Barclays Center will be accessible by 11 subway lines, the Long Island Rail Road, and 11 bus lines.