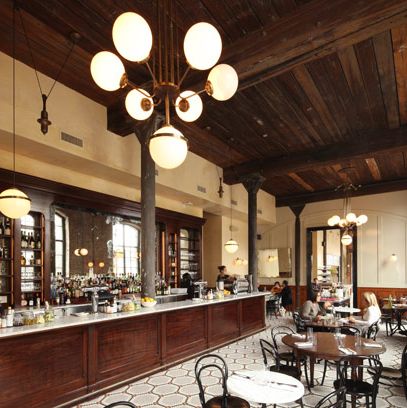 Everyone's talking about Reynards.
Photo: Melissa Hom
Adam Platt sat out the restaurant assessment this week, but his colleagues kept up their dining out. Read about what New York's crop of professional eaters ate (and what they thought), straight ahead.
Unlike the Daily News last week, Jay Cheshes says Andrew Tarlow's Reynards inside the Wythe Hotel is "the new kid on the block without ever trying to be." While guilty of solidifying Williamsburg's new levels of trendiness and priciness, the seasonal menu at Reynards impresses without being overwrought. Look for the squash soup, trout cooked in duck fat, and the chocolate pecan pie, Cheshes says. Tejal Rao agrees — the ambience is just right, and classic duck rillettes or a simple plate of layered fried sardines, roasted potatoes, yogurt, and fresh herbs bolts Tarlow's cred as Brooklyn's premier locavore (at least enough for her to overlook some under-crisped chicken fat or over-beaten cream).

Yemen Café is the latest eatery to bolster the Arab presence in Bay Ridge. Tender lamb shank is slowcooked in a taboon oven, which Robert Sietsema likens to Jabba the Hutt in the back of the restaurant. Besides a "dune" of basmati rice, a bowl of lamb consommé, and green salad, there are as many "hubcap-size" flat breads as you can eat. But Sietsema suggests that more adventurous diners try the salta — a Yemeni national dish that bubbles in a cauldron with a "foamy white gunk" on top.
Pete Wells finally got around to assessing Pok Pok Ny (maybe he was stuck in those impossible lines all this time). He likens Andy Ricker to the proprietors of Ayada in Elmhurst and Sripraphai in Woodside — who have real Thai roots. Wells likes the prawns in smoky noodles, an eggy pancake with sweet mussels, and spicy paste called naam phrik numb, which he says gave his perspective a "Copernican shift." He doles out two stars.
Again, Ryan Sutton is unhappy with his taxi-to-food-cost ratio. But at least there's free beer from a keg at Mission Chinese Food while you wait. Danny Bowien's triple-cooked bacon and "nuclear-powered" tofu are must-tries, Sutton says. As are the soju cocktails with a splash of cantaloupe juice to soothe your burning insides. Sutton awards two and a half stars.
The Daily News' Michael Kaminer likens Bowery Diner to the meatpacking district's legendary Florent — except with better food and no sense of place. Motorino's Mathieu Palombino makes a mean mac 'n' cheese. But his loftier dishes are where the diner stumbles, Kaminer says. However, Palombino still racks up three of five stars.
"Where once there were crostini, now there are pinxtos," at Francesca, the Franks' Spanish joint. Except this time the bread is only sometimes crisp, and toppings are "gloopy." The simple menu is often too simple (and bland), and The New Yorker quips that Francesca is too eager to show off what it knows about Spain.