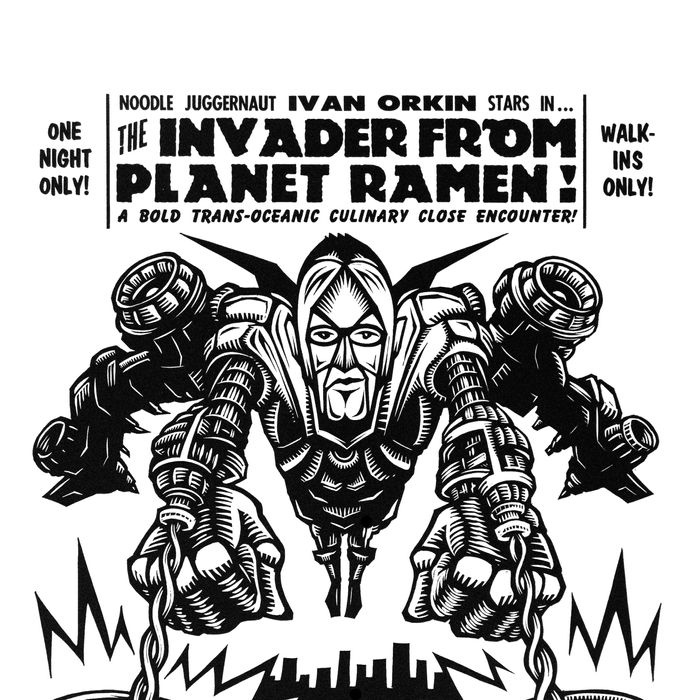 More noodles than Voltron, more dashi than Optimus Prime.
Photo: Courtesy of Momofuku
"I'm not trying to ride into New York on a white horse," says Ivan Orkin, a native of Syosset, New York, who cooked at Mesa Grill and Lutèce before he moved to Japan and opened two wildly successful ramen shops in Tokyo in 2007 and 2010. "I just want to make deeply flavored ramen and noodles from scratch," he says, "and that's all." To wit, Orkin is planning on opening his first Ivan Ramen outside of Japan. He's scouted real estate in Manhattan and Brooklyn for the past few months and has been meeting with investors (hit him up if you want to get on board). Though no location has yet been confirmed, Orkin is confident that Ivan Ramen NYC will be up and running by the end of the year.
The original ten-seat Ivan Ramen opened in 2007 in Setagaya, Tokyo, with a second, in Kyodo, in 2010. Being perceived as a Western interloper to a thriving market of some 80,000 shops dominated by tonkotsu masters and venerated traditions was a given, but Orkin's attention to detail won him praise from roving squads of scowl-faced ramen critics (such things exist), and his shio and mazemen took off. Sapporo Ichiban began production of an instant line, with Orkin's face on the microwave-safe bowl, and his origin story featured prominently in the first issue of Lucky Peach. The chef's ramen cookbook will be published by Ten Speed Press next fall.
Orkin, who imparts a bit of his Jewish upbringing to his menu by rendering his own schmaltz, says "ramen in Japan is really like a slice of pizza in NY," meant to be slurped on the fly. His preoccupation with any given bowl of soup, he says, is nailing what he calls the "slurping ratio" of fat and al dente noodles. To prepare for Ivan Ramen New York, Orkin is in full-on R&D; mode. The chef spent a few months getting the raw ingredients for his Stateside debut together and has been busy testing recipes. It's easy opening a ramen shop in Japan, he says, but of the ingredients here, "virtually nothing" is the same. "I'm working on a new dashi," he says, "a new noodle." Orkin will be serving ramen in Atlanta next week as part of the Baton Supper Series at Gato Bizco Café. In New York, Orkin will cook three kinds of ramen at Momofuku Noodle Bar on July 17. Like a true Tokyo ramen-ya, the Noodle Bar engagement will be walk-ins only, start at 5:30 sharp, and will go until "the ramen runs out."