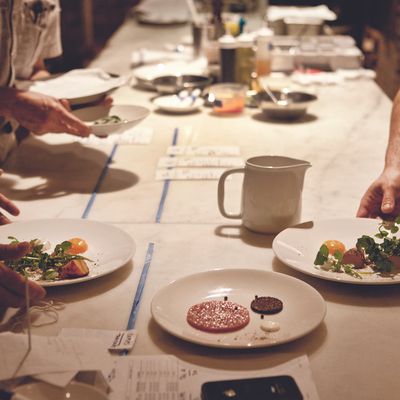 This pass will look more casual very soon.
Photo: Danny Kim
Some late news on the Isa front. Owner Taavo Somer sent out a statement tonight to chime in on exactly what's happening now that the kitchen staff is gone. Still no word on the reason for the split, but info on what to expect when the restaurant reopens Thursday: Staff members from Somer's other restaurants will take charge and overhaul the menu to "take full advantage of the great grill and wood-fired oven." Somer hopes to turn it into a neighborhood place that people will pop into a few times a week. Fans of former chef Ignacio Mattos's ambitious, spartan plates (we are) might be disappointed, but it sounds like the move will put Isa more in line with Somer's other spots. The full statement is straight ahead.
I always imagined ISA to be a casual, friendly, wood-fired place with Mediterranean cuisine that would be enjoyed by the neighborhood, families and friends, a few times a week.

Expect to see things that take full advantage of the great grill and wood-fired oven we designed - grilled, charred, wood-roasted, smoked foods and kid friendly items too.

I'm excited to have our chef team behind Freemans and Peels, who all worked together at Barbuto for many years, in to join us in making this casual Mediterranean vision come to life.