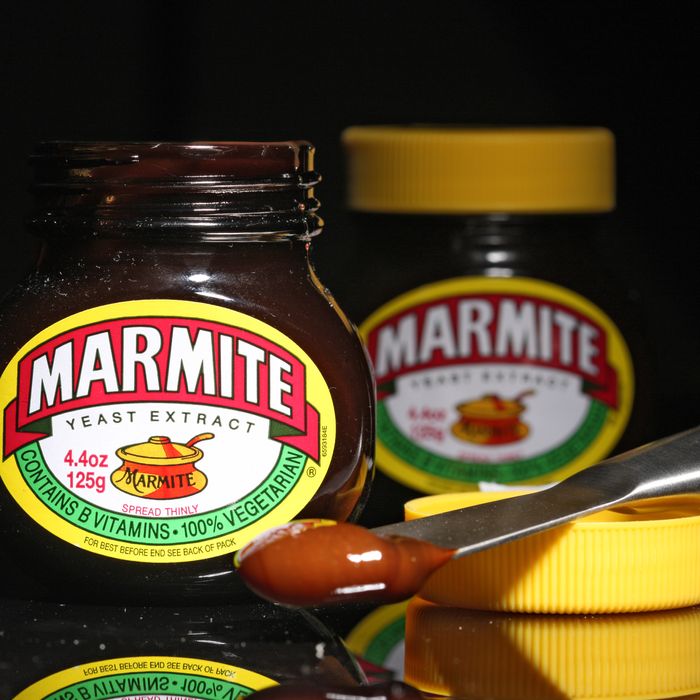 Trust us: It can be good.
Photo: Melissa Hom
Few condiments inspire strong feelings like the yeast extracts Marmite and Vegemite. An unscientific survey of my American friends and family deemed them universally awful, and when Barack Obama met Australia's prime minister, POTUS called Vegemite "horrible." I agree that when spread on toast, as it is in Australia, England, and New Zealand, they're putrid. But when you properly apply their deeply concentrated salty and savory flavors, you can put them to work in surprisingly engaging ways.
These spreads are a by-product of making beer: Spent brewer's yeast is boiled for days with salt and vegetables until it becomes a sticky, pungent brown paste. Germans invented the process, but it became famous in England, where the Marmite Food Extract Company was created in 1902 in a tiny town called Burton-on-Trent. Vegemite came along twenty years later.
Connoisseurs will debate the differences between Marmite and Vegemite, but for our purposes it's enough to say that Marmite is the English version and Vegemite is the Australian version.
And unless you grew up with it, the stuff doesn't taste great on its own — if there were such a thing as too much umami, yeast extract would have it. Like fish sauce, it's concentrated and pungent, loaded with the amino acid flavor compounds called glutamates. But that's why it works so well when combined with other ingredients: Its strength is softened and its umami-boosting properties can amplify a dish rather than overwhelming it.
Chefs (typically Brits, Aussies, or Kiwis) have put it to work in surprising ways: Jamie Oliver uses Marmite in a recipe for Dark, Sticky Lamb Stew. Brooklyn's Kiwiana restaurant, headed by New Zealand chef Mark Simmons, serves a very good Marmite-and-honey-glazed baby back rib. You can take a cue from those ideas, or simply try the recipes below.
Welsh Rabbit is a classic beer pairing, and the addition of Marmite gives it earthiness that the cheese-and-mustard alone don't have. It's great with a pint of stout. In the pad Thai, I swapped out the tamarind paste that usually serves as the dish's anchor flavor. The Marmite works almost like a stock, intensifying the dish. And in the Marmite-butter-basted chicken, the yeast extract accentuates the roasted flavor on the skin, achieving a slow-cooked flavor in the oven that would take much longer on a rotisserie.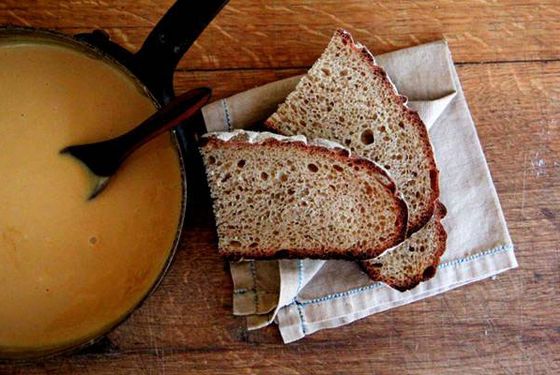 In case you're wondering, there's no actual rabbit here.Photo: Ian Knauer

Welsh Rabbit

Serves 4 to 6


3/4 cup warm water
2 teaspoons Marmite
1 tablespoon unsalted butter
1 tablespoons all-purpose flour
1 teaspoon Dijon mustard
6 oz sharp cheddar cheese
1 large egg yolk
Whisk together water and Marmite until dissolved.
Heat butter in a medium heavy saucepan over high heat until melted. Whisk in flour and cook roux until flour is golden, 2 to 3 minutes. Whisk Marmite mixture into roux in a stream and bring to a boil, whisking. Whisk in mustard and cheese, whisking until cheese is melted. Remove from heat and whisk in yolk. Serve with toast.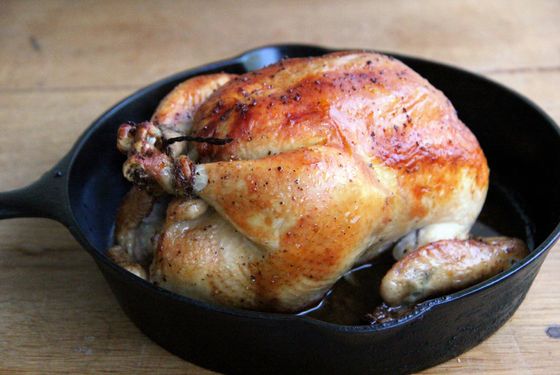 The yeast extract makes the chicken taste as if it's been roasted for hours.Photo: Ian Knauer

Marmite-Butter Roast Chicken

Serves 6


3 tablespoons unsalted butter
1 tablespoon Marmite
1/2 teaspoon freshly ground black pepper
1 (4 lb) chicken
Preheat oven to 400°F.
Melt butter in a 10-inch skillet (preferably cast iron) over medium heat. Whisk in Marmite and pepper until combined. Transfer butter mixture to a small container.
Truss chicken, then place in skillet and brush with about 1/2 of butter mixture. Place chicken in oven and roast 45 minutes. Brush chicken with remaining butter mixture then continue to roast until chicken is cooked through about 30 minutes more.
Let chicken stand 15 minutes before carving and serving.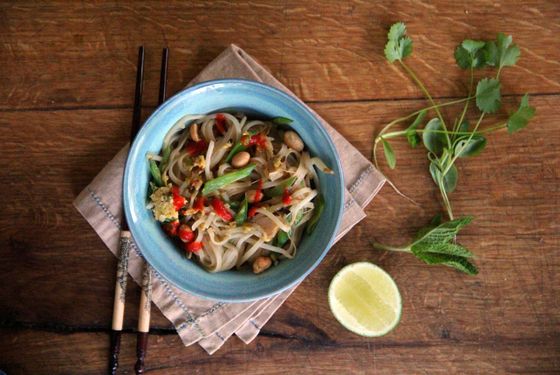 A British ingredient gives this Thai-American favorite a new dimension.Photo: Ian Knauer

Marmite Pad Thai

Serves 4 to 6


3/4 cup hot water, plus additional for noodles
1 tablespoon Marmite
1 tablespoon fish sauce
1 tablespoon soy sauce
1 tablespoon brown sugar
8 oz pad thai rice noodles
3 tablespoons vegetable oil
4 scallions, sliced
1 shallot, sliced
1 garlic clove, sliced
8 oz bean sprouts
5 oz sliced snow peas
2 large eggs, beaten
Garnishes: roasted, salted peanuts; cilantro; mint leaves; Sriracha sauce; lime wedges
Stir together 3/4 cup hot water with Marmite, fish sauce, soy, and sugar until combined, then reserve.
Soak noodles in hot water to cover, 10 minutes, then drain.
Heat oil in a large heavy skillet or wok over high heat until hot, then add scallions, shallot, and garlic, stirring until browned, about 6 minutes. Stir in sprouts and snow peas and cook, stirring, until crisp tender, about 4 minutes.
Whisk eggs into vegetable mixture in skillet and cook, whisking, until eggs are cooked. Add reserved sauce and noodles and cook, stirring, until noodles have absorbed liquid. Serve pad Thai with garnishes.
Ian Knauer is the author of The Farm: Rustic Recipes for a Year of Incredible Food.