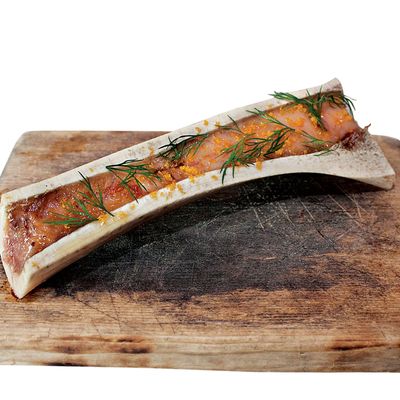 Photo: Michelle Feffer/New York Magazine
Now that Vinegar Hill House has made its microneighborhood a dining destination, its owners have added a 30-seat wine bar and café called Hillside next door, where guests can wait for their tables and locals will soon be able to pop in for doughnuts at breakfast and hefty deli sandwiches at lunch. Cheese, charcuterie, and East Coast oysters join dishes like roasted bone marrow (pictured) on the small-plates menu, and the wine list
rotates weekly, offering 20 to 30 selections by the glass ($7 to $16). Someone's having fun: "Island Wines" are culled from Ischia, Corsica, and the Canaries, and an entire section is devoted to Beaujolais Crus (70 Hudson Ave., at Water St., Vinegar Hill; 718-522-7957).

This story appeared in the June, 11, 2012 issue of New York Magazine.