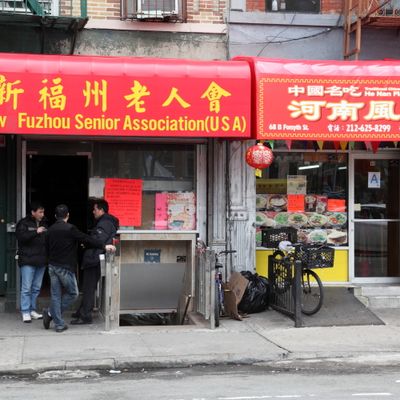 Get it today before it closes.
Photo: Dave Cook/Eating in Translation
One of our favorite Chinatown restaurants is He Nan Flavor, a narrow hideaway on Forsyth Street that specializes in the regional cuisine of China's Henan province (sister Henan Feng Wei is in Flushing). That means noodles, lamb, crispy pancakes packed with stewed pork, and the marvelous spicy big tray of chicken: a table-spanning mess of devil-red chile oil dotted with caraway, anise, Sichuan peppercorns, potato cubes, and bone-in bits of chicken. When we stopped into He Nan Flavor this morning to nab a pork pancake, the woman behind the counter informed us that tonight would be the restaurant's final night in business. "Rent," she said, as students flooded in for lunchtime plates of pepper chicken. The owners hope to reopen in the next few months on Allen Street, but nothing is certain.
Update: It seems there was an initial miscommunication: The restaurant is actually slated to close at the end of June.