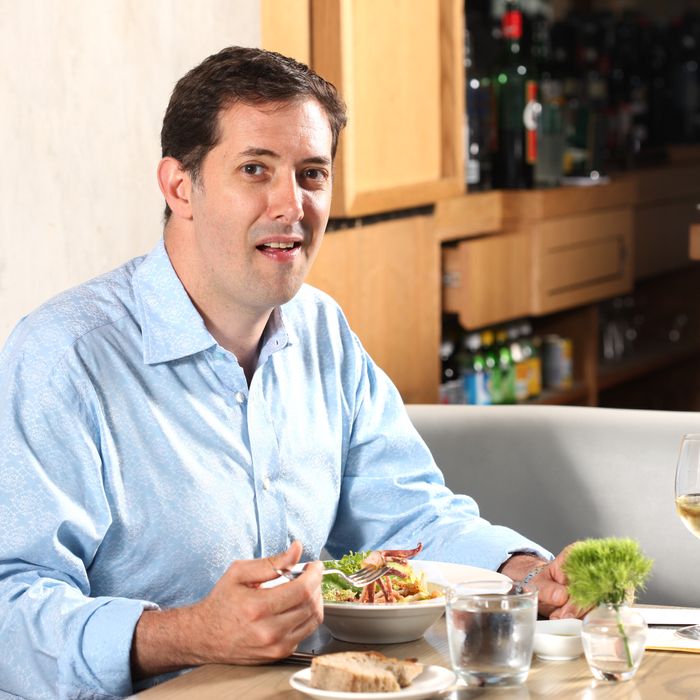 Anthony has Aldea all to himself.
Photo: Melissa Hom
You would think that something as life-altering as open-heart surgery would change your diet immensely, but Gramercy Tavern chef Michael Anthony, who underwent the procedure last October, says that isn't the case. "Because my case was a little special, it didn't really require me to pay attention to ingredients that I can't eat," he says. "I just wanted to live a little bit more regularly." So Anthony says he resolved to stop skipping meals: "In the past if I missed family meal, I just missed the meal and I would snack on something along the way." Now, though, Anthony compensates by doing something chefs don't always do: actually sitting down and eating full dishes at his own restaurant. "I always feel very self-conscious about asking our cooks to do that," he tells us. "But I feel like I generated so many more valuable comments about the way a dish is presented, or the way it eats, or proportions, or slight seasoning changes." (That newfound insight could be one reason why Anthony was named New York City's best chef at this year's James Beard Foundation Awards.) For a deeper look at how Anthony eats, read on in this week's New York Diet.
Friday, June 1
My doctor has okayed a cup of coffee or an espresso a day, so morning is where it happens. I have a great machine at home, a Rancilio Silvia. The guys at Blue Bottle are nice enough to provide me with some fresh-roasted beans, and I have an awesome grinder that I invested in, a little mini Mazzer. I love coffee, and when I had the surgery one of the things I had to give up was caffeine. It was one of the most difficult things, and now that I'm recovering, it's nice and I enjoy that espresso in the morning. I eat a lot of granola, as you'll see, and a lot of oatmeal, because I have a two-and-a-half-year-old, so that's kind of a practicality. If I make oatmeal for her, that's what I'm eating. That morning it was Haven's Kitchen granola from the Greenmarket, a treat. Very savory style of granola.
Lunch was at Aldea and it was awesome. Unfortunately George wasn't there at the time but I had a chance to sit down and to meet the whole team there, and I had a light, flavorful, vibrant, and really exciting meal. I had the seared calamari salad with ramps, spinach, and piri piri pepper vinaigrette; cod off the dinner menu with cauliflower, curried mango, and black olive. Dessert was honey-cinnamon cake with mint-infused strawberries and strawberry sorbet. That was my first visit, and it's in the neighborhood, so it's easy.
I go out a little bit, but with the two-and-a-half-year-old most of our meals are at home. We cook a lot at home, but we do go out. I tend to go out to new restaurants, so I'm a little jealous of people who tend to talk about their favorite restaurants. I like a lot of restaurants, but I rarely go back to the same one twice.
Dinner was soft pork tacos for family meal at G.T. One of the sous chefs made a real, awesome San Francisco/Mexican taco. We eat well at our family meals. We spend money and time on cooking food that tastes great, so it's not just an afterthought. That is probably the key to the morale of any restaurant. When you show that you care and respect your colleagues, you show it through the food.
Saturday, June 2
Hawthorne Valley Granola and Yogurt. Espresso.
Lunch was a grilled-cheese sandwich. It sounds kind of homely, but it was a revelation. Zachary, the owner and baker of Bien Cuit brought me a sample of his pain de mie, which is ultimately just white bread, but in his hands, it was an awesome loaf of bread, so I sliced it and made a sandwich out of it with cheddar from New York Organic. They're a great cooperative from central New York and they're available at Eataly and even through Fresh Direct now. They make a very simple style of cheddar cheese that highlights raw milk from central New York. So I just cut that stuff thin and toasted it on the white bread and grated some cheese over the top and made an awesome grilled-cheese sandwich. That was a simple one, but a great one.
And then for dinner, sometimes we eat all vegetables, and that was the case. It was a hearty salad, roasted asparagus, shaved asparagus, sugar snaps, and farro. I usually do the cooking at home. My wife is a really good cook, and sometimes I beg her, but it ends up being me. I don't know. I'm a little quicker.
Sunday, June 3
Haven's Kitchen Granola. Espresso.
Lunch was not fancy. It was Daddy Day, so my daughter Addie and I had a picnic in the park. We were sitting by the big conservatory pond where they do the little sailboats and we ate carrot sticks and cottage cheese.
Dinner was late, after I got Addie into bed. It was a bowl of nice hearty lentils with a little summer flounder sautéed over the top. I just chop up a lot of scallions, and carrots, and turnips and put them into the lentils and it makes them a little softer with every bite.
Monday, June 4
Espresso for breakfast and "bird food." We actually serve this in the restaurant on a duck dish. It's a ten-grain mix from Cayuga, but it literally looks like a bag of bird food. It has a little millet, amaran, spelt, and crushed polenta, and barley. It's this incredible mix of grains and when you cook it, it comes out soft like oatmeal. It has tons of texture, so I love it.
Lunch was at the restaurant. Chilled broccoli soup with fiddlehead ferns, and a radish, beet, and quinoa salad. we made a couple of adjustments to the salad after I ate that one. We created a ginger vinaigrette to brighten it up.
Dinner was at the restaurant, too. Chicken breast and sausage. We added the ramp-and-chicken sausage to the dish because the birds are big; and after the fifth or sixth bite of any dish it gets a little monotonous. So we decided to decrease the portion of the breast and add some other stuff and interesting flavor through the homemade sausage, along with the thigh meat which gets smoky on the grill so it's kind of like chicken bacon.
Tuesday, June 5
Espresso and buckwheat pancakes, which are my daughter's favorite.
Lunch was a sandwich from the Tavern: smoked short rib with garlic aioli. We shaved these salted and smoked short ribs paper thin, so it's not a gut-busting sandwich. It's got lots of pickles and salad on it, and then grilled scallions and homemade focaccia. And during family meal I had a big bowl of daikon and carrot slaw.
Dinner was at the restaurant. It's a flounder entrée. We make an asparagus sauce out of marinating asparagus with a little bit of vinegar, and we finish it with avocado and yogurt, with a garnish of roasted asparagus, cucumbers, and radish over the fish. I think the fish dish shows off the delicate side of our cooking.
Then I broke my rule and ate late-night. I had a handful of Japanese rice crackers when I was catching up with the NBA playoffs.
Wednesday, June 6
McCann's steel-cut oatmeal. Espresso.
Lunch was family meal. Braised beef and carrots with barley. And a bowl of sweet peas as we worked on a photo shoot from the Gramercy Tavern cookbook. We took our last picture for the book this week, though we're still a year away from its release.
I skipped dinner. I announced the promotion of one of our cooks to sous chef, so I didn't get any dinner. But our pastry chef, Nancy Olsen, made a chocolate peanut butter cookie. I had that with a glass of milk.