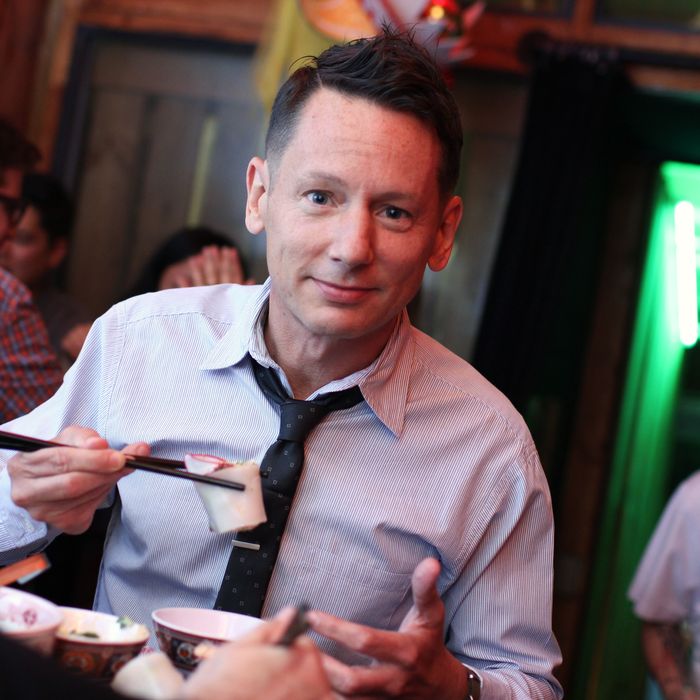 Nelson digs in at Mission Chinese.
Photo: Melissa Hom
"I'm the new bridge and tunnel," says Jim Nelson, the editor-in-chief of GQ. "I live in Manhattan and I spend a lot of time eating out in Brooklyn — a lot of my favorite places are there." Part of that shift in focus is due to an increasing love of spots like Pok Pok Ny and St. Anselm. "What impresses me now is the care that people are giving for food that sometimes didn't get that kind of attention," he says. "You go to Pok Pok and there's like 27 ingredients in this thing that's 14 bucks." He adds, "I go to the places nowadays that are white tablecloth, and I just feel uncomfortable in them — they lack the, sort of, gustatory pleasures of smaller establishments." Nelson, who joined GQ in 1997 and has been EIC since 2003, says he's seeing a shift in his readers' interests, too. "Often, I'll sit and think, Are people going to care about food trucks in Portland? Or are they going to care if I send Brett Martin to Japan with David Chang? I'm always surprised by the fact that they do." To read more about gustatory pleasures in Brooklyn, Manhattan, and the Delaware River, read on in this week's New York Diet.
Friday, June 8
Friends the night before were making fun of the way Canadians eat, how they'll cut holes in their morning toasts and put eggs in it like clueless vulgarians — what rubes, those Canadians! They even call them "toad holes" — so that morning my partner John-Mario got up and made whole-grain toast with an egg in the hole. Just to defend Canadians, ya know? Respect the Canuck! We slathered it with Lingham's hot sauce, the secret ingredient we get at Dickson's that makes everything magically delicious. You could pour Lingham's on raw horse heart and you'd ask for more.
Little known fact: The tastiest tacos in Manhattan are in the Essex Street Market, at the mal-named Brooklyn Tacos. The guaco taco? Just about the smartest $3.85 you can spend on lunch. Must be consumed with Mexican Coke.
The designer Neil Barrett and his boyfriend Carlo were in town from Milan, so we met them at Perla. Neil and Carlo are lovely and sweet people who seek a certain fabulousness in every part of their life, including their dining spots. So when I have friends like that in town, I'm always trying to suggest a place that is a little fabulous but not attitudinal, that balances the buzz with what I look for most, which is tasty, simple food; a smart and varied wine list; and a general ambient warmth. And if they happen to be serving pork chops with polenta, cippolini onions, and a grain mustard vinaigrette, as Perla was, so much the better. Neil and Carlo, being chic boys, drank chic cocktails, but I drank white wine lightly, reluctantly, like a lily-livered teetotaler.
Because: Midnight, and I had to drive! We spend most of my weekends at our place on the Delaware River, near New Hope, Pennsylvania — we have a small house on the Jersey side of the river — and I wanted to get out there that night and wake up there the next morning. Before we took off, I stopped and picked up some ice cream at Grom in the West Village, so we could dig our plastic sporks into some cioccolate fondante and get hopped up on a couple of espressos as we drove. The names of Grom's gelato are pretty absurd: I felt powerfully dorky saying "Yes, I'll have a small cup of the Barn eggs cream gelato with, uh, Langhe region corn biscuits and Columbian 'Teyun' chocolate chip, please." But the stuff is so good, I sucked it up.
Saturday, June 9
I woke up to the locust sound of lawn mowers. I got up, and said hey to the locust-guy who cuts my lawn, who then proceeded to asked me, at the eye-wincing hour of 9 a.m., where the liquor store was. Then he asked me if I had any beer. That filled me with morning sadness.
He mowed; we ground coffee with one of those fancy burr machines that GQ said I had to buy. The country can be loud.
I love breakfast (plus turbo-strong coffee) on weekends, sitting in our small glassed dining room, playing music, and looking out over the river. Breakfast that day, blessedly sans lawn mowers, was soft-scrambled eggs cooked the Mark Bittman way, where you break the curds down like Little Miss Muffett might. We had bacon and country sausage from a local New Jersey farm, and cooked them the simple, secret way the butcher told us: stick them in the oven at 400 degrees for twenty minutes (you just need to throw a little water on the sausage). The bacon comes out perfectly crisp, and there are no burning-hot grease blisters on your fingers. J-M made some black-eyed peas we had leftover, fired up more coffee, and I put on this great new record I'd just bought, Fire in My Bones, a compilation of howlin' gospel and come-to-Jesus blues. Thank you, Lord, for this gospel brunch.
To eat in or eat out? There are a ton of farm stands, farmers' markets, and surprisingly good restaurants out here, another reason we bought a place in this area. And almost all of the restaurants are BYOB, an advantage owing to New Jersey's hellish liquor-permit rules. Gabrielle Hamilton, the chef of Prune, grew up here and wrote about this place in her recent memoir; her father still has the mighty fine Hamilton's Grill. But…
During the week in the city I don't have time to cook, and end up eating out every night, so I love making dinner at home most weekends, and slowly getting drunk on wine while pretending to help John-Mario chop vegetables. So eat in it was! That night we cooked from the nearly perfect new cookbook, Plenty, from a London chef, Yotam Ottolenghi. It's an all-vegetarian cookbook that feels like it was written for meat lovers. (I'm proudly carnivorous, but my main complaint about most restaurants is that they don't care about cooking vegetables.) This was our second time making the black pepper tofu — crazy good, also crazy spicy — along with an avocado, quinoa, and fava bean salad that (almost) calmed the palate. Finally, a sweet corn polenta where you use fresh corn cut from the cob. You end up with a soft version of polenta, more like a porridge, much more flavorful, more corn-y. Then you top it with a mild eggplant sauce. We drank, foolishly, an excellent red Burgundy. A delicious wine if I could only taste it — I should have gone with a bigger red to punch back against the spice.
Sunday, June 10
Fish tacos for breakfast at a Peruvian place, El Tule, in Lambertville, New Jersey, which is a small town downriver we can bike to. Tacos should be the last thing it's okay to just call "fish." Would you eat a "meat" taco? No, you would not. But hey, give me some "fish" for breakfast, dude! I always ask servers what the fish is. It's always tilapia. I don't always believe them.
Lunchtime with very dear friends from college. Kerry and Mike, who run Genesis Farm, a C.S.A. farm in Blairstown New Jersey, brought their canoes, kayaks, and kids, the adorable Albert and Muriel. We drove a few miles upriver to Bull's Island, and launched our boats, stopping for a brief picnic. Okay, we only ate dark chocolate and drank a bottle of white wine — a Fruiliano from Italy, my favorite wine in the summer because it's as light as air. But it felt like a picnic. We capsized a few times in the Delaware, but we never lost the wine.
We came back and made a feast from Mike's farm and grilled fish from the farmers' market down the street: American red snapper, grilled fresh cauliflower with Spanish brava sauce, charred baby Walla Walla onions. We finished with fresh-picked strawberries and local ricotta ice cream from Bent Spoon in Princeton. Muriel, a fish hater, loved the grilled snapper: "Tastes just like chicken!" It didn't, but what do kids know?
Monday, June 11
A quick, early-bird breakfast of Early Bird granola we bought at Brooklyn Larder with blueberries, Greek yogurt, and a little ginger syrup (J-M's brainstorm). A giant thermos of La Colombe coffee for the ride into the city.
Had a doctor's appointment in Soho. I was psyched because that meant I could stop afterwards and grab a coffee at Saturdays Surf, the best hipster surfer shop that also serves slim-cut Oxfords and espresso drinks. I'd meant to get a macchiato, but then I saw this chick in a summer dress drinking an iced latte like she was Mila Kunis and I changed my order.
The back courtyard is one of those hidden gems of New York. I sat and read a manuscript from Alan Richman, one of the pleasures of my job. I was thinking how much I loved this place until some fortysomething surfer dude sat behind me, said, "Blah blah blah Long Beach, blah blah blah you hit it right on the head dude blah blah I was nearly DOA, and believe me, when you spend a year in a hospital, you think about your life and you think: How can I do some cool shit and come up with some cool products?" Then he hocked up a loogie from deep within his middle-aged ennui, and planted it in the flower pot next to me.
Dinner that night at Mission Chinese Food with a friend and one of my favorite writers, Chris Heath. We ordered almost everything on the menu and loved it all, especially the indulgent Kung Pao pastrami and the thrice-cooked bacon with rice cakes, bitter melon, and chile oil. That chef, Danny Bowien, is brilliant if a little dastardly on the I-will-burn-your-tongue-off spice chart.
Later, while having drinks at Angel's Share, Chris noted that he hadn't tasted, or felt, the kind of strange but pleasant numbing of the palate since he'd been in Beijing years earlier. That's because Danny Bowien gets his very particular spices directly from China, and cares about everything he puts in the dishes.
Tuesday, June 12
Busy morning, so just a few handfuls of granola and black coffee for breakfast, carried in a Thermos on the subway and slurped throughout the morning at my desk.
Lunch was still at my desk, a falafel platter from Taïm in the Village, with Moroccan carrots and some ginger lemonade, and thank God you can get takeout food that good in New York, you almost forget you're at your desk. (Almost.)
For dinner, we tuk-tuked out to Pok Pok. The chef-owner Andy Ricker is doing something cool there — Thai food with a more adventurous palate and a more elaborate hand. The dishes taste two or three steps more complex than the stuff you get at your average strip-mall Holy Basil. Everyone in New York should taste the muu kham waan, a spicy salad made with Niman Ranch pork neck and — this addition is brilliant — mustard greens chilled on ice.
Wednesday, June 13
Another busy day, another couple handfuls of granola. Whenever I can, I stop for a morning coffee at places like Ports and Grumpy, and that makes me a lot less grumpy.
Still, lunch was deskside again. White fish tempura, miso soup, and a sushi sampler from Sushi Zen. Fine and good, but no one should really ever order anything with the word "sampler" in it, unless it's chocolate.
Dinner was a sad plate of embarrassment. I love Torrisi, its Italian Grandma smells, the hot garlic bread, the balls of fresh mozzarella. I love it all the more when my dining companion is someone like Jeanne Marie Laskas, an insanely gifted writer I'm lucky to work with. I don't get to see her enough, and everything was great. Jeanne Marie was loving it until dessert time, when the waiter came up and told us that a woman was waiting for our table and she was getting angry; would we mind terribly moving next door to Parm and having our dessert and coffee there? We asked for our check and left. We tried not to make a big deal of it, but yes, we minded terribly.
We high-footed over to Van Leeuwen in the East Village and ate ice cream like nervous high-schoolers on a date that had gone a little sour. Maybe we took too long to eat? Sorry, Torrisi. I still love your food, but you should never invite someone to eat elsewhere, because next time they just might.