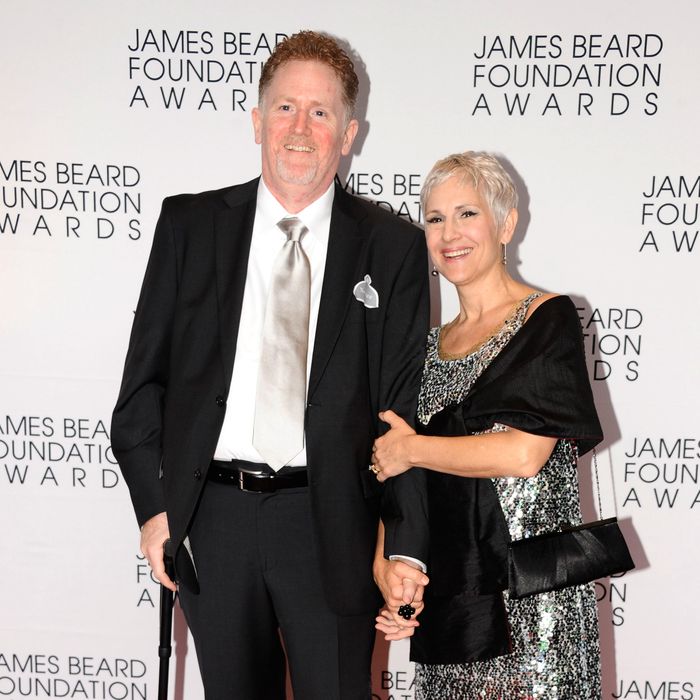 Hayden at last month's James Beard Awards.
Photo: Clint Spaulding/Patrick McMullan
Along with David Burke and Larry Forgione, Gerry Hayden is one of many talented chefs who cooked the sort of reinvented contemporary American food pioneered at the River Café in Brooklyn. Hayden started under Charlie Palmer, who eventually hired him to be the sous chef at Aureole when it opened in 1988. A span of award-winning restaurants followed. But now, Hayden is battling ALS and an all-star roster of chefs will team up this month to help.
Since 2006, Hayden and wife Cladia Fleming (who wrote the book, literally, on Gramercy Tavern's kind of homey desserts) have been at the North Fork Table & Inn in Long Island. There, Hayden was nominated for a James Beard Award in the category of Best Chef Northeast, two times in as many years.
In January of 2011, Gerry Hayden was diagnosed with amyotrophic lateral sclerosis, also known also as Lou Gehrig's Disease. On June 24, a benefit will be held at Colicchio & Sons, featuring a veritable all-star lineup of Hayden's friends and supporters. Sixteen chefs — including Jonathan Waxman, Marco Canora, Bobby Flay, Wylie Dufresne, Mark Ladner, Alfred Portale, and current River Café chef Brad Steelman — will cook alongside Tom Colicchio and his team. Money raised will help offset the Haydens' medical costs, and also to fund ALS research. Tickets to the $250 event are sold out, but information on donating is here.
Hayden's Heroes [Official Site]