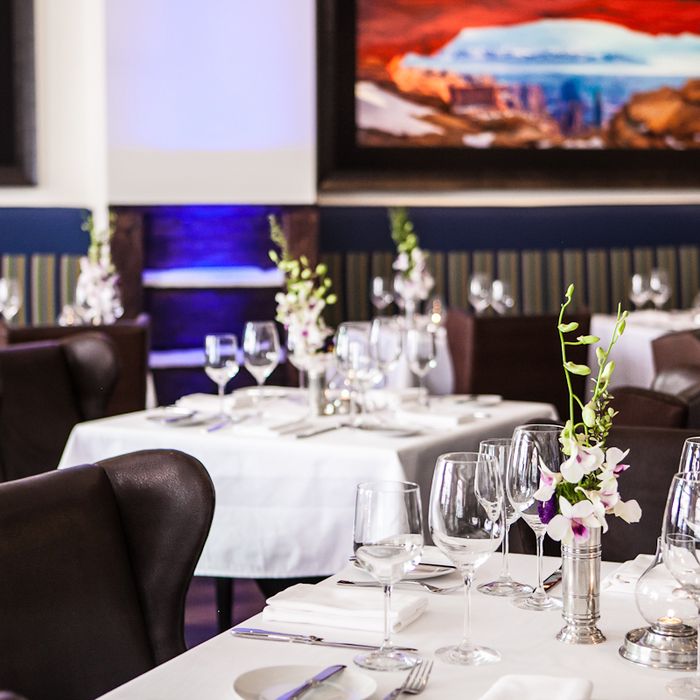 A look at Chefs Club's dining room.
Photo: Huge Galdones
Why staff your destination restaurant with one celebrity chef when you can get a rotating cast? That appears to be the premise behind Chefs Club, a new concept at the St. Regis Aspen Resort.
Here's how it works: The resort teamed up with Food & Wine, and chefs who have won the magazine's Best New Chef award will create dishes for the seasonally changing menu. That means, for the inaugural menu, Aldea's George Mendes (BNC, 2011) contributed dishes like sea urchin toast and bomba rice with chicken confit, chorizo, and cracklings. New Orleans chef Sue Zemanick (2008) has Veal Osso Buco, a duck-confit crostini, and citrus-poached shrimp. The list goes on and on, and you can see the entire menu right here.
So, what to drink? Food & Wine Executive Wine Editor (and Grub Street Diet alum) Ray Isle has wine pairings, while Jim Meehan (another alum!) put together seasonal cocktails such as a mixture of peach whiskey, dry sherry, and lime juice called the Colorado Comfort.
Chefs Club Aspen [Official Site]