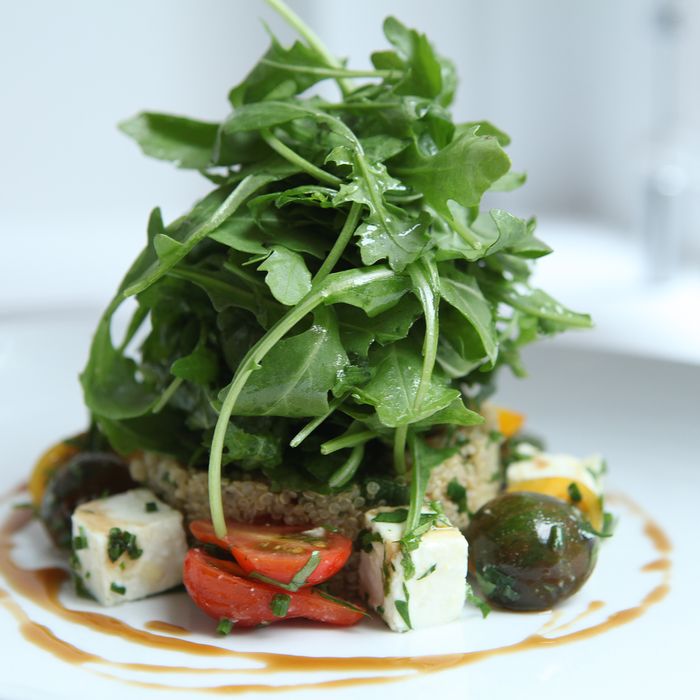 The quinoa salad at Kutsher's Tribeca.
Photo: Jed Egan
One of the best parts of living in New York is the near-endless variety of food that can be had instantly; of course, the downside is that restaurant food can be seriously bad for you. As much as Grub Street wishes life could be all fried-chicken feasts and cocktail flights, alas, that's not the case. That's why today we're launching Eat Well. It's Grub Street's guide to what and where you can eat without feeling too guilty about it, each and every week. It's not a guide to diet food, and Grub Street rarely counts calories — but there's plenty of terrific, wholesome food out there. Here's where to find it this week:
Monday, June 4: Tasty Quinoa at Kutsher's Tribeca
We're big fans of quinoa, the grainlike South American staple (technically, it's a seed). It's also just about the healthiest thing you can eat: packed with protein, amino acids, and healthy fat. One of the best quinoa dishes going is the simple salad, pictured above, that's served at Kutsher's Tribeca: full of pistachios, feta, and drizzled with pomegranate vinaigrette. Even better: It's available during lunch or dinner.
Tuesday, June 5: Start the Day with New-Look Porridge
Not only does the first meal of the day steel you against flagging energy and give you a mood and memory boost, it also may lower your diabetes risk by a full 21 percent, according to a new study. But on to the important news: As of this week, the Bedford will offer an inspired set of daily porridges made with local ingredients (market peaches, Mast Brothers chocolate). First up on the menu: champurrado porridge ($7), inspired by the traditional Central American hot cereal atole — soy milk, masa harina, cinnamon, anise, and Moho River chocolate from Belize (via Mast Brothers). In the following weeks, you can look forward to fruit-juice porridge with caramelized peaches and mint, a stewed rhubarb iteration, and a gluten-free version spiced up with classic apples and cinnamon.
Wednesay, June 6: Michael Psilakis's Mediterranean Diet
Science constantly reminds us that the Mediterranean Diet is just about the best thing going. In a class at the De Gustibus cooking school, located inside Macy's, Michael Psilakis — executive chef and owner of Kefi, Fish Tag, and a growing collection of MP Taverna locations — will demonstrate before your eyes a variety of life-enhancing small plates adapted from traditional Greek and Mediterranean recipes. Tickets are $95, and available on the school's site.
Thursday, June 7: Eat Jonathan Waxman's Take on Mexican
Starting today mini-chain Rosa Mexicano breaks out recipes from culinary adviser Jonathan Waxman (of Barbuto) inspired by his time in Baja California, Mexico. We love a chef who's not afraid to go all-squash and no meat. One of the standout dishes: grilled zucchini and eggplant with mint pesto and spicy corn bread. Check it out at the restaurant through July 1, or just grab the recipe here.
Friday, June 8: Grab a Healthy, Ecofriendly Burger
There are healthy fats to be found in the grass-fed patties from the Rouge Tomate cart. The new summer burger menu includes the Classic (grass-fed beef burger with wild arugula, organic tomato, red onion, and ketchup), the Rouge Tomate (grass-fed buffalo burger with spring onion jam, horseradish yogurt, and pickled ramps), and the Meatless Greek (marinated portobello topped with Goodale Farms feta, black olive tapenade, and cucumber tzatziki). The virtuous kicker: The cart comes equipped with solar panels, recycled packaging, and produces not a trace of carbon. The cart's at the Northeast entrance to Central Park Zoo on 64th Street and Fifth Avenue, and is open from 10 a.m. to 6 p.m., weather permitting.
Kate Lowenstein is the senior features editor at Health Magazine.