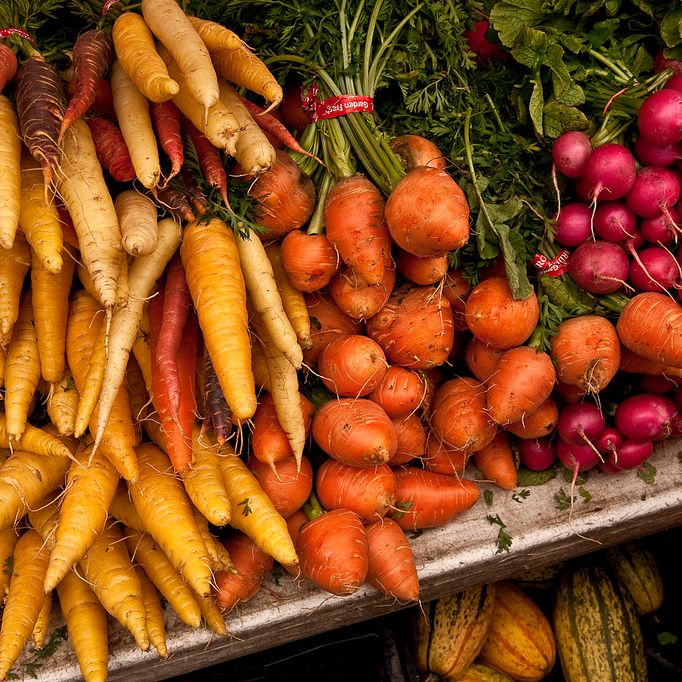 It's a produce party on Wednesday.
Photo: Flickr4Jazz/Flickr
It's time once again for Eat Well, Grub Street's guide to great, healthy food around town. As always: This isn't diet food, and it's not calorie-conscious. It's just terrific, wholesome fare that you're bound to enjoy. Here's where to find it this week:
Monday, June 25: Dinner, Hunter-Gatherer Style
Celebrate Meatless Monday at Mae Mae Café, where tonight's special features goods from Katchkie Farm in Kinderhook, New York: black bean, freekeh, and farro salad with farm greens, toasted sunflower seeds, and ramp vinaigrette. Nuts, seeds, and plants: Our ancestors would be proud.
Tuesday, June 26: Double Up on Gazpacho
Luis Bollo's menu at Salinas sports two gazpachos for the summer: the green Temporada, which you can order with an ounce of poached lobster on top (yes please), and the more traditional red Andaluz version. All those tomatoes make for a bowlful of the antioxidant lycopene, a known cancer-fighter that has also recently been found to help with seasonal allergy symptoms.
Wednesday, June 27: Taste the Greenmarket's Best for a Good Cause
Local produce is at its very best in the skilled hands of chefs like Dan Barber, Peter Hoffman, and Dan Kluger, among other veggie-focused luminaries, at the fifth annual Taste of the Greenmarket dinner. Tickets are $250; proceeds go to the Greenmarket Youth Education Project.
Thursday, June 28: Celebrate National Ceviche Day
Yes indeed, such a holiday exists, and it's today. What better time to stop in at Desnuda for an unorthodox version? Science tells us fatty fish is great for heart health and can even serve as a mood-booster, so we'd go for the Caballo (mackerel, lemon, smoked pimento, black garlic, and truffle oil), or the Mixto (salmon, tuna, and tiger prawns with lemon, rocoto pepper, cinnamon, pineapple, and green bell pepper).
Friday, June 29: Crab-Stuffed Zucchini Blossoms
Hit a farmers' market early on a hot day and you might score a box of zucchini blossoms at a discount (they go limp fast in the heat, so farmers want to sell them fast). Take advantage and use New York Central chef Christian Ragano's recipe for crab-stuffed zucchini blossoms — or save yourself the trouble and just get the real version at the restaurant.*
Kate Lowenstein is the senior features editor at Health Magazine.
*This posted has been updated to show that the zucchini blossom special won't be available until later in the week. (The recipe will be good no matter which day you make it.)