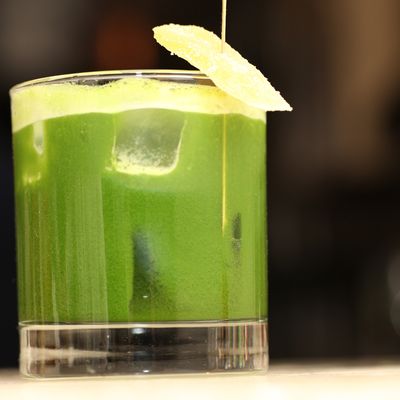 The Garden Variety Margarita at the Wayland.
Photo: Melissa Hom
It's time once again for Eat Well, Grub Street's guide to great, healthy food around town. As always: This isn't diet food, and it's not calorie-conscious. It's just terrific, wholesome things that you're bound to enjoy. Here's where to find it this week:
Monday, June 18: Drink Your Kale
Hit the Wayland tonight for some live music, and stay for a drink made with everyone's favorite symbol of edible, or drinkable, virtue: kale. Grab a Garden Variety margarita (pictured), which is full of kale juice, ginger, and agave nectar — and tequila, thankfully.
Tuesday, June 19: A DIY Clam Special
Just for today (and a small handful of other days this summer), Gemma chef Chris D'Amico has a Sardinian clam-and-fregola soup featuring local bivalves — super-rich in iron and other important minerals. Either check it out at the restaurant, or grab the recipe right here and make it yourself.
Wednesday, June 20: Quinoa Hand Rolls
In its latest feat of fusion, SushiSamba offers hand rolls stuffed with quinoa instead of rice. The protein- and fiber-rich Peruvian superfood graces three temaki: sweet chili tuna scallion; shrimp and shishito; and an avocado, pea shoot, and sweet potato tempura variety.
Thursday, June 21: A Literal Power Lunch at the Royalton
While we don't believe in sequestering good-for-you dishes off to one corner of a menu, Forty Four's "Healthy" section is far from spare diet food. Octopus a la plancha comes with heirloom tomatoes and olive-whipped potatoes, while king salmon is accompanied by salsify purée and baby carrots. Put it on the corporate card—your health is in the company's interest, right?
Friday, June 22: Rhubarb Ice Pops!
Rhubarb's bright-pink stalks won't be at farmers' market stands too much longer, so grab a few while you still can. Either simmer your 'barb with strawberries and sugar for an easy, calcium- and antioxidant-laden compote, or mix it with cream (fresh from the farm, too, of course) to make an impossibly good-looking frozen dessert.
Kate Lowenstein is the senior features editor at Health Magazine.