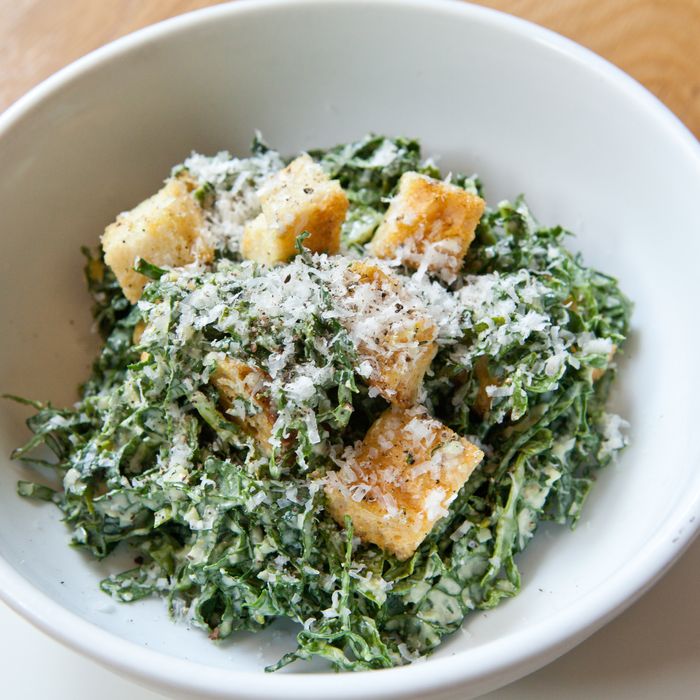 Kale salad with Caesar dressing at Untitled.
Photo: Jed Egan
Welcome back to Eat Well, our new weekly feature detailing great, guilt-free food around town. Remember: It's not a guide to diet food, and Grub Street rarely counts calories — but there's plenty of terrific, wholesome food out there. Here's where to find it this week.
Monday, June 11: Drink Some Rosé
It's one of our favorite health tips: Drinking wine helps reduce your risk of heart disease (a glass a day for women, two for men). So get your dose, either at a restaurant, or at Astor Center's Discover Rosé event tonight. An expert from Blue Danube Wine Company will explain how the summer staple is produced and guide guests through a flight of seven rosés from different regions. One flight equals roughly a glass, right? Tickets are $49, here.
Tuesday, June 12: A Midtown Mexican Makeover
Midtown's Maya reopened last week after a top-to-bottom renovation in honor of the Mexican spot's fifteenth birthday. It's as good a reason as any to partake of chef Richard Sandoval's excellent, healthy heirloom tomato salad, which comes with watermelon, avocado, panela cheese, cilantro pesto, and tequila vinaigrette.
Wednesday, June 13: Grab Young Garlic
Did you know that chopping or crushing garlic before eating it releases all its most heart-healthy compounds? The material of the moment to work with: those gorgeous green stalks of young garlic piling up at farmers' market stands. Buy them while you can, then put them to work with a green-garlic crostini. Or, call up the Vanderbilt in Prospect Heights to see if they're serving their green-garlic soup with oyster mushrooms and lime yogurt (the soup changes daily).
Thursday, June 14: Upgrade Your Popcorn
Turns out popcorn kernels are packed with antioxidants. Reason enough to stay in and catch up on this season of Mad Men (or Breaking Bad, or Game of Thrones, or whichever show you fell behind on). Our favorite brand these days is Quinn, made from non-GMO corn and packaged without the PFOA-coated bags that other micorwavable popcorn comes in. It doesn't hurt that the flavors are terrific: rosemary-parmesan, lemon and sea salt, or Vermont maple and sea salt. Get it at Brooklyn Fare, Columbus Naturual Foods, Dean & Deluca, or online.
Friday, June 15: Artful Salad at the Whitney
There are all kinds of wholesomeness to be found on the spring dinner menu at Untitled, Danny Meyer's farm-to-table museum restaurant. Try a kale salad made from local greens, or the roasted halibut, served with caramelized cauliflower and almond-parsley pesto. Then go walk it off in the galleries — Fridays are pay-what-you-wish and the museum is open until 9 p.m.
Kate Lowenstein is the senior features editor at Health Magazine.