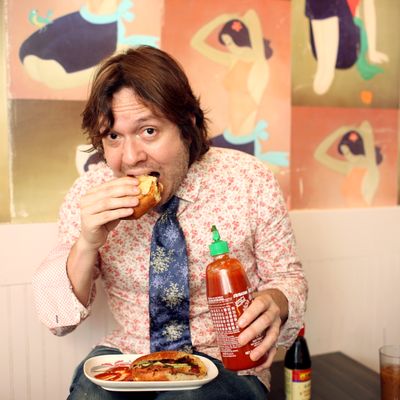 Hill, hanging at Pho Sure.
Photo: Melissa Hom
"Reading this I feel like a total fat slob," Dave Hill tells us. "I really need to rein in." But Hill says he has an excuse these days: "I'm so busy with all this book stuff that I'm running around stuffing my face." The book in question is his essay collection, Tasteful Nudes, which came out last week. He's also newly installed in an office for the first time in years, at MTV HQ, where he's working on an upcoming show. The writer and jokester has a weakness for ice cream, though he is able to exercise a little bit of restraint when it comes to that food. "I find my ice-cream hangovers are worse than my alcohol hangovers," he tells us. See what else Hill consumed, straight ahead in this week's New York Diet.
Friday, May 25
Pretty much every day I go to Grounded coffee on Jane Street. Before I had this job, I would worry that I would never leave the house if I didn't at least get coffee. Got a large coffee with milk, pretty much what I do every day when I'm in town.
At my new job, they have bagels, which is exciting, so I had half of a salt bagel with cream cheese. People at the office got a bunch of pizzas at Bleecker Street Pizza, so I had a slice of cheese and a slice of pepperoni. Then they leave these little cookies out — Famous Amos, the mini ones — so I had maybe 40 of those. Well, maybe ten or six. And I had a liter of Canada Dry seltzer water, lemon-lime flavor.
We left my job early at three and had a happy hour at that place the Brooklyneer. I realized as I was keeping track of it that I probably have a problem. I had a Brooklyner Wheat Beer and a Sixpoint Bengali Tiger. Then I went home and slept it off.
Later, I went to 92Y in Tribeca for a Cabin Boy screening. I had three IPAs. Afterwards, drunkenly, I went to the deli and got a thing of couscous and a thing of mozzarella, tomato, and basil, and then I ate those together. They don't really go together very well, I learned. Then I had maybe half a box of Nilla Wafers.
Saturday, May 26
Coffee at Grounded. For breakfast, I went to La Taza de Oro — it's a Puerto Rican diner, and it's one of my favorite places in New York to eat. I live in the West Village, so it's also one of the few places where you can stuff your face for under $10. If you spend more than $10, you have an eating disorder.
For breakfast, I always get yellow rice and red beans with two fried eggs on top, and then they have this green garlic in oil and I dump that on top, and then this Caribbean hot sauce, and I cover it in that. And then sweet plantains, fried, and café con leche.
Then later — I don't usually do this — I had a hot dog on the street with sauerkraut and mustard. I was just running around. It was outside of Madison Square Garden. I think I was going to 30th Street Guitars. This was probably around noon.
I met up with a friend walking home from the guitar store, so at like 1 or 1:30 p.m. I had a Delirium Tremens and a Dogfish Head 60 Minute at the Half King. I try not to do too much day-drinking; I always feel like it hits me, like, three times as hard. Which is why afterwards I ended up getting a pint of Häagen-Dazs coffee ice cream and eating half of that.
Then I went home. There's a taco truck at 14th and Eighth, which is awesome and super cheap. My friend Todd Barry always says this thing about how people complain about Mexican food in New York. But this truck is awesome and it's like $2 for a taco. I had a chicken taco and a steak taco. Then I calmed down for a little bit. Then later that night I got a bag of Tate's chocolate-chip cookies, which is my favorite cookie in the whole world. I usually go through a bag a week. I had a couple of those.
Sunday, May 27
I met a couple friends for breakfast at La Bonbonniere. It's like pretty basic bacon and eggs, omelette kind of place. I had two eggs, bacon, and coffee. Then I went to Grounded and got another coffee. That's my move — I usually get coffee at Grounded before or after breakfast somewhere else.
Then I was home and I survived on Tate's cookies all day. I was recording. I have a band, Valley Lodge, and we're making a new rock record.
For dinner, I met a couple friends at El Quijote, inside the Chelsea Hotel. It's awesome. It's an old restaurant and it's hard to say where everyone's come from. I used to live in the Chelsea Hotel — in 2003 I lived there for about a year. I used to go to El Quijote all the time and drink at the bar and black out and pass out upstairs.
They have the surf and turf — filet Mignon and lobster tail. They have this assorted appetizer; it's this huge platter with calamari and scallops and chorizo and mussels. So I just stuffed my face and had three margaritas. They're small margaritas, so I felt like I was fairly under control. You can have ten of them and it seems like a great idea.
Monday, May 28
Monday, I kind of reined it in a bit. I had yogurt and strawberries. I never have any groceries that require refrigeration because I'll forget that I have it and it goes bad in my refrigerator. So I went to the deli and got some Swiss yogurt — blueberry yogurt. I tried to make up for the past few days. That's kind of how I eat. Then in the afternoon, a thing of tabouli. And I ate some almonds. I was home recording guitars for this record.
I met my friends at Anfora and had a martini with olives. I usually don't drink martinis, but my friend was having one and for whatever reason I decided to just go with it. I try not to drink vodka in public. I feel like it always results in my having to e-mail or call people apologizing for my behavior.
Then we went to dell'anima. It's right by my house, and it's probably my favorite restaurant in New York. They have this five bruschetta thing, bread and all these different toppings. Scrambled egg, garlic, red peppers. They have this risotto that's great — I don't know what's in it, I think some sausage. I had a couple of glasses of red wine. We shared some fancy chocolate thing that was delicious. I had an amaro. There's the one that's basically like gasoline, it's the nastiest of amaros and it's my favorite. It's called Santa Maria Al Monte.
Tuesday, May 29
Coffee at Grounded. I always go to Grounded and if I ever go anywhere else for coffee I feel like I'm cheating on them. But Bonsignour on Jane has these blueberry muffins and blueberry scones. A lot of times I get the scone because in my mind I think it's healthier. But I got a blueberry muffin, and I went to my new job, which is in Soho.
Now that I have a job, people go out to lunch. I usually just eat whatever I run into. But I went to lunch — there was this Moroccan truck on Hudson, Bistro Truck. I had the lamb shoulder with couscous. Then more Famous Amos cookies in the afternoon. I'm gonna put on like a bazillion pounds at this job.
Last Thursday I had a book party/show at Bell House with my friend Alex Sotomayor, a.k.a. Little Michael Jackson. He's a Peruvian dwarf who dresses up like Michael Jackson and dances around and grabs his crotch and moonwalks. Naturally I try to do stuff with him whenever I can. Whenever he's around, he makes it better. Last week, I didn't get a chance to give him his money, so I was supposed to meet him at 14th and Eighth and give him some cash, but he didn't show up. As you can imagine, he's an elusive type. So I went to Corner Bistro and my friend Greg was bartending. I had money this time, so I ended up having a McSorley's — the lighter one. My friend Jodi came by and we had a couple of mugs of McSorley's light. Finally that little bastard Michael Jackson showed up and I gave him his money.
Then I went home. So far in this thing I'm drinking a lot every day. Usually I don't get drinks after work. I guess it's this job thing, like, "Oh, it's quittin' time, let's get a drink." I was tired, so I went home and went to sleep for a little bit.
Then my friends Giancarlo DiTrapano and Chris March were in Hell's Kitchen having a drink. We went to the Claw at 50th and Ninth. I had corn chowder with sausage in it. I thought it was going to have a shitload of corn it, which is what lured me in, but then it was like a creamed-corn scenario with sausage. Then I had this surf-and-turf roll, a lobster roll with bacon on top, and French fries. At this point I was kind of disgusted with myself. It was really good but I didn't finish it. I was like I'm flying too close to the sun, I need to bring it down. I had this iced tea that they have with a little bit of vanilla in it, which was really good.
Then we went to Coldstone Creamery. My favorite thing is ice cream. I used to eat it every day, but I couldn't fit into my clothes anymore. They got it, I didn't. I needed to rein it in.
Wednesday, May 30
My friend Leanne lives in the neighborhood. I ran into her — she was walking the dog. She was telling me about this place on Spring Street: Dominique Ansel. I was totally just going to eat yogurt and a banana, but she was like we've got to go to this place. I had this thing. It was called the DKA, it's this sugary, buttery, round thing, I could eat like 40, but I just had one, with a large coffee.
Then I went to my job; it's at King and Varick. It's this weird few blocks that feel like midtown, and there's not a lot of food options around. I went to Pret a Manger. I try to not to go to chains; it's my way of sticking it to the man. But I went there and got the Nicoise salad, yogurt with granola and blueberries. And I got this detox drink that's basically a grape soda of some sort. Then I was back at the office and I ended up eating a bunch of Famous Amos cookies, and I had an espresso.
I left work and met your photographer at Pho Sure on Christopher. Usually when I go I get a bowl of the Pho Sure soup, but I couldn't do it; it was too hot. So I got the tiger rolls and it comes with a peanut sauce and I pour a bunch of Sriracha hot sauce in it. Then I had a Vietnamese iced coffee. Then I had the classic bánh mì.
Then I had to go out to Littlefield. I do a talent show, it's a monthly show, with me, Ira Glass, Eugene Mirman, Amber Tamblyn. I did that show. They give you drink tickets, which is sort of my downfall. Backstage I had a glass of red wine. Then I used the drink tickets and had a couple of Goose Island IPAs.
Then Eugene and Ira wanted to go to this bar the Sackett on Sackett and Fourth Avenue in Brooklyn. I went there and had some kind of IPA, then a Kelso Nut Brown Ale, then I had some other IPA. I had way too much to drink, but it was spread out over six hours. But that's the problem with doing comedy: You work in a bar, essentially.
Ira and I took a cab back to the city. And I went up to my apartment and there was no food except Saltines. So I lay in bed eating Saltines and texting people until about one in the morning.