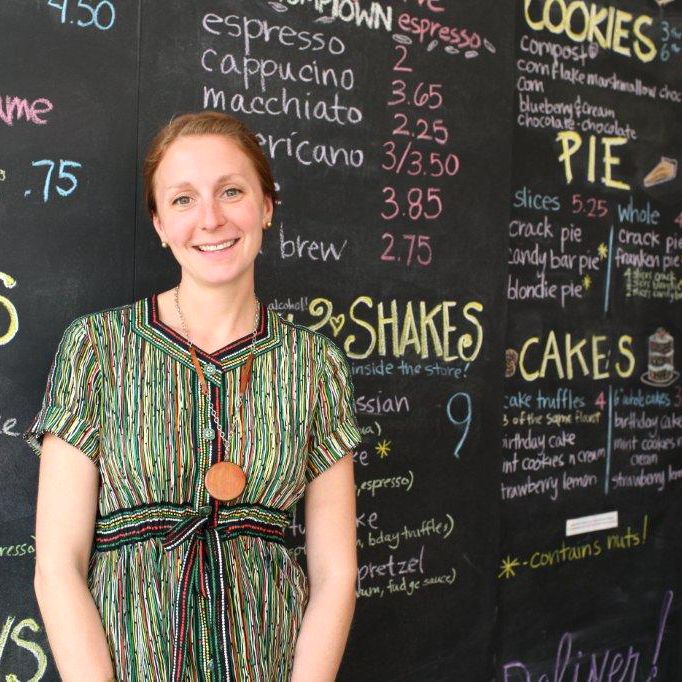 "Things gets far more glamorous, and far more trashy."
Photo: Melissa Hom
"I can never really remember what I actually do most days," Christina Tosi, James Beard's Rising Star 2012 and Momofuku Milk Bar's sacred chef and owner, tells Grub Street. Which is not too surprising, considering Tosi is on the most mental junk-food bender since the munchie run in Half Baked. Shuffling between Momofuku Milk Bar, Ssäm Bar, and Momo's shack in Montauk, Tosi motorizes on Cap 'n Crunch and compost cookies, while doing enviable market research on pancake frosting and white-chocolate fudge. Defying everything we're taught about smart food and feeling good, Tosi — covered in Pringles and Push Pops, who leaves work every day "feeling happy" — is, well, a wondrous freak of nature; NYC (and David Chang) is extremely lucky to have her. Read about the Sugar Mama's candy-bar dinners, pineapple-cake victories, and private pig-out sessions in this week's New York Diet.
Friday, June 16
I can recall a time when I consistently ate breakfast, à la minute Rice Krispie treats, subbing in Lucky Charms, Cocoa Krispies, or whatever was in the pantry. That was when I was 15. These days I take a shot of caffeine to the head. Stumptown hairbender, hot or cold cappuccino.
"Lunch" consisted of recipe tests, like this white chocolate that we cook down in a bag until it yields a soft, malleable brown-butter fudge to use as a cake layer for Milk Bar. It's so good, and blows my mind so far that it's white chocolate but has the consistency of soft fudge. We're also hot on the track of creating "the world's best" bar snack/snack mix, as per Dave Arnold. So for "market research" I ran to the bodega for inspiration: the salty crunch from the Chex mix, the Pringles Mexican Layer Dip, Pringles honey mustard, Doritos Late Night Cheeseburger chips, Lays BLT Chips, Utz's sour cream and onion chips. The perfect offset to the sweet brown-butter fudge I just scarfed down.
Later I dipped into the "broken cookie" bin for a corn cookie, which, for all intents and purposes, contains "produce," and therefore the guilt of eating white chocolate and chips for lunch subsides.
We just opened a store in Montauk for the summer, so once the sun went down, I packed up my car with cookies, pie slices, cold brew, and slushie fixins and hit the open road. When left to my own devices, I retreat back to my college years of taking road trips and having "dinner" at truck stops: beef jerky, a soda, a bag of Lays cheddar and sour cream chips, and a Heath Bar. Are you grossed out yet?
Saturday, June 17
Even when I'm out of the city, breakfast equals strong coffee. So I fixed myself a large cup of cold brew and got to work. I packed a cinnamon toast sandwich layered with Skippy peanut butter and apricot preserves. I scarfed it down for lunch with a huge bottle of seltzer water in between slinging cookies and a crack pie slice.
My midday snack was a strawberry Push Pop. How come no one my age eats Push Pops anymore?! Then I met up with some friends for dinner at the Hideaway, a cute little Tex Mex spot by the docks. One friend has a sore spot for nachos, and I have a sore spot for fresh lime margaritas, so it worked out perfectly. I stopped back by the little Milk Bar shack and grabbed a compost cookie.
Sunday, June 18
Grabbed my jet fuel, and hit up Anthony's pancake house for BREAKFAST! I forgot to mention, I only break my breakfast trend at the promise of runny eggs and buttery toast on a Sunday morning. So I do just that: soft poached eggs, toast, and link sausage. The pancake houses in Montauk are always a little wait, but the perfect place to waste away an hour of a Sunday morning daydreaming through the "Real Estate" section of the Times.
Back to NYC. I tried listening to Diane Lane's book on tape on the way out, but I opted for Fleetwood Mac's Rumors and the Beatles' Abbey Road on the way home. I pulled off to a farm stand on 27 and surveyed the produce. Grabbed a little handmade cherry pie, just in case I hit traffic on the LIE.
At home I decided to be a shut-in for the evening and order Forcella's infamous fried, then baked, pizza and one of my favorite — gasp! — salads. My go-to order is the Amalfi (radicchio, arugula, gorgonzola, pear, nuts) and a Montanara (fried then baked margherita pizza). I pigged out entirely, and threw in a can of Coke and the remainder of a pint of Ben & Jerry's New York Super Fudge Chunk while watching The Fantastic Mr. Fox. I pass out in zero seconds flat. I needed the sleep.
Monday, June 19
Woke up early and hit it. I live a few blocks up from the Milk Bar kitchen so I decided to walk to work in hopes of walking off my ridiculous dinner. It was a cold cappuccino this morning, and the organic whole milk was so creamy on top it's like having a few licks of soft-serve and a shot of espresso.
Recipe-testing time had me elbow deep in a pineapple upside-down cake debacle on the perfect balance of coconut cake, pineapple upside-down frosting, yellow cake crunch, maraschino cherry soak, and brown-butter fudge.
I saved my appetite for a tasting at Ssäm Bar — hopefully the final tasting of the Pancake Cake, an off-the-menu offering there. The Pancake Cake has been nearly a three-and-a-half-year menu development/recipe-testing nightmare, but time away from it ended up giving us a much better and different approach to layering pancake rounds with raspberry jam, a breakfast-y filling of eggs and miso, and a maple gel. We tasted it at room temperature with a warm drawn black-pepper butter, fresh raspberries, and considered slicing Edward's ham over the cake for a good pop of salty meat. The best bite is when eaten with maple-drenched pancakes. It was a go! Smiles all around.
I don't know why I was hungry, but I was, so I crushed a bowl of cereal at my desk once back: Honey Bunches of Oats doused in our pretzel milk. Worked into the evening then met friends at Mission Chinese — my new favorite place to stuff my face and steal a squeeze from Danny Bowien and his amazing FOH and BOH team. I started with a T-1000 (sochu, soy milk, cantaloupe), then we got taken down with nearly all of the menu: Sichuan pickled vegetables, smashed cucumbers in garlic sauce, Beijing vinegar pickles, thrice-cooked bacon, mapao tofu, kung pao pastrami, and Chongqing chicken wings. I went crazy eating the Salt Cod Fried Rice, one of the best dishes if you ask me, second only to broccoli beef brisket with a smoked oyster sauce, which is my NEW FAVORITE dream-about-every-day dish.
Tuesday, June 20
It was BEACH DAY, so we closed down our kitchen at noon to take some time for fun in the sun. A cold capu morning. We eventually ended up at Jacob Riis/Ft. Tilden, lugging food for 500 people out to a serenely empty beach and began to wreak havoc in the water and on the beach. I was starved, so I seized the moment and laid out the massive spread of cold cuts, cheese, condiments, and accoutrements for sandwiches, ribs, chocolate-chip-cookie pie, blueberry hand-pies, vegetable sushi, and more.
I started with the cookie pie and blueberry hand-pies. Had a few ribs, and went back for more dessert. I'm terrible, I know. By 5 p.m., I went back to Milk Bar HQ.
Caught up on work over a bowl of Cap 'n Crunch cereal and then rushed home to shower away all of the sand. Then I swung by the kitchen, picked up some corn ice cream pies and macerated berries to bring to a party at the Brooklyn Grange — a one-acre rooftop garden in Queens. Magnus Nilsson, the Scandinavian chef, was flipping burgers at arguably the best no-nonsense, laid-back gathering I've been to in a long time. I practically float home.
Then I shamelessly dug into leftover broccoli beef brisket from Mission Chinese and some ice cream before crawling into bed.
Wednesday, June 21
Needed an injection of my cold capu in the damn heat.
I ran off to a photo shoot where my angel, best friend, and our director of pastry operations made me a Solo cup of blueberries and a handful of almonds, her silent attempt at taking care of me and making sure I take care of myself. Also at the shoot, I snuck into the lunch room and housed a crepe filled with ricotta and tomato sauce, and made myself a big slice of gooey chocolate cake. Martine, our special events and press gal, made sure I washed it down with Prosecco. Tough lunch, right?
Back at HQ, I nervously ate Haribo Gummi Bears while dealing with work issues. Courtney, our director of kitchen operations, and I tasted the final round of pineapple upside-down frosting for the Milk Bar cake, and some rosemary soft-serve for Noodle Bar. We also noshed on Kettle Chips melted in the microwave with Gruyère and Cheddar, a little something she calls "Cheezy Chips."
Got one of Roberta's newest "Famous Original" pizzas delivered! So I sat in the AC at home, guzzled sparkling water, answered e-mails, and watched Safe House … engulfed in Denzel's badassness. It just never gets old. Any of it.
This is just a snippet into my week. Things get far more glamorous, and far more trashy. I wouldn't trade it for the world, and I love each and every highbrow and lowbrow second of it.