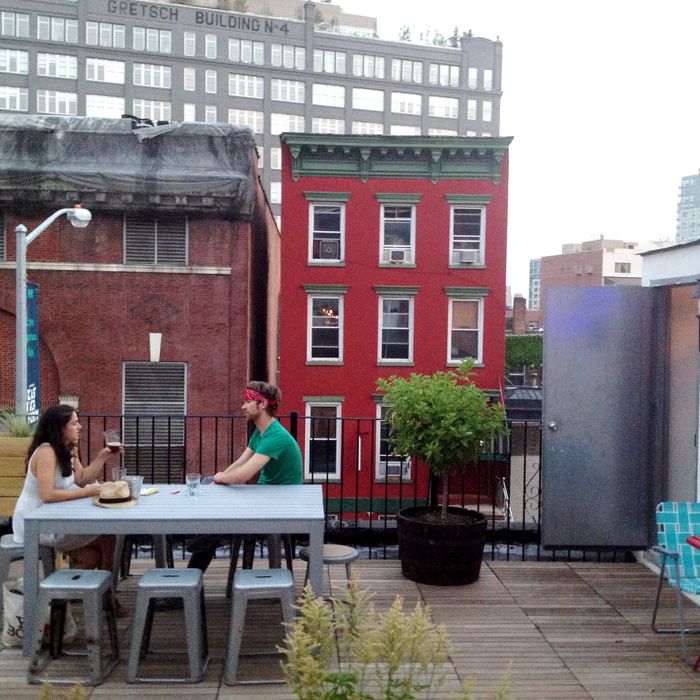 The roof deck feels more like a backyard.
Photo: Brad Cohen
Hipsterphernalia meets Southeast Asia at Bia, South Williamsburg's new Vietnamese restaurant and bar. The owners of recently shuttered East Village dive bar Duke's have brought their kitschy roadhouse décor with them, and auto-repair signs, tables made from oil drums, and plastic bar stools somehow successfully mix with Buddhas, plants, and paper lanterns. Named after the Vietnamese word for beer, Bia has a solid selection of craft brews and imports (some from Asia), and most of the dozen taps are already flowing. The cocktail list is short and a bit pricey, and the house wine comes from a wooden barrel at the end of the bar.
A full menu is on the way in the coming weeks and will feature "authentic Vietnamese" fare inspired by owner Duke Quan's family recipes — think pho, banh mi, and, for summer, a raw-beef salad. The kitchen will hopefully serve daily lunch in the future, but they'l focus on dinner and weekend brunch at first. A wooden roof deck (pictured here) is situated directly under the Williamsburg Bridge, so it doesn't have much of a view. But the picnic tables, lawn chairs, and wooden fences give it a funky backyard feel.
Bia, 67 S. 6th St., at Wythe Ave.; 718-388-0908