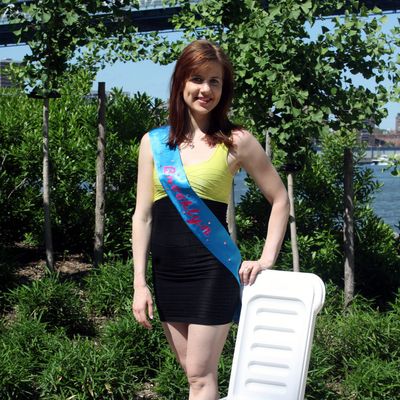 A determined Adler at Brooklyn Bridge Park.
Bushwick's Victoria Adler plans to become Miss New York USA one cupcake, ice pop, and self-branded water bottle at a time. We encountered the 23-year-old pageant hopeful at a bake sale fund-raiser she staged a few weeks ago on Bedford Avenue in Williamsburg. Her self-designed blue satin sash read "Brooklyn" in pink script and her magenta rhinestones glimmered in the sunlight as local residents stopped by her picnic table to purchase cupcakes, cookies, brownies, and other homemade treats.
"I always wanted to do something like that, but I never really thought it was possible," said the Long Island native about competing in the pageant. Adler was drawn to sweets as something she could easily make and sell, and so far, she's raised $200 toward her $2,000 in pageant fees, and $100 of the $1,000 she wants for her chosen cause, the National Eating Disorders Association. Last week, Adler peddled ice pops and water stamped with her brand near Brooklyn Bridge Park, and in the coming month, she plans to hold another bake sale on the north end of Bedford. When that happens, look out for her cupcakes — the chocolate ones are delicious.