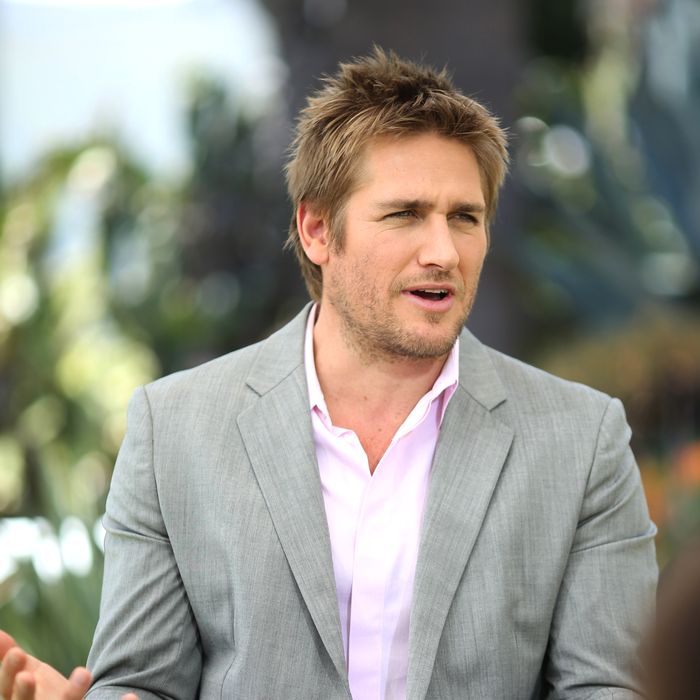 "My inner goddess is swaying and writhing to some primal carnal rhythm."
Photo: Christopher Polk/Getty Images
I never meant to fall in love. When I agreed to recap Around the World in 80 Plates because my dear friend and roommate Katherine was too sick, I had no idea what I was in for. It seemed innocent enough — a quick way to make a little money and have a few laughs. I had heard about the show's host, a mysterious young chef named Curtis Stone. People said he wasn't American, that he had come from a distant place called Australia. Some said it was an island, which explained his strange accent — but not his dazzling blue eyes. Sure enough, when I first heard his voice, my ears felt like they had been touched … down there. They burned with longing. They wanted more.
His hair was blonde — blonde beyond blonde — and chaotic, as if he had just rolled out of bed, and then the bed had fallen on his hair. I had never seen anything like it. I wanted to run my hands through it, to feel its silky blondeness against my fingertips, against every part of my body.
Curtis Stone, world traveler — and little old me, who rarely ventured beyond my sofa, unless someone invited me to dinner and promised to cover my tab. Would I be able to keep up? You can do this, I said to myself quietly.
Before I knew it, we were in Thailand. Thailand! Curtis Stone had taken me to a place I'd never been — a place I didn't even know existed. I shall remember to look at a map someday and confirm that Thailand is a real town.
The sights and sounds of Thailand are foreignly overwhelming. My television explodes with color, with life, with energy. So this was what it means to travel around the world in 80 plates. I'm giddy. "Thailand is … amazing," I whisper appreciatively. Curtis Stone doesn't seem to hear me.
The contestants — Curtis's friends — are divided into three teams. Red Team is Liz and Nicole; White Team is Avery and Jenna; Black Team is Nookie and John. The teams are instructed to purchase two baskets of coconuts at a local market. They learn how to say "coconut" in the strange language people in Thailand speak. I'm riveted, every nerve ending standing at attention. Curtis Stone tells these people to buy coconuts, and they do it. What power does he hold over them?
Next, the chefs are told to grate five pounds of coconut into a bowl. One of them, John, is an expert coconut shredder, his fingers long and powerful. I've never shredded a coconut, I realize mournfully. I have so much to learn.
Nookie and John win the coconut shredding contest and head to the next location: something called a rice paddy. Soon all the chefs are running, racing, stumbling through the mysterious soggy landscape. Is this a dream … or a nightmare? I want to ask my inner goddess, but she's playing rock-paper-scissors with my subconscious.
The chefs are instructed to plant twenty rows of rice. They do as they are told, water sloshing around their ankles. It's exhausting work, and the chefs grimace and frown in their humiliation. What kind of man asks the people he loves to do such things? I ask myself inquisitively. A second question enters my mind darkly: Does Curtis Stone … enjoy humiliating people?
And just then, a third question breaks into my mind like a burglar: Would Curtis Stone enjoy humiliating me? Would I enjoy being humiliated by Curtis Stone? My mind goes dizzy and I feel myself getting wet … down there — then I realize I have spilled borscht in my lap. Holy crap. That's a lot of borscht.
As I mop up the spilled borscht I watch fascinated, mesmerized, as a graphic appears on the screen: "Thailand is the world's largest exporter of rice." I make a mental note to look up this fact in my dictionary.
The chefs head to the famous Wat Baan Den temple. And there, waiting for them — it's him.
Curtis Stone stands at the temple, his legs straight and tall. The sight takes my breath away. I blink at the TV, smiling shyly. He looks right through me. Can't he see me?
No sooner am I done smiling shyly then I realize Curtis Stone is not alone — a beautiful woman named Cat Cora stands beside him. I'm insanely jealous. She's sexy and modern in a way I'll never be. She seems to smirk at me through the TV screen. I hate her. The thought of them together makes me furrow my brow angrily.
Curtis Stone announces that Nookie and John have won $10,000. They shout and smile, and I cannot help but feel happy for them. Curtis Stone is the perfect host, generous with his wealth. His eyes twinkle handsomely, and I feel an electric charge zapping beneath my skin. Wow. He really is a fine specimen of a man, and before I know it I'm licking the TV screen, enjoying my very own Curtis-Stone flavored popsicle, as my inner goddess does cartwheels through an abandoned bubblegum factory.
The teams will spend the episode cooking Thai street food and selling it to the locals. The winning team will be the one who makes the most money.
While the teams are busy with food preparation, Curtis Stone arrives to make an announcement: A famous Thai chef named McDang will decide which chef has made the best Thai food, and that chef will win $5,000. Curtis Stone is giving away more of his fortune! I knew he was a philanthropist, but his kindness takes my breath away and pummels it in a dark alley.
The teams set up their food tables, selling their strange meals. Avery and Jenna have made something called a green papaya salad. Nicole and Liz have made something called larb. It looks delicious, but my subconscious doesn't approve: "Larb? Does that sound like something you'd want to stick in your mouth?" Yes. Yes it does.
Chef McDang — whose hair is even crazier than Curtis's (it looks like an accident at a crayon factory) — thinks the larb is too bland. Curtis agrees. He can be so critical, so unforgiving — does anything please him? I make a silent promise to myself: When I cook larb for Curtis, it will be spicy beyond compare, even if it means I have to use an entire bottle of barbecue sauce.
Nookie starts watering down the juice he's selling. "The goal is to sell the most, not make the best food." He's playing a dangerous game, and I twitch and fidget with the knowledge that Curtis will not be pleased. Will he punish Nookie? What device will he use: a wooden spoon, a spatula, a pan-fryer?
The contest is over. The teams stand before Curtis and Cat Cora, that sick twisted harpy.
"Red Team, you ran out of food with time to serve more." Curtis sounds angry. His eyes are cold. They cut through me. My mind flashes to him alone in his kitchen in the middle of the night, playing Bach on a grand piano. Where does the pain come from?
White Team is praised for their papaya salad. Chef McDang thinks they came closest to authentic Thai food. Avery and Jenna are happy. I shall miss their boyish charm.
Curtis says Black Team made the most money, in spite of Nookie's watery juice. His expression is inscrutable — pleased, yet grumpy; distant, yet intimate. (His hair is inscrutable, too.) John wins most valuable chef — and $5,000.
"Red Team, White Team — you have to come together to send someone home." There is no ambiguity in Curtis's voice. This is not a request, it's a command. He's completely focused, like a laser beam made of solid steel.
The tension is unbearable. It drives me mad, filling every fiber of my being with exclamation points. At last, the chefs vote on elimination:
Jenna chooses Liz. Liz chooses Jenna. Nicole chooses Liz. Avery chooses Jenna.
Curtis Stone turns to the night's winner: "John, please stand up." My eyes widen, saucerlike, as my heart pounds against my chest. What is Curtis going to do to John? My subconscious wags her invisible finger at me: "Nothing you don't want him to do to you" — and I flush with the knowledge that she's right.
"Chefs, it was in your hands to make a decision tonight — since you didn't, it's up to John." Curtis's tone is severe, dominant — fifty shades of stone. Why won't he talk to me like that? Why is he giving John all the power? But I already know the answer. My voice is a choked, strangled sob: "Curtis is in love with John!"
The realization makes me weep more. (Did I mention I've been weeping the entire episode?) Now I weep like a river, like a fountain — my tears the color of water. They spill out of me and onto my lap, making me wet … down there. (To clarify, when I write "down there," I'm referring to my reproductive organ, whose name is shameful.)
John chooses Jenna. Curtis Stone clasps his hands together as he announces, "Jenna, I'm sorry, but your journey has come to an end." His gruff voice slaps me across my bare bottom. Holy shit, he's really serious, I gasp to myself. I grab the TV and hold on for dear life. Curtis Stone is eliminating Jenna! I can take this, I think as my inner goddess performs a Cirque du Soliel routine with flaming hula-hoops and my subconscious sticks a bouquet of sunflowers up her butt.
I shatter into a million fragments of deep-fried orgasms from beyond the stars, disappearing into a singularity of ecstatic agony. Holy Toledo. That's a lot of borscht.
And then, just like that, as suddenly as it started, with no warning and no hesitation, like the end of something, it's over. The episode is finished. They've gone to commercial without saying goodbye.
I lie on the floor in front of the television. My skin tingles. My eyes burn. My knee swells up. (That means it's going to rain.) I crave a glass of water and a Chase Sapphire Preferred credit card.
My subconscious had tried to warn me. "Curtis Stone is a celebrity chef. You're just a recapper. He doesn't even know you exist," she harrumphs condescendingly.
She's right.
I curl up and surrender myself to my grief.

See you next week!
David Rees is an artisanal pencil sharpener.