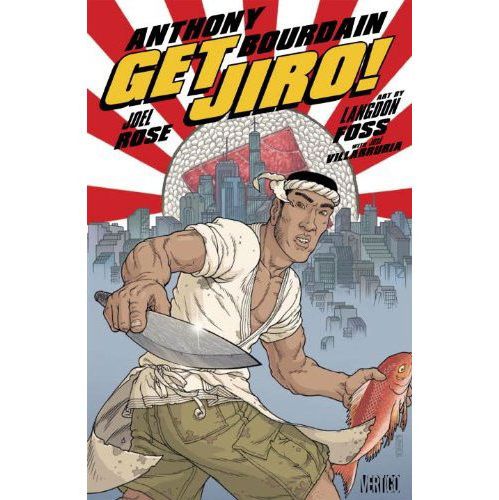 Food is the new rock, obviously, but might mise-en-place also be the new mise-en-scène? Maybe. One reason why food culture is suddenly thriving, Anthony Bourdain tells Comic Book Resources, is that "movies suck so badly. It's creating a huge market for other forms of entertainment."
Luckily, real help for those newly diagnosed with the serious (but non-life-threatening) Blockbuster Malaise Disorder arrives next week with the release of Get Jiro!, the long-awaited graphic novel that depicts a noirish, dystopian L.A. overrun with murderous crime lord chefs.
Bourdain made the book with co-author Joel Rose and illustrator Langdon Foss; it's really seemingly all about the perversions of manic food obsession, and comes in at less than the price of an IMAX ticket. "In a lot of ways, we're catching up with the rest of the world," Bourdain says. "We didn't have much of a food culture 20 years ago and we've been making up for lost time — fast." That's all fine and good, but who's got the movie rights?
BOURDAIN SLICES SUSHI SAMURAI-STYLE IN "GET JIRO" [CBR]
Earlier:Anthony Bourdain's 'Ultraviolent Food Nerd' Graphic Novel Mashes Up a Lot of Movies