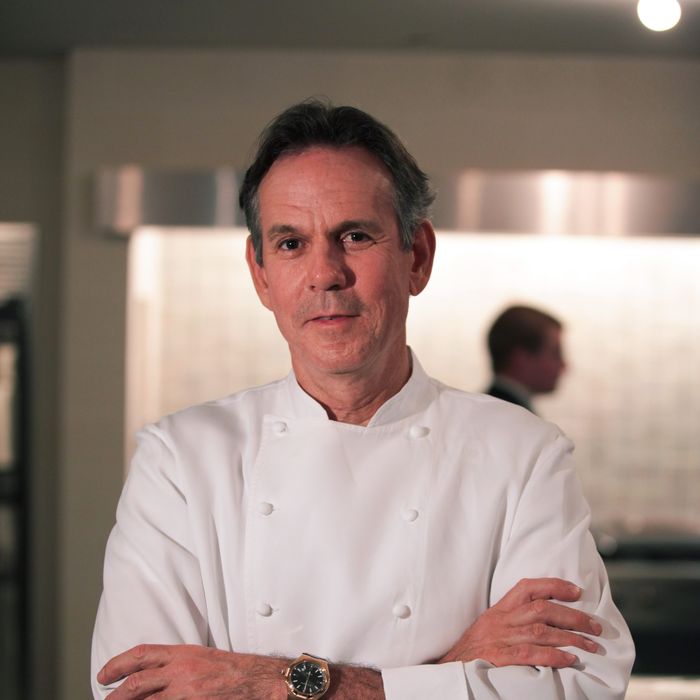 It's about time, dude.
Photo: Andrew Barris
Ever since Thomas Keller opened Ad Hoc in California way back in 2006, the fried chicken has been the thing. You can get it at Ad Hoc; you can get buckets of it at Bouchon in L.A.; you can get the recipe in Keller's Ad Hoc at Home cookbook; you can even buy a mix at Williams-Sonoma. But what's burned us is that you couldn't get the real deal in New York, ever. But today we get an e-mail from Team Keller telling us that for one day only, the Bouchon café in the Time Warner Center will finally sell that fried chicken.
Which day? Father's Day, which is this coming Sunday. During brunch from 11:30 a.m. to 2 p.m., $38 per person will get your table a family style fried chicken meal. You'll get asparagus salad with a poached egg, and fried chicken served with leek bread pudding, celery-root remoulade, and cornbread. Dessert is blueberry pie with buttermilk ice cream. No need to make a reservation — just show up at the appointed hour and enjoy.
Keller should make this a regular thing and offer to-go buckets for Central Park picnics, à la Momofuku.
Related: Get Momofuku Fried Chicken Without Reservation, With Picnic