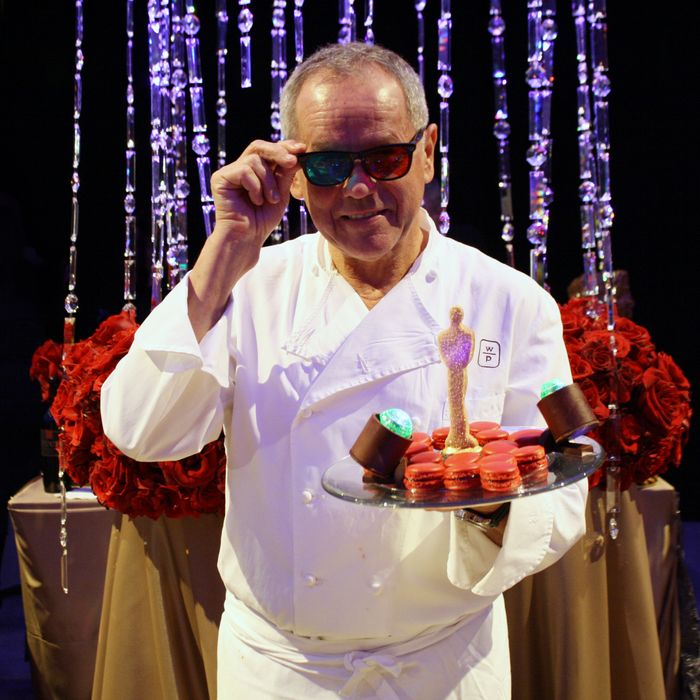 Puck with the "3-D" dessert he served at the Oscars Governors' Ball this year.
Photo: Lesley Balla/Grub Street LA
OG celebrity chef Wolfgang Puck may have made the wrong bet when he came out staunchly against foie gras this year, now that 100 of his most esteemed California colleagues have signed a petition to overturn the upcoming ban. Puck, who's set to receive a lifetime achievement honor at the James Beard Awards next week, was exposed yesterday in Food Arts for still buying and selling plenty of foie gras, despite the righteous letter he mailed out to his fellow chefs and restaurateurs in February discussing his support of the ban — and which all of them clearly laughed at and tossed into the compost with the kitchen scraps.
Now, the father of high-end pizza isn't exactly known for going against the grain, so what prompted him to pen that letter when so many of his big-name friends, from Thomas Keller on down the line, were so firmly on the other side of this debate? He says that "the science is so clear" regarding the cruelty of gavage that Israel (which used to be the world's No. 4 producer) and a number of European countries have banned it. And he writes, "We chefs have the ability to create delicious and original dishes our customers will love without causing torment to animals." So why then does he have foie gras on his menu (twice!) at Cut in Singapore, and why does he still regularly source foie gras from Hudson Valley Foie Gras for private events and his high-end catering service? His PR team quickly responded, admitting, "We do our best to steer [our private-event clients] in a different direction, but sometimes people just want it."
[Update: It turns out Puck also had foie gras on the menu at Chinois in Santa Monica as recently as February, the same month he penned that letter condemning it.]
That coalition of 100 star chefs insists that, well, the science isn't clear, and hand-feeding of ducks and geese is preferable to the black-market-fueled cruelty that will likely arise after this ban takes effect, and after California's only (and arguably humane) foie gras producer shuts its doors.
Puck may just be tired, in general, of Americans and our gluttonous, meat-consuming ways, and believes that maybe a little restriction is good for us. He told Time magazine two years ago that he had put more meat-free appetizers on the menu at his Cut steakhouse chain and served smaller portions of steak than the average steakhouse because, "I want people to get the flavor and taste of the meat but not sit with half the cow in front of them." And he said that when he and his wife dined there, they split a dainty eight-ounce steak between them. "I grew up on a farm in Austria," he said. "We had meat once a week. A Wiener schnitzel was a special-occasion thing."
Puck's comments are certainly winning him a lot of vegetarian and vegan fans — and in L.A. where the all-veg Café Gratitude is doing big business, that may just be good for business. But since he's obviously not so against foie gras that he'd say no to a customer, we've got to wonder whether this was all a bit of grandstanding on his part for a little extra attention, or a misguided gamble that he'd be ahead of the curve of chefs renouncing foie. And his poor PR folks now have a nice mess to clean up.
Update: The California legislature, at least for now, is not sounding too sympathetic to the chefs and their pro-foie cause. So maybe Wolfgang will end up on the right side of this after July after all?
Foie and Its Discontents [Food Arts via Inside Scoop SF]
Earlier: Coalition of 100 Chefs Decides to Fight the Foie Gras Ban
Wolfgang Puck Sends Letter to California Restaurants Still Serving Foie Gras [SFoodie]
Watch Wolfgang Puck Out-Funny All the Guests on Late Night with Jimmy Fallon