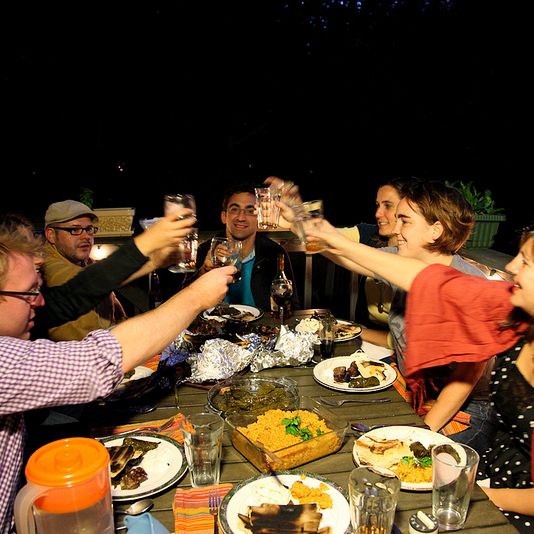 United and noshing.
Photo: Laura Hadden
Ever wondered what a nun fart tastes like? Just ask Jesse Friedman and Laura Hadden, who made the pets de nonne for dessert at the Chadian edition of their supper club of sorts, United Noshes, on Sunday. Now ten months into their five-year mission to cook one meal from all 193 U.N. member countries — plus Palestine and Holy See (Vatican City) — the couple has raised more than $6,000 for the World Food Program USA from guest donations, helped by a dollar-for-dollar match from Google (Friedman's employer).
As documented through recipes and commentary on their blog, the project has helped turn Friedman into something of an amateur geographical culinary historian. He's also learned where in New York to find obscure ingredients, he says, such as fresh kajmak (a clotted cream typical to Bosnia) — a quest for yak butter (Bhutan) was less successful.
Friedman and Hadden scour the Internet and connect with natives when possible to keep meals culturally accurate; they say they usually end up serving the type of food you'd find at a big wedding. For Burundi, this meant eating by hand off of a large communal platter. And the Canadian meal ended with quaffs from a maple-syrup-whiskey-filled "shotski."
The couple generally hosts about eight to ten guests per meal at their Carroll Gardens apartment, but they occasionally take United Noshes on the road. If you're interested in attending, contact United Noshes to receive their monthly e-mails. So far, Argentina holds the crown for best meal, they say (it's hard to beat ribs, blood sausage, and chorizo), but they have high hopes for this summer's Cuban pig roast on a New Jersey beach.