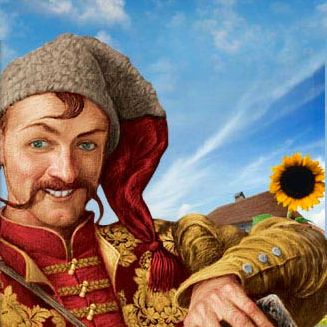 Sunflowers, mustaches, and vodka. Four Stars.
Photo: Taras Bulba
Looks like that enormous Times Square food complex won't be the only giant, ambitious Russian project opening in New York. Following Brasserie Pushkin and Onegin, another Russian-lit inspired restaurant is set to open in Soho: Taras Bulba Korchma is a homey, country-style Ukrainian restaurant chain based in Moscow. They'll open their first U.S. location at 357 West Broadway, former home of brunch-party hot spot Via dei Mille.
Some backstory: Taras Bulba is the title character of a violent and epic short story written by Nikolai Gogol in 1835. Sort of playing against expectations, at Taras Bulba the restaurant you can expect bartenders dressed like Cossacks; waitresses with fake flowers in their hair; song, dance, many beautiful breads, jams, pickles, country-style cheese, copious roe, and beets. Sounds good to us.
From the looks of things, representatives from the restaurant scouted out NYC last fall. They visited Balthazar, some dollar stores, and some places where Home Alone 2: Lost in New York was filmed. Representatives also appeared before Community Board 2 in February and are seeking a full liquor license. For an immersive and awesome look at how they do things Ukrainian-style in Russia, check out the video.
Korchma Taras Bulba [Official Site]
Earlier: Enormous Russian-Backed Restaurant to Open at 11 Times Square