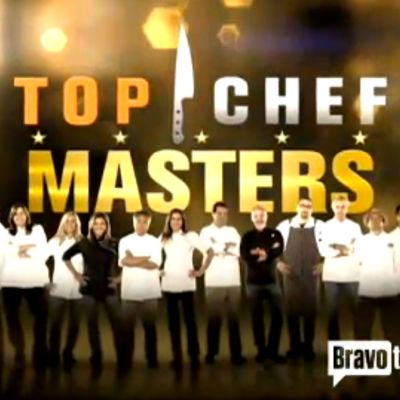 Bravo just announced that Top Chef Masters season four will start its run July 25, and this year judges Curtis Stone, Ruth Reichl, and James Oseland will return, joined by Gilt Taste's Francis Lam and friend of Grub Street Krista Simmons. (You'll recall that Grub Street's Alan Sytsma was a judge on several episodes last year.) The chefs this time around include Missy Robbins, Sue Torres, Chris Cosentino, and Art Smith. But enough yammering — see the full release and a preview clip for yourself straight ahead.
BRAVO'S "TOP CHEF MASTERS" COOKS UP A NEW SEASON ON WEDNESDAY, JULY 25 AT 10 PM ET/PT

12 Master Chefs Sizzle In Sin City Along With Celebrity Guest Judges Sugar Ray Leonard, Indigo Girls, Dita Von Teese, The B-52's, Brian Boitano And Holly Madison


NEW YORK - May 24, 2012 - Bravo's "Top Chef Masters" season four is smokin' in Las Vegas with 12 new award-winning chefs hungry to compete for the title and win $100,000 for their charity, premiering Wednesday, July 25 at 10 p.m. ET/PT. In each episode the winners of every quickfire challenge will be awarded $5,000 while the victors of the elimination challenges will receive $10,000 for their designated charities. Celebrity chef Curtis Stone is back as series host alongside returning judges James Oseland and Ruth Reichl with new judges, food and travel journalist Krista Simmons and features editor of Gilt Taste, Francis Lam. In a dazzling season of high stakes, big egos and sizzling drama, top names in entertainment join the judges table including Boxing legend Sugar Ray Leonard, folk rock music duo Indigo Girls, famed Burlesque performer Dita Von Teese, popular American party band The B-52's, Olympic Gold Medalist Brian Boitano, Las Vegas performer Holly Madison, among others. For more information, visit www.BravoTV.com. Follow us on Twitter at https://twitter.com/BravoPR.

"Top Chef Masters" pits 12 world-renowned chefs against each other to see how well they fare in fierce culinary competition. Based at The Cosmopolitan of Las Vegas, each week will whittle down the chefs until the finale where one winner is crowned "Top Chef Master" and receives the grand prize of $100,000 for the charity of their choice. The chefs are bringing more than their knives to the table; they're bringing their egos and stirring up the drama…all for charity. For a sneak peek of the fourth season of "Top Chef Masters" go to: http://www.bravotv.com/top-chef-masters/season-4/videos/the-competition-is-about-to-ignite

To meet the cast of "Top Chef Masters," visit www.BravoTV.com. Photography and bios are available at www.nbcumv.com.

Following are the 12 "Top Chef Masters" competing chefs:

 Chris Cosentino - Chef/ Partner Incanto Restaurant, San Francisco; Competing for Michael J Fox Foundation for Parkinsons Research
 Clark Frasier - Owner of Arrows; Competing for Outright Lewiston/Auburn
 Mark Gaier - Owner of Arrows; Competing for Equality Maine Foundation
 Lorena Garcia - Owner of Lorena Garcia Cocina Restaurant; Competing for Alliance for a Healthier Generation, Inc
 Debbie Gold - Executive Chef of Kansas City's The American Restaurant; Competing for Children's TLC
 Kerry Heffernan - NYC Chef; Competing for City Harvest
 Thierry Rautureau - Chef/owner: Rover's and Luc; Competing for Food Lifeline
 Missy Robbins - Executive Chef: A Voce Madison & A Voce Columbus; Competing for Grow to Learn NYC
 Art Smith - Executive Chef and co-owner: LYFE Kitchen and Southern Art Restaurants; Competing for Common Threads
 Sue Torres - Chef/Owner: Sueños; Competing for Cystic Fibrosis Foundation
 Takashi Yagihashi - Owner: Takashi Restaurant and Slurping Turtle; Competing for the American Red Cross, benefitting the Japanese Tsunami Disaster Relief
 Patricia Yeo - Om Restaurant & Lounge/ Moksa Pan Asian Izakaya; Competing for Heifer Project International

The third season of "Top Chef Masters" saw an increase from season two, earning 1.1 million adults 18-49 and was up double digits in total viewers, averaging over 1.7 million total viewers. The series is produced by the Emmy Award-winning Magical Elves with Dan Cutforth and Jane Lipsitz serving as executive producers.

Source: Nielsen Media Research, L7 data.

Bravo is a program service of NBCUniversal Cable Entertainment, a division of NBCUniversal, one of the world's leading media and entertainment companies in the development, production, and marketing of entertainment, news, and information to a global audience. Bravo has been an NBCUniversal cable network since December 2002 and was the first television service dedicated to film and the performing arts when it launched in December 1980. For more information, visit www.BravoTV.com. Follow us on Twitter at https://twitter.com/BravoPR.