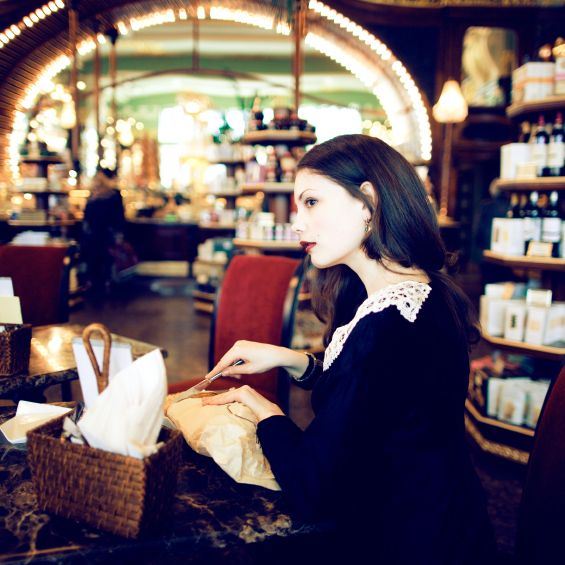 Table for one, please.
Photo: Christian Ekblad/iStockphoto
Eating alone in a restaurant is a funny thing: Some people shudder at the thought, others swear by it. The recent announcement of a new diner-pairing site brought the practice to light, and the many, many jokes made at the service's expense indicate that dining alone, especially as a woman, hasn't lost its stigma. (Gakwer's take: "If Women Stop Eating Alone, Whom Will We Pity in Restaurants?") But lots of people — especially industry folks — happily eat alone all the time. Business travelers, too, are often forced to hit the town solo. Everyone has dined alone at some point, either by choice or circumstance, and there are considerable benefits to be had when doing so, provided you take advantage in the right way.
"You don't have to be on anybody's agenda but your own," says Joe Yonan, food editor at the Washington Post and author of Serve Yourself: Nightly Adventures in Cooking for One. From a food fan's point of view, eating alone could be the ideal.
One hidden advantage: It frees eaters up to forge relationships with the staff, and observe which dishes the rest of the dining room is ordering. That's why so many food writers and chefs go alone when they're eating for professional reasons. It's also when the culinary kismet happens: a chance meeting with a future source or business partner, chatting up the waiter who might take you back to meet the chef, or waxing on with the bartender about their amaro selection — and getting to taste all of it.
See, for restaurants, solo diners aren't sad, lonely people with no friends. Quite the opposite: Customers who dine alone signify that they're there for the right reasons. "I don't think there's anything more flattering than someone sitting and having dinner in the dining room alone," says Will Guidara, general manager and co-owner of Eleven Madison Park and NoMad in New York City.
By Guidara's count, Eleven Madison Park sometimes gets up to six solo tables per service. "People often feel like if they're taking up a two top with just one spot that the staff would be upset. That's not true at all," Guidara says. "With a single diner, we really get the opportunity to interact with curious eaters. You know they're really there for the food." He feels that the staff can engage in conversation more easily, simply because they're not interrupting a serious date or business meeting. So as tempting as it might be to distract yourself with an iPad or text frenetically to your buddies, it's best to engage with the front of the house instead. After all, that conversation can quickly lead to VIP-style service.
For the sake of method, this food writer went solo to her neighborhood Mexican joint to watch the NBA playoffs at an establishment nearly always frequented with friends. After making conversation with the barman about the importance (nay, necessity!) of switching channels to the Clippers game instead of the Dodgers, I discovered that said barman was the owner who'd run the establishment since 1975. We bonded over basketball and the importance of solid salsa. From there on, the margaritas were flowing — on the house, of course.
Sure, the allure of a few free tequilas or an extra amuse course probably won't be enough to tempt most people to plop down at a restaurant table in solitudo, which is why so many people turn to bar and counter seating. The advantages are clear: At a bar, you don't stick out as a solo diner; and you're more likely to encounter someone else eating alone. As Bon Appétit editor in chief Adam Rapoport once told Grub Street, "If you're eating at the bar and reading a magazine, it's great. Or if you want to strike up conversations with people at the bar, or the bartender, you can sort of manufacture company as necessary."
Following that same logic, sushi bars are great spots for people who are self-conscious about having all eyes on them as they eat alone. There are usually other businesspeople dining alone, and everyone is focused on the itamae, or cooks, not the other customers. "I think that a sushi bar is definitely set up for singles," says Terrance Burton, director of operations for SBE and former G.M. of several Katsuya locations. "I would say that we would do ten to fifteen singles per night, sometimes even more."
If all else fails, and you are forced to eat alone even if you don't want to, there is one more strategy: Just bring a notebook along with you and jot things down every once in a while. Michelin inspectors famously dine alone when they're on official business — who's to say you won't be mistaken for one?