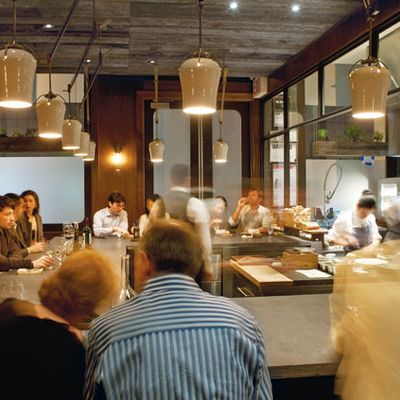 On Monday, New York's Adam Platt gave a rare four stars to Atera and its haute-forager fare. What did New York's crop of professional eaters think about the city's restaurants this week? Let's take a look.
Pete Wells dines at Café China, which looks as excellent as the food it serves tastes. The spicy (but just so) Sichuan fare receives two stars.
The Times also heads to another restaurant of the upscale-ethnic variety, this time Kristabelli, serving Korean barbeque and even desserts that are "unusual and good."
Meanwhile, Steve Cuozzo finds himself dining in the presence of billionaires at Brasserie Pushkin, an upscale Russian outpost that isn't quite worth the price. "Cod ruined by cloying apple puree was a $36 rip-off," the Post critic complains.
High-priced mediocrity is also on the menu at Strip House, where Bloomberg's Ryan Sutton finds unimpressive beef, and a $98 seafood platter on which "Alaskan king crab legs are waterlogged and poached shrimp taste like cardboard." Sutton awards the restaurant one star.
Robert Sietsema takes a gamble on Genting Palace at the Aqueduct Racetrack, and it pays dividends with "some of the city's best dim sum." Best bets include "dried-fluke congee, supremely tender soy-braised chicken feet, and stuffed bean curd skin topped with shredded garlic chives."
The New Yorker is incredulous at the idea of Littleneck, a Kickstarter-funded up-and-coming restaurant specializing in its clams. "A clam shack by the Gowanus Canal?" writer Leo Carey asks. Indeed, everything about the restaurant spells "unpretentious" and "no-fuss" — but the entrées, surprisingly, are a bit too fussy.