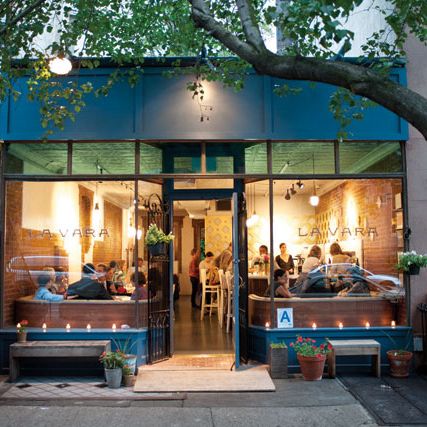 Lovely La Vara.
Photo: Danny Kim/New York Magazine
This week, Adam Platt gave Brooklyn's La Vara and Gwynnett Street two stars each. What did New York's critic brigade eat this week? Let's take a look.
Tejal Rao also visited La Vara, which she describes as "a neighborhood joint, full of locals who can't believe their luck: a new place that isn't doing the old farm-to-table thing?" Instead, there's "a shining quarter of a piglet, its thin skin shattering under your fork," and "remojón … a brash salad of blood orange, house-cured salt cod, pistachios, olives, pomegranate, and chopped hard-boiled eggs."
Robert Sietsema visits a newly relocated Little Pepper (it's now in College Point), which he says serves the hottest Sichuan food in the city. The food, ranked in terms of chile peppers (one to three), is familiar and surprising. Standbys like tea-smoked duck disappointed, but he found a new favorite at the new location — French fries covered in Sichuan peppercorns.
Every time Le Bernardin has been reviewed by the Times, it's received four stars. This week was no different, as Pete Wells left his mark (four new stars, that is) on chef Eric Ripert's haven de cuisine. Wells suggests fluke sashimi in jalapeño-lime broth, steamed halibut "borscht style" topped with horseradish crème fraîche, and a dessert of deconstructed mandarin orange flavors.
The rice was too hot, the environment was too distracting. Bloomberg's Ryan Sutton calls new high-end sushi spot Neta a work in progress. He awards just two stars.
Almayass is the latest transplant to New York from another city. The Lebanese-Armenian restaurant out of Beirut offers a high-end (and often lighter) version of the region's homey, filling foods. Time Out's Jay Cheshes
suggests Hummus Almayass, eggplant dolma, and a raw beef kibbe. The flatbread seems store-bought, but overall, Almayass gets three (of five) stars.
A week after Adam Platt gave NoMad two stars, Steve Cuozzo calls it "the year's best new restaurant by a mile." After he bought triple Michelin-starred Eleven Madison Park, chef-partner Daniel Humm had nothing to prove with NoMad, Cuozzo says. The truffle and foie-gras-stuffed chicken is all it's chalked up to be on the proverbial street, and Cuozzo awards three of four stars.
Meanwhile, "Tables for Two" heads to Bowery Diner, writing, "Though it doesn't always succeed at either, Bowery Diner's menu aspires to satisfy adult cravings as well as childhood ones." Sadly, "you need to be drunk to enjoy this food."