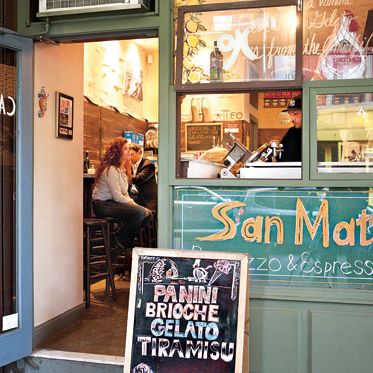 San Matteo Panuozzo.
Photo: Danny Kim/New York Magazine
On Monday, New York's Robin Raisfeld and Rob Patronite gave two stars each to two downtown sandwich spinoffs San Matteo Panuozzo and Taboonette. What did the city's crop of professional eaters think about restaurants this week? Let's take a look.
For her review debut at the Village Voice, Tejal Rao gives us the full experience at Perla
— shrimp heads that taste "like a campfire that burns by the sea," a friendly waitress that chants "do it, do it" when a last bite of foie gras and pistachio butter sits on the plate, the Dirty Dancing soundtrack playing overhead. One thing she's not interested in doing — chronicling her night via Twitpic.
Robert Sietsema samples three types of sausages during "opening" weekend for Vandaag's weenie window. The only dog he's barking about is the bunless Double Dutch — a Braty boudin blanc and a dissolving blood sausage.
Pete Wells can't get enough of the charcutier and saucier expertise at La Silhouette in Hell's Kitchen. He awards the year-old eatery one star (and a gold star for politeness).
Ryan Sutton says Torrisi Italian Specialties has shed its clumsy chicken parm sammies and lunch and lines out the door. Now he dubs its $150 tasting menu (a $100 upcharge and a month's wait) "New York heaven," awarding the little restaurant three and a half stars (between "first class of its kind" and the ultimate Bloomberg Valhalla, "incomparable food, service, ambience").
Jay Cheshes relishes the "luxurious setting, flawless service, and preponderance of foie gras and truffles" at the NoMad, "an old-fashioned restaurant that's also exciting and new." A poached egg starter is "over-the-top," and duck breast carries the "he exotic perfume of Vadouvan curry." Basically, "the food will haunt you" Cheshes writes in his five-star review.
For Steve Cuozzo, the fussy American fare at Vitae makes it the best American-Nouveau lunch spot in midtown — even if it is because it's one of the only modern American restaurants for blocks, and its nearby competitor is a Build-a-Bear.
Research — and The New Yorker — suggests you'll like French wine bar Thirstbaràvin because you'll have to work to get there. Once you reach the cozy spot in "unfortunate location" Crown Heights, there's no wait.