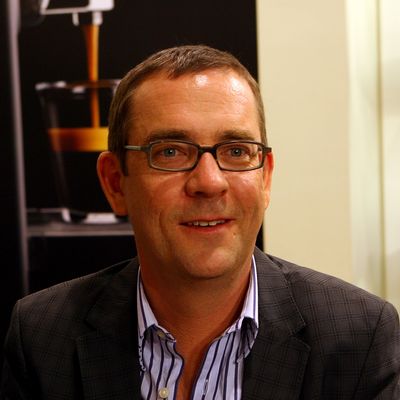 Poppin' champers across the country.
Photo: Gail Oskin/Getty Images
Ted Allen is on a roll: At this month's James Beard Broadcast awards, his show Chopped picked up two medallions, one for Allen's hosting skills, and another for the best studio-based cooking show. So how has Allen been celebrating? By working more, of course. His latest book, In My Kitchen: 100 Recipes and Discoveries for Passionate Cooks, was released last week and he's now in the middle of a tour to promote it. (Check out the remaining tour dates here.) We caught up with Allen, who's in San Francisco at the moment, via phone to talk about how he manages to entertain himself on tour, how Chopped came to be, and his upcoming trip to Nathan Myhrvold's cooking lab in Seattle.
First off, congratulations on the Beard wins. How did Chopped first come together? It feels like it's become Food Network's most popular show very, very quickly. What's your take on its trajectory?
The show was first developed by my friend, Linda Lea. We made a little pilot at the Culinary School at the Art Institute of New York in a ridiculously hot room that was never intended for air. The show was originally a lot more elaborate. It was set in a mansion, the host was a butler, the butler held a Chihuahua, and when a chef was chopped the losing dish was fed to the Chihuahua. And that pilot was really and truly created — I was not that host, which I'm okay with.
I actually watched it, it was pretty trippy. A little too weird for Food Network, but they saw the kernel of an idea that they liked, which was a stripped-down, straightforward, very simple competition: Can you cook something beautiful out of these four incongruous ingredients or not? I think it's successful because our casting is great, and our editors cut the show very tightly, it moves very fast. Our judges are fantastic, they've grown into a really great family and we're all very tight friends now … I'm surprised with how successful it is, just because that's always a surprise and you can't really predict that kind of thing. We shot 44 episodes in the run that ended last Thursday, and we've already been picked up for another 39 in the fall.
How long is the process of shooting it?
It takes twelve hours to shoot the show proper. A little longer for the winner who has to stay behind and be deposed, but then of course an insane amount of work that's done by Food Network's culinary department, coming up with the mystery baskets, buying the food, making sure the food is safe and fresh. And the casting department has to pull chefs. We're now pulling chefs from cities all over the country. At first we exhausted New York City, then we exhausted the Eastern seaboard, and now we're working on crushing the dreams of chefs from Atlanta, New Orleans, Vegas, I think San Francisco, and other great culinary meccas. And it doesn't get boring for me at all. All I have to do all day is stand there and talk with the best chefs in the country about what would you do with that food; it's really helped my cooking a lot.
On TV, do your hosting skills inform your cooking skills, or vice versa? Or are they two different roles and skill sets?
I think one could inform the other, it's all just a matter of how fancy a person you are. But I'm usually cooking for really close friends. [My partner] Barry usually makes the dessert, which he did for the book, he made beautiful desserts for the book. I'm still usually working when people come over so Barry usually screws around with the friends and I usually have to ask my friend Michael to set the table.
Speaking of the book, you have a new one. What's it about?
Right, the overarching idea behind the book … I mean, so many cookbooks these days are endeavoring to get people out of the kitchen as quickly as possible, and I don't look at it this way. This book is intended to propel you into the kitchen, to turn on the stereo really loud, open up a bottle of wine, and enjoy the process of cooking with your friends, and your kids, who probably shouldn't drink the wine, unless you're French.
You read a lot of truly great people writing about it these days — Bittman, Pollan, writing about the profound importance of cooking with your family, and what you get from that — I truly don't understand people who don't have that. I don't get it.
There does seem to be a movement back into the kitchen. Not necessarily a rejection of the quick meals thing, but more of an appreciation for the process again.
Yeah, by no means do I claim to be the person to have discovered that or announced that but I'm kind of just piling on and joining the chorus of people who feel that way. Really, really deeply and seriously, I get irritated when I don't have time to cook for a few days, especially when we're in production.
And you're on tour for the book now, right? Do you do anything special during your appearances?
I may have established one the other day at, I think, Milwaukee. I walked on stage with a briefcase and pulled out a half-bottle of Moët and popped the ceiling with a cork. From that moment on, the audience was in the palm of my hand. It was a nice, celebratory beginning.
Do you like the tour process, or is it kind of a necessary evil?
Well, it's funny, 'cause as you might not be aware — the schedule for me has been just crazyballs, lately … and I didn't even have a chance — well, I had a chance; I just didn't avail myself of it — to look at the schedule, which is just relentless. It's definitely fun, but they have me traveling in a way that I would have never traveled. They're putting me on crack-of-hell early morning flights and then I'm leaving the next day on another crack-of-hell early flight. But I did get to go to the Milwaukee Art Museum, which had some great stuff in it, and I'm having some fun. Part of the fun that I factored into this trip was a dinner at Charlie Trotter's, which was spellbinding. He was absolutely beaming, working the room like he'd just won an Oscar, doing a victory lap.
So he doesn't seem too broken up about the close.
Oh my God, he was, like, glowing. Maybe he had a glass of wine or something. I've never seen him so — ebullient. That's not a word people use to describe Charlie.
Not really.
The food was unbelievable. Looser than I remember, like more — I was trying to think of an art metaphor — because on the plate, it looked so, not so buttoned-up. But more free-form, more expressionistic. Maybe it was always that way. It's been years since I've eaten there. But I do have some really fun shit going on during this tour. When I go to Seattle, I was offered a tour of [Nathan Myhrvold's] Cooking Lab, which is obviously fantastic news.
Have you ever been there?
No! Have you?
Yeah … It's this unmarked warehouse out in the suburbs and you would never know in a million years that's where Modernist Cuisine was put together. You walk in and it's just crazy — the giant industrial tools are incredibly awesome.
I can't wait, and it really works out gorgeously because I'm taking my childhood best friend — whose name is also Ted, oddly enough. He also happens to be the first friend of mine who ever got into cuisine and who first cooked me a really special meal.