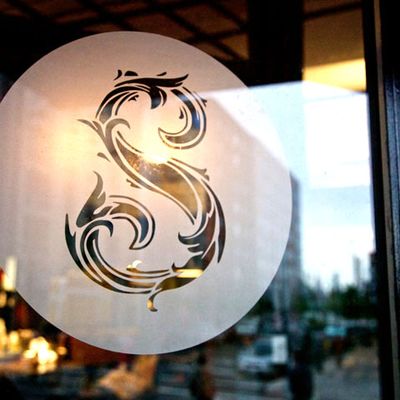 BK bound.
Photo: Courtesy Sweetleaf
One of the best espresso shots in Queens is crossing Newton Creek to Williamsburg. On Monday, Sweetleaf, the prized Long Island City coffee shop, is opening a new location on Kent and North 6th where it will do battle with other serious pours like nearby Toby's Estate Coffee and Blue Bottle. Owner Rich Nieto's weapon of choice is his trusty La Marzocco Strada EP, broken in at the LIC shop and ready for action. Beans will hail mainly from Ritual, Heart, and Stumptown, though Nieto plans to bring in "guest" beans for special runs once they're settled in the new digs.
The Williamsburg location will see an expanded pour-over program, which will occupy a long length of the bar. As for eats, this Sweetleaf will open with a simple menu of some of the same freshly made pastries and muffins served in Queens.

The space is designed to pick up on the industrial vibe of the neighborhood — lots of metal and reclaimed wood; the bar itself is fashioned mostly of antique doors. But Sweetleaf will come equipped with one asset no other Williamsburg coffee shop can claim: Nieto has installed a foosball table in the shop's standing area. And lest you think the Brooklyn address means Sweetleaf has abandoned its LIC roots, there are already plans for a second location there to be opened somewhere near the river in the next four or five months.
Sweetleaf, 135 Kent Ave., at N. 6th St.