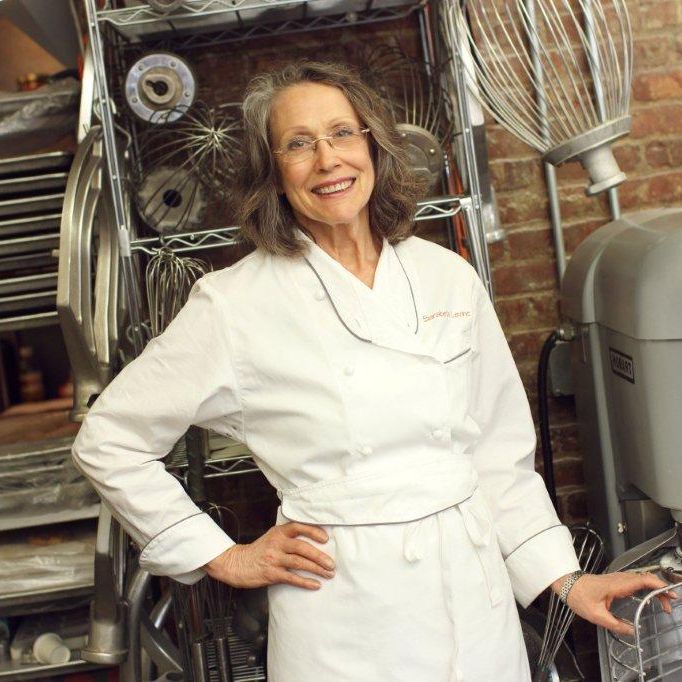 "I was so happy to throw off my shoes and eat dinner from a tray while watching Dancing with the Stars."
Photo: Melissa Hom
Last week, Grub turned up the music with Courtney Love's leg rubs and Pétrus parties, so we thought now would be a good time to take a nice, deep breath with the comforting foodstuff of Sarabeth Levine. Owner of the super-popular Sarabeth's restaurants, where every good New Yorker has experienced a morning-after brunch, beautiful baby shower, or well-rehearsed breakup talk, Levine has created an institution for caffeination, celebration, "chocolate chubbies," and crazy cups of tomato soup. She's a woman who adores food and wants to "eat every delicious-looking thing" she sees, but is also a Weight Watchers loyalist, resulting in a healthy, wholesome diet of everything in moderation … including moderation. Read about Sarabeth's steady stream of coffee intake and how she prepares orange pork tenderloin at her cottage out east in this week's New York Diet.
Friday, May 3
At 5:45 a.m., my eyes opened like clockwork. Within ten minutes, I'm in front of my Nespresso coffeemaker adding fresh water to the reservoir and popping a Volluto or Capriccio capsule into the machine. Next, I frothed 2 percent organic milk to add. I have two of these every morning while I read the paper or check my e-mail. This is definitely my favorite moment of the day.
I always have breakfast when I get to the bakery. This morning I made a huge pot of organic steel-cut oats for the bakery staff. They love when I make the oatmeal! I cooked it in the top of a double boiler with a pinch or two of salt. This slow-cooking method makes superior cereal. And then coffee, number three! Also, baked some Three-Seed Flatbreads. Had a few bites for quality control.
Lunch consisted of my usual salad of mixed greens, tomatoes, diced apple, avocado, and cucumber with our lemon vinaigrette. To the salad, I added a small scoop of tuna salad.
Later, I baked a batch of Morning Cookies; these are a special recipe I've come up with that uses oats, whole-wheat flour, and Shredded Wheat. They are only three points on Weight Watchers! And of course I had to eat one. Pretty yummy! Had my last coffee of the day and an orange.
I catered a bridal shower that night and ate there: had a few of the hors d'oeuvres: tuna tartare in mini tacos, quail deviled eggs, and a white-bean puree with roasted red pepper on fresh focaccia. Everything was cute and delicious! Dinner consisted of a Caesar salad, dressing on the side, and Arctic char with roasted cauliflower and a sun-dried-tomato pesto. It was the perfect meal for me. Skipped the dessert.
Saturday, May 5
The usual two Nespresso coffees at 6 a.m.
Toasted whole-grain bread from the bakery with cottage cheese and orange slices.
I grabbed a banana and headed out east to our cottage with my husband, Bill. We love escaping the city, and the weekends give me a chance to cook new things and sit down like a real person while I am eating. I am embarrassed to admit how many daytime meals I consume while standing — I'm working on this bad habit.
We arrived at the house for lunch and I made a salad of arugula, romaine lettuce, red cabbage, olives, and a few tomatoes that I brought with me from the city. Dressing consisted of lemon juice, Arleta balsamic vinegar, and extra-virgin olive oil. We also shared a can of Costco's Kirkland chunk chicken breast, which is a staple in our house. I added a small amount of mayo and a touch of lemon juice, salt, and pepper. It is better than canned tuna.
Off to Citarella's to shop for dinner and to the bird store for safflower seeds for the feeders. I decided on a small pork loin, and we stopped at a farm stand on the way back for some asparagus. Had a few almonds, about ten.
Around 7 p.m., I prepared a spinach salad of tomatoes, cucumbers, and romaine, tossed with olive oil, balsamic vinegar, salt, pepper, and a garnish of chopped avocado. Decided on Dorie Greenspan's Fresh Orange Pork Tenderloin with cardamom and oranges from her book Around My French Table. You can always depend on Dorie for a great recipe. Served that with a small baked yam and asparagus.
Dessert was a sliced mango and a Tom Hanks movie.
Sunday, May 6
Two cups of Nespresso.
Cottage cheese with cantaloupe and whole unsalted almonds.
Bill and I are golfers, so we headed to the Baiting Hollow Golf Club on the North Fork of Long Island, for a round. Had more coffee there.
We ate an unusually late lunch at the Lobster Roll in Baiting Hollow. I had a mixed salad and grilled salmon garnished with two slices of grilled pineapple. The salmon was cooked perfectly and I loved the fruity combination. I also had a glass of club soda with a twist of lemon. After lunch, we came back to the city.
We ate so late that I wasn't very hungry for dinner. I had a plain Chobani yogurt with strawberries and a banana, a slice of lightly buttered whole-grain toast, and a decaf Nespresso.
Monday, May 7
5:30 a.m. Up extra-early today and had one Nespresso. Off to the bakery to get ready for the James Beard Foundation Awards. I was serving a special butter cookie and James Beard's strawberry shortcake.
I made a huge pot of steel-cut oats, cracked wheat, and flaxseed for the nine of us. We needed our energy, and we topped it with strawberry-mango compote with fresh vanilla bean. This was the filling for our James Beard shortcakes. Great combination!
I ate a light lunch because I was saving myself for all the great food that I would eat at the Beards. So I just had a fruit salad and cottage cheese and a few of those great seeded crackers that I make. Also, half of a shortcake and one of the cookies. Needed to be sure they tasted good. Do I really need an excuse? No! And of course, a coffee to go along with it.
At the Beards, I had a few samplings of what the other chefs had prepared, but I was actually starving by the end of the evening because we were so busy serving dessert at our table that we did not really have to time to eat a lot. So much for saving my points earlier in the day!
Tuesday, May 8
Two Nespressos as usual.
Barbara's Shredded Wheat and low-fat milk plus a banana at the bakery.
We had to make a lot of our Morning Cookies for a pretty intense OpenSky order. I have to say that I did eat a cookie or two during the process. Considering we made 500 cookies, a cookie and a half is not bad if you knew how much I love this cookie.
For lunch, I made myself salad with dressing and had some of the baker's family meal, huevos con tomate (omelette-style eggs in tomato sauce). Not only are they great bakers, they are great cooks.
At night, there was a book signing for Sarabeth's Bakery: From My Hands To Yours at Williams-Sonoma. I left there and got takeout dinner from Ditch Plains. I really like Marc Murphy's chopped salad. It has so many great veggies — cucumbers, tomatoes, radishes, kidney beans, carrots, and radicchio with tender little curly shrimp. The dressing is pretty bright and flavorful, a perfectly balanced red-wine vinaigrette. I was so happy to throw off my shoes and eat dinner from a tray while watching Dancing With the Stars.
Wednesday, May 9
6 a.m. two Nespressos.
I made five-grain hot cereal with bananas and 2 percent milk.
Lunch was a mixed green salad with green apples and goat cheese and a plain omelette. Snacked on three small flatbreads, right off the baking tray. My latest creation. Another snack, later, was an oatmeal cookie and coffee, but I was still hungry so I had a banana. I was in the mood to eat everything in sight, but restrained myself.
I went to the book launch for my friend David Kirchoff, president and CEO of Weight Watchers, then came home and cooked dinner: grilled turkey burger with avocado and tomato, and Heinz ketchup, of course. Pickle on the side. Lightly dressed cabbage slaw made from red and white cabbage and grated carrots. I use Greek yogurt and a little mayo, with a touch of white balsamic vinegar, salt, pepper, and a squeeze of lemon juice. A perfect end to my day, and so happy Bill waited to have dinner with me.