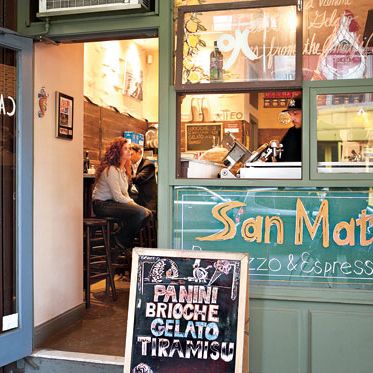 San Matteo Panuozzo in the EV.
Photo: Danny Kim
In this week's New York, the Underground Gourmet turns its attention to two sandwich-y spinoffs: San Matteo Panuozzo and Taboonette. What is a panuozzo, you ask? As the U.G. explains, it's "like a supersize panino" — pizza dough that's baked, stuffed, folded, and baked again. At the shop in question, the specimens are "hefty and filling, ­although constructed in the minimalist Italian fashion, and served with an enthusiastic smile"; San Matteo Panuozzo earns two stars.
The U.G. also investigates Taboonette, the new spinoff of Hell's Kitchen favorite Taboon, which is dedicated to "meat, seafood, and vegetable fillings stuffed into pita, folded into wraps, or served over vermicelli-strewn rice." Rob and Robin particularly enjoy the breakfast-sandwich shashuka, "a Middle Eastern Egg McMuffin of sorts"; as well as the "pulled-pork pocket with fennel-jicama-apple slaw and chicharrónes, and the sautéed calamari option with yogurt sauce and chimichurri"; this one also gets a two-spot.
Meanwhile, folks elsewhere in the food-iverse are wondering about the fate of the humble bodega. If 7-Eleven has its way, mom-and-pop groceries may go the way of the dodo, writes Willy Staley. Less depressing, here's a downright salty chocolate-chip cookie to consider, the handiwork of Smile to Go pastry chef Brenna White. And do also consider this recipe for asparagus-and-pastina soup, from the lovely little book Zuppe by Mona Talbott.