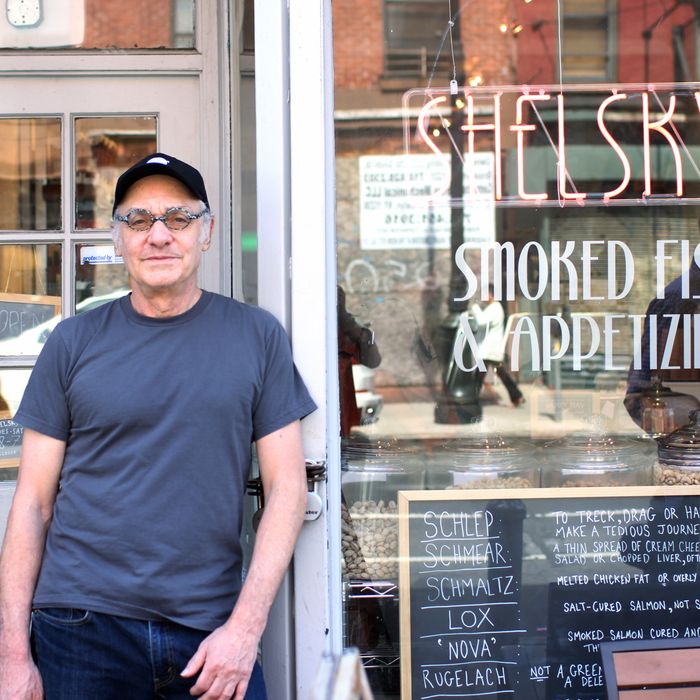 Kaminsky, in the center of the "Brooklyn food explosion."
Photo: Melissa Hom
Peter Kaminsky is a food writer whose job has taken its toll on his body. Between stints at our own New York Magazine and Food & Wine, Kaminsky "put on a good 30 pounds." And, he adds, "my blood-sugar was high, I was borderline diabetic. My life insurance was rejected and I was told I had to lose weight, that I had to try." Hence his newest book, Culinary Intelligence: The Art of Eating Healthy (and Really Well). "People have had their minds blown by food enough that it's not simply the fireworks of the richest ingredients. I think people are a little more discerning and sophisticated, and take their pleasures in more zen ways." So we signed Kaminsky up for this week's New York Diet to put him to the test, to see if he could really eat healthy in a way that's also delicious — that's the whole point of his book, after all. Read on for tales of rooftop grilling, dinner with Danny Meyer, and a fishing trip gone awry thanks to Barack Obama.
Friday, May 11
Coffee, ground fresh, and some whole milk. The coffee is from Two for the Pot. John McGill has been selling good coffee since way before soul patches and pork-pie hats got hip again, probably since mid–Dizzy Gillespie. And some Granola that my wife, Melinda, buys at Pacific Green on Court Street. What kind? I ask. Izzy's and Bob's Red Mill mixed together. Topped it all off with whole roast almonds. Now we're talking.
At lunch, I spoke at the Rudd Center at Yale. We had delivery from a local modern –Italian restaurant. It was a so-so sandwich of overly crispy prosciutto and overly vinegar-ed veggies. The white-bean-and-greens soup, though, was excellent, to my pleasant surprise. Not too salty, just right. This is rare in a takeout soup.
Dinner was Parish Hall in Williamsburg. Okay, I'm a sucker for the Band and Dylan on the soundtrack. New place, clean look, maximum farm-to-table. It rocks. We had small plates to start: Spring greens with panna cotta and shallot vinaigrette; a plate of Nancy Newsom's ham with shaved asparagus and pickled haricots verts; fluke with turnips and turnip greens. Yes, turnips can be fresh and interesting, even captivating. The things I thought were pickled chickpeas turned out to be nasturtium capers. I was unaware of their existence. Then the entrée for the two of us: lamb sausage, loin, farro sausage, and nettle pesto. Finished with some killer cheeses.
Saturday, May 12
Coffee and milk. Defrosted some whole-grain raisin-walnut bread from Bien Cuit on Smith Street. How did I get the best bread baker in the world a block form my house? And how did the ground zero of the Brooklyn food explosion land in my neighborhood? I swear, if I can't walk or bike to it, I pretty much don't go.
Anyway, defrosted the heels of bread in the microwave (even stale bread gets moist again) then toasted. Two fried eggs — free-range, organic in a little butter. Eggs from the corner green grocer, Pacific Green. Fine and dandy. I wonder how the neighbors will take to my raising chickens in the back yard? I already know the answer but you can dream, can't you?
After that I worked until I remembered I needed to eat. Finally opened the can of little baby eels in garlic and chile peppers that I bought last year at Despaña. Dipped some Wasa whole-grain crackers in the oil. Next time I won't wait a year. Really great.
Bought the first strawberries of the year at the Greenmarket. They tasted recent. I'm excited. Not full blown, deep-dark-red-all-the-way-through yet, but my hope is it's just the beginning.
For dinner, we grilled up on the roof with our neighbor Patsy Taylor, her son Spencer, and some twentysomething friends. Way hipper than moi. Grilled asparagus in olive oil and then seasoned with flaky salt. Spencer brought some grass-fed lamb chops from Duclos and Thompson, a Vermont farm. His buddy Mark brought some McClure's pickle brine from Williamsburg. This worked well instead of the chimichurri that Patsy had intended to make earlier in the day, but Saturday being Saturday, somehow it never happened.
Also a few hanger steaks. Melinda made a salad of lettuce and arugula flowers. Didn't know that arugula had flowers. Glad they do: delicious. Patsy brought a chocolate cake from Marquet on Court Street. Had a wee piece with the strawberries. It was rich and dark and a little went a long way in the flavor-per-calorie department.
Sunday, May 13
Standard breakfast. Whole-grain cereal, granola for crunch, almonds, dried cranberries, and the strawberries leftover from the night before.
Some figs and one slice of toasted whole-wheat rye from Bien Cuit (their miche is insanely great and crunchy-crusted beyond belief). On it, a shmear of Across the Pond cheese from Stinky: ripe and funky. "Across the Pond, " I said to the counterperson as I bought it. "From England?" I asked, wanting to show I got the reference. "Nope, they are near a pond in Vermont."
With that, a couple of pickled okras that I bought from the farm stand outside Roberta's. The acid cuts the ripeness of the cheese. I almost wrote "cuts the cheese" as food shorthand, but realized that would be indelicate.
Back on the roof for dinner. Super-big treat, my daughter Lucy and her boyfriend Max. Bought last of the local fiddleheads at Jim and Andy's and had them sautéed in beurre blanc. From the Carroll Street Greenmarket (my favorite), the supernal Lani's had baby arugula flowers, baby mache, even redder strawberries. The fishmonger had fresh flounder, with that telltale grey tinge of super-fresh. Dredged the fillets in cornmeal, greased a plancha on the gas grill, and cooked 'em quickly. We ate on the roof at sunset.
Monday, May 14
Cereal again. More of the same. It's fine.
Lucy on a break from a jury duty assignment, so lunch was at Yemen Café on Atlantic Avenue. Lots of families and ladies in leopard-print headscarves. Cute kids. Had the salad with their amazing dressing of green pepper, herbs, garlic, and vinegar; homemade flat bread, fresh from the oven; and salta, a vegetable-and-fenugreek stew. Laced it with a couple teaspoons of their freshly made green hot sauce. It's my favorite place in the neighborhood. Whenever a famous chef is in town, I take them there and they are tickled. Sheila Lukins loved this place. Michel Richard, too. Sifton. Cathy Erway. Okay, enough with the names.
Showed up at a reception for Theater For A New Audience in my standard Neil Young wear: flannel shirt untucked, jeans, tee, sneakers. Guess I got a "writers pass" for underdressing. Please patronize this new theater. It will be a great addition to Brooklyn. We ran into Danny and Audrey Meyer there, so we ambled two blocks to Colonie on Atlantic. I ordered a few apps: fried artichokes, one big soft-shell crab, clam crostini, and calcotada, grilled leeks with romesco. Danny ordered a bottle of Frappato, which my daughter first turned me on to at Frankies. Alas, no Band on the soundtrack.
Tuesday, May 15
Had my "gone fishin'" sandwich: A BLT on whole wheat with a scrambled egg. But no fishing, even though the stripers are in season. Drove up the FDR and peeked to see what was happening at U Thant Island, that little speck beneath Roosevelt Island off the U.N. Usually it's the one infallible fish-catching spot in the harbor, but oh my sweet lord … a police boat sitting right in the rip current where the fish hang. I was bummed, until I realized Obama was in town. Sending memo to bluefish at U Thant Island: POTUS leaving, please stay put.
Lunch was Wasa crackers, Cabot cloth-bound cheddar, and some cornichons.
Later, a cocktail party for my book at the International Culinary Center, thrown by my sister-in-arms, Dorothy Hamilton. Great charcuterie, and damn fine Champagne from … New Mexico?!
Afterwards, dinner with Dorothy, Andre Soltner, Jacques and Hasty Torres, daughter Lucy and Melinda. I'm in heaven. Andre is the man and Jacques is bonhomie personified. I had roast chicken because … well, why wouldn't you? There was a lovely side dish of borolotti beans and greens, and Dorothy ordered up some Burgundies. I am a committed Burgundy slut. For dessert, I had half of a crème brûlée. It can be blah and average too often, but mine was great.
Wednesday, May 16
The morning was cereal and coffee.
I was flying, and lunch was a challenge. JetBlue says you can have your pick of all the wonderful restaurants in their terminal, but it's all doughnuts and pizza and cheeseburgers. The healthiest thing I could find was two Kind bars, so I bought them and ate them, and then I got the fabulously inauthentic, but not carcinogenic, hummus and whole-grain crackers from JetBlue.
I landed in Seattle and went to Pike Place Market and had a half sandwich. I wanted spring salmon really bad, but someone told me to have the halibut, so I did. Grilled onions, lettuce, and tomato, hold the bun. The fish had lots of spice rub but no salt. Got the shaker and I was happy.
Dinner was at Etta's. Many oysters, mussels and romesco, and some fresh King salmon. I was with Maxime Bilet, the co-author of Modernist Cuisine, his good friend Katie, and Warren Etheredge. Seriously great food talk. Had a nice Washington State Sauvignon blanc. They tried to talk us into dessert but virtue prevailed. Jet lag helped.