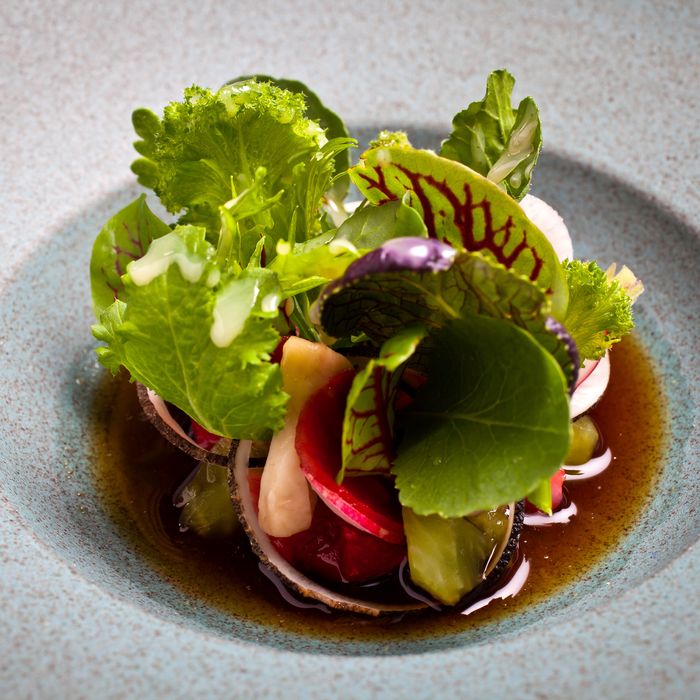 Everyone loves Atera.
Photo: Nathan Rawlinson/Courtesy of Atera
This week, New York's Adam Platt gave two stars to NoMad (which he dubs 'Eleven Madison Light'). What did New York's crop of professional eaters think about the city's restaurants this week? Let's take a look.
A week after Village Voice's Tejal Rao, Pete Wells weighs in on Perla. The duck ragu (which he says can stop conversation) and the vitello tonnato (which he admits brings out the lion in him) earn the spot two Times stars. And while Wells laments the lack of reservable tables, he no doubt gives extra points to the hanging portrait of Mos Def. Ryan Sutton also hits Perla, where he enjoys the Jay-Z and foie gras PB&J.; The gnocchi is deemed "fantastic." The place is "no Babbo-killer," but Sutton does call it "the city's best new Italian restaurant in over a year."
Meanwhile, Oliver Strand pops over to Melvin's Juice Box for the Times, noting that while "Juices and smoothies have gone mainstream," cheerful juice guru Melvin Major "makes serious juice fun." And the solid food here is "satisfying without being particularly noteworthy."
Robert Sietsema seems to like breakfast food. He deals a passing assessment to Parish Hall in Williamsburg (sister restaurant to
Egg), noting some wholesome breakfast offerings, and the "red flannel hash" of baby fingerlings, beets, and corned lamb for dinner. Jay Cheshes is also in Brooklyn this week, checking out Gwynnett St. The restaurant earns three stars by "borrowing from here and there to create something altogether original." That includes "caramelized" lamb meat with caraway streusel, and "humble" hen-of-the-woods mushroom, "intensified" with onion purée and a lardo topping.
Two weeks after Adam Platt gave Atera four stars, The New Yorker touts the locavore fare at the new restaurant. Notables include "pickled quail eggs" shaped from aioli bound in milk skin and a "rock" dessert compared to a slightly melting Cadbury Creme Egg. Speaking of sweets, Tejal Rao dives into Per Se's new dessert tasting menu, a study in "harmony, beauty, and precision." Some dishes even include "savory ingredients like salty olives and fennel," and there's a side benefit: "the dessert tasting doubles as an affordable ticket into the city's science-fictional theater of money."