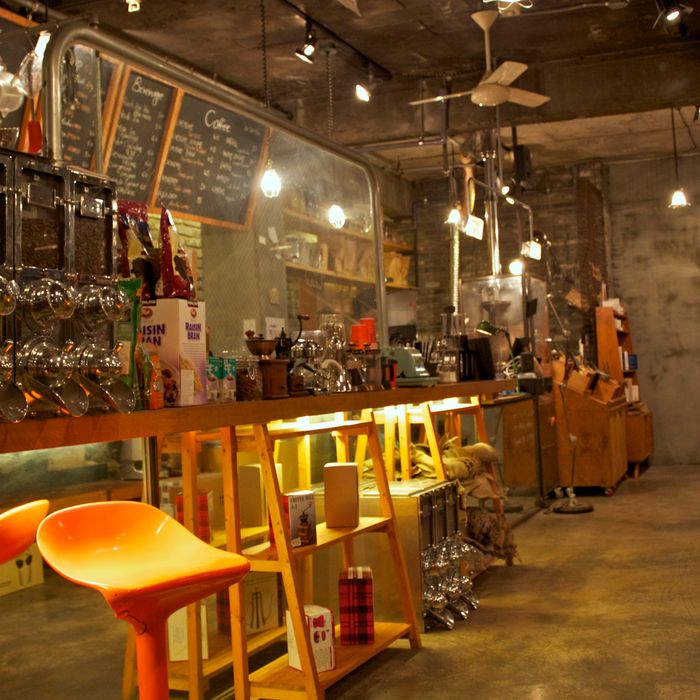 Maybe, but not necessarily, a Starbucks.
Photo: Chelsea Hicks/Flickr
The second floor of Macy's Herald Square flagship on its Broadway side is currently closed off to customers. Massive renovations are underway throughout the department store, and now it seems that Macy's is going to be the home of New York City's very first so-called "non-branded" Starbucks coffee shop. What is a non-branded Starbucks, you may ask, and what does all this mean for the future of humanity?
"Non-branded" means the coffee shop is bereft of its traditional logo and design. Freed as such, these Starbucks-owned shops replace that traditional green mermaid with lots of figurative narwhals and traditionally delve into coffee culture in a more serious way. The singe-location stores (sometimes called "stealth" or "mercantile Starbucks"), are usually named for the neighborhood in which they've opened, and all have same fine print posted on or near the front door and stamped on the takeout cups: "Inspired by Starbucks."
Inside, however, all rules are defenestrated: Pour-over and Chemex coffee may be served; there are no lucite-caged Vitamix blenders, nary a Frappuccino in sight. You can't buy the latest Putumayo sampler CD or the new Norah Jones at the counter, and the correct amount of milk is steamed to order for each cappuccino, never reheated. Pastries are sourced from local bakeries, not shipped from regional suppliers, and baristas are not required to follow a dress code, apparently. Maybe they're not even called baristas, we don't know. That's not important right now.
What is, however, is that beer and/or wine is served is served at these places. An application filed with the State Liquor Authority a few weeks ago for "Coffee House Holdings, Inc." d.b.a. Herald Square Cafe is our first glimpse of the future. Coffee House Holdings is the subsidiary the corporation uses when it opens its one of its non-branded or "mercantile Starbucks." Details are otherwise scarce.
It should be noted there are four (branded) Starbucks locations inside Macy's already, and as the new Herald Square Cafe is part of a three-year, $400 million dollar Macy's makeover that was announced last fall, its opening date is unclear. Other plans for the department store's flagship include the opening of a full-service restaurant on the sixth floor which will "provide stunning views of the Empire State Building and Midtown Manhattan" and also, the creation of the "world's largest women's shoe department."