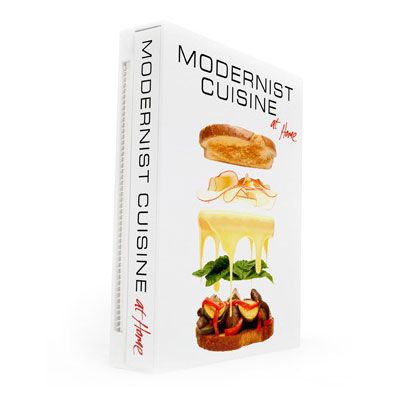 'Modernist' goes mass.
Photo: courtesy of Modernist Cuisine
Modernist Cuisine is, by all accounts, a critical and commercial success (or, at least, as commercially successful as a 50-pound, $600 cookbook about incredibly complex cooking methods can be — Fifty Shades of Grey it ain't). And now the team behind the book reveals what their follow-up will be: an at-home companion called, thoughtfully, Modernist Cuisine at Home.
True to its title, the book looks like a simplified version of the gigantic original. There's even a home-appropriate deconstructed sandwich on the cover.
The book still won't be small, exactly: It will be a single, 456-page volume and a separate 230-page kitchen manual printed on spiral-bound tear-proof paper (the original MC had a similar manual). The price: $115, over on Amazon.
So, what to expect? The book has 400-plus new recipes, all designed to be user-friendly: that means Modernist milkshakes, microwave sponge cake, new techniques for salmon and steak, and a much-simplified version of that striped omelette Nathan Myhrvold made during his first round of MC press appearances. Check out the full contents here.
And whatever you do, don't call it dumbed-down. This, per the new book's FAQ page: "The principles behind Modernist Cuisine at Home are fundamentally aligned with Modernist Cuisine — using a scientific understanding of cooking processes to achieve the ultimate version of a recipe."
Modernist Cuisine at Home [Official site]
Earlier: As If Nathan Myhrvold Needed to Get Richer, His Book Is Making Mega-Millions