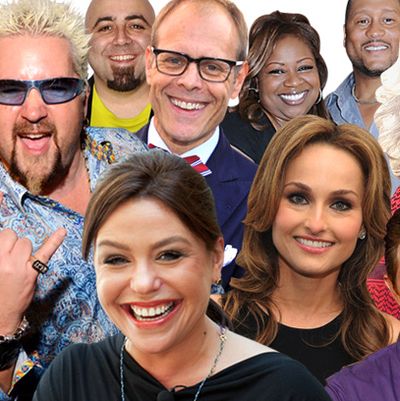 Host overload.
Photo: Getty Images, Patrick McMullen, Splashnews
No matter what you think of the Food Network, it's arguably the most influential and certainly the loudest voice in today's food-media landscape. With that in mind, we wondered what some of the country's more intellectual food lovers thought of the TV juggernaut. From time to time, we'll invite those people to watch a random, midweek afternoon hour of programming, and record their thoughts in the process. To help us kick things off: former New York Times restaurant critic — and never one to mince words — Mimi Sheraton.
Paula Deen has just retrieved a dish of chicken from the fridge and announced to the camera, "I have four big breasts here!"
"You have two big breasts," Mimi Sheraton says dryly. "Four would be a lot."
As Deen glops a spicy mayonnaise mixture on her four big breasts and uses her hands to spread the marinade around, Sheraton tsk-tsks. "Ugh, look at those rings!" The camera zooms in. Deen's enormous diamond rings, one per hand, are slathered. "Cooking with jewelry disturbs me. I always take mine off."
Moments later, Deen, still massaging her breasts, tells us that she was "the only mother that taught my 14-year-old boys to rub their meat." Sheraton pauses. "I don't know how I feel about that."
Sheraton, 86, rarely watches food television anymore, unless it's a PBS Sunday program — she particularly likes America's Test Kitchen and Kimchi Chronicles. But while she appreciates that food television as a whole gets people interested in cooking, she's not so keen on two specific sub-genres.
First up is what she terms "the cleavage crowd." When watching hosts like Giada De Laurentiis, Sheraton finds herself getting nervous: "When I cook, I know there is sputtering fat, and I know there are crumbs flying, and I wonder how much of it gets down there," she says. "I mean, you would never fry shad roe because it sputters so much!"
The other genre she can't stand: "confrontational" television, like Iron Chef or Gordon Ramsay, where the food preparation and talk are "ugly."
"The word fuck seems to have become very essential," she muses. "I believe it started with Anthony Bourdain, and now we have David Chang who seems to use it every other word, very consciously I believe." She adds, "I saw him on Charlie Rose and he never said it once. They must have warned him. He spoke like a perfectly normal, educated nice Queens boy. And I thought, This guy is a phony."
Chang isn't the only phony in Sheraton's book. She's not certain Deen's twang is even real — during a commercial she contemplates the possibility that when the cameras stop rolling, Deen might develop a Brooklyn accent. And a few minutes later, as Deen's son piles vegetables on the grill, Sheraton deems the recipe phony as well.
"I don't like grilled vegetables as a rule," she says. "Grilled zucchini gets very bitter, and grilled asparagus to me is a travesty."
Sheraton remembers the days of early food television, when, in the forties and fifties, she'd watch Dione Lucas, the English chef and first female food television host. Lucas's successor, Julia Child, transformed America's relationship to food, and Sheraton still keeps six taped videocassettes ("to show you how long I've had them") of Child's shows. "It's just wonderful to see how she handled the food," she says.
Back on the TV, Deen licks extra icing off her red-velvet whoopee pie with gusto. Sheraton doesn't miss a beat: "I don't know if you can eat that with diabetes, honey."
The other half of our Food Network hour is spent with Ina Garten, a personality Sheraton finds much more palatable: "There's something about her that looks nice and very convincing," Sheraton says, watching Garten make homemade batter for biscuits, which will become individual peach raspberry shortcakes. "There's something about her hands that makes me think she came out of cooking to do this. The others, I think, were personalities who went into cooking."
As Garten chops herbs for an herbed butter, to be served with radishes and sea salt, Sheraton gives her knife skills an approving nod — "She does it the way I do it" — and endorses her overall demeanor. "I love her face. She looks good enough to eat!" Sheraton even contemplates making the shortcakes herself. "Ina does delicious-looking food, not difficult, with a broad appeal, with just enough little touches to make it seem worth doing." A ringing endorsement.
But one thing about Ina's show irks her: When Garten and her guests sample some whipped cream, they moan in happiness. "You know what I'd like to see on TV? I'd like to see a cook put something in her mouth and say, 'Oh my God, back to the drawing board.' It happens to all of us."