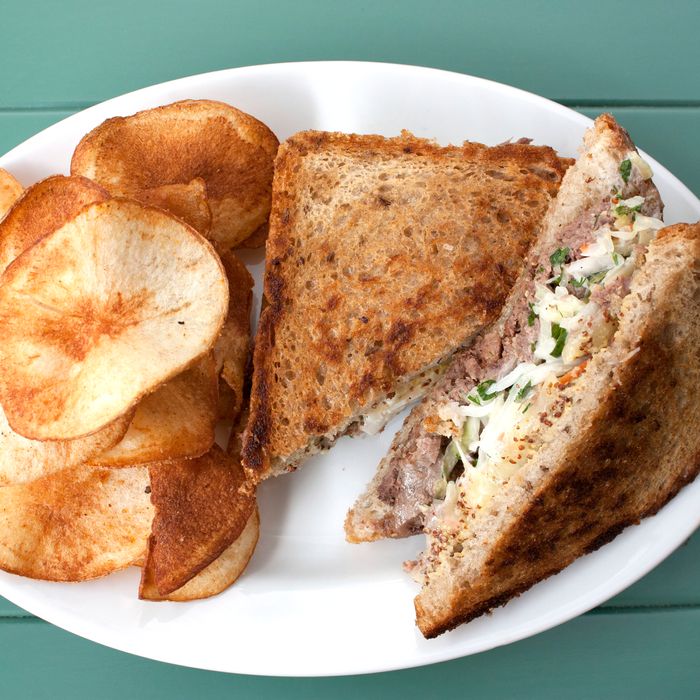 Photo: Michelle Feffer/New York Magazine
In the four years since Liza Queen closed her idiosyncratic Greenpoint restaurant, the Queen's Hideaway, nobody has quite managed to fill her quirky locavore shoes. She brings a similarly rootsy regional sensibility to Potlikker, now in soft-open mode for diner-style lunch, with a more ambitious preview dinner menu launching May 25 (both are being offered at a 25 percent discount), and the official opening slated for June 1. Named for the brothy remains of cooking collards or other sturdy greens, Potlikker is devoted to decidedly American fare, often with what the chef calls "rural and working class roots": New England boiled dinner, say, a meatloaf sandwich on a Parker House roll, or St. Louis pork ribs with cornbread upside-down cake.
Although the menu doesn't outwardly display any trace of the two years Queen recently spent living and cooking in Vietnam, the experience taught her that "the expectation of graciousness and quality can exist equally in the lowliest street stalls as well as the swankier restaurants." Not that there'll be any mistaking Potlikker's dining room for a Saigon back alley. The colorful, feminine design breaks tradition with Brooklyn-salvage chic, and comes courtesy of her sister, Samantha Crasco, who outfitted the guest rooms at Tribeca's Greenwich Hotel.
Potlikker, 338 Bedford Ave., nr. S. 3rd St., Williamsburg; 718-388-9808