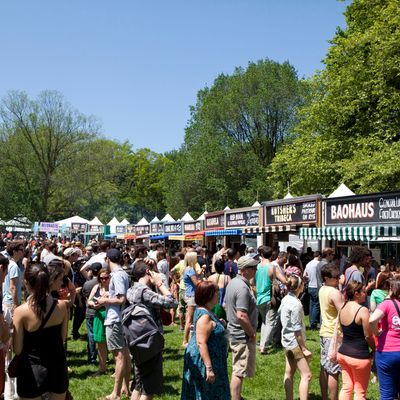 At least the weather was nice!
Photo: Nicole Franzen
The fallout from this weekend's seemingly disastrous GoogaMooga Festival continues: Jon Mayers from Superfly, the company behind the fest, tells Time Out that the group will issue full refunds to everyone who paid the $250 required for ExtraMooga VIP tickets. "We did not deliver on the promise we made for the ExtraMooga," Mayers tells TONY. "That's why we're going to make it right."
Mayers tells TONY that Superfly has every intention of heading back to Prospect Park next year for round two, but admits the company has "a lot to regroup on." He elaborates: "We will be evolving the whole pricing model, and taking a look at what the ExtraMooga experience really is."
So what's the damage going to be for Superfly? Mayers tells Grub Street that the company sold approximately 2,000 ExtraMooga tickets, which means they could be in for more than $500,000 in refunds if all ticket holders request one. "These are big, ambitious projects," he said. "And they can be humbling."
Details on how to get the refund are on the festival's official site.
The Great GoogaMooga: Refunds confirmed for all ExtraMooga ticket holders [TONY]
Earlier: What You Missed at GoogaMooga