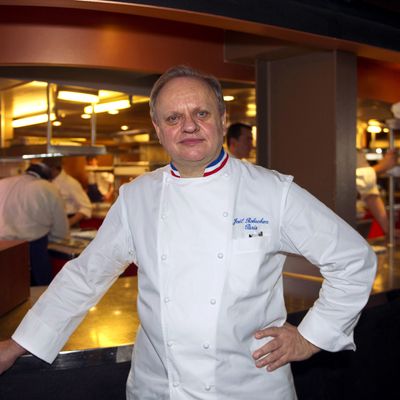 He might be packing his knives and leaving.
Photo: Bertrand Langlois/AFP/Getty Images
Chef and restaurant gossip tends to hit a flash point during the week of the James Beard Foundation Awards, and one recurring leftover from last week's festivities is the rumor that the New York L'Atelier de Joël Robuchon may soon close to make room for another super-deluxe restaurant. And now Grub Street gets word from a few people close to the situation who say The Four Seasons is shopping the space around.
According to our sources, the hotel's management has already approached a few local, high-powered chefs to gauge interest in the space; another source says the restaurant could close as early as next month. You may recall that the restaurant hired a new executive chef, Christophe Bellanca, in January, and one recently departed cook tells us that the mood in the kitchen these days is decidedly mauvaise.
We reached out to The Four Seasons to see what's up, but a rep would only say that L'Atelier "is open for business" and that its potential closing is "only a rumor." Fair enough, but if we hear anything different, we'll let you know. In the meantime, ne nous quittez pas, Joël!