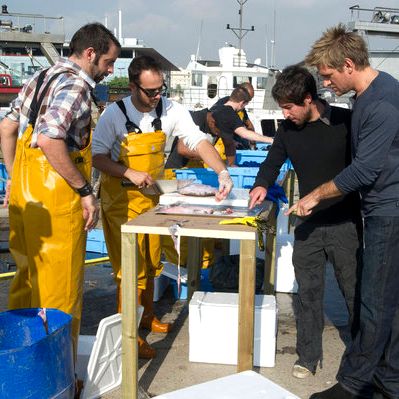 "You missed a spot."
Photo: Virginia Sherwood/Bravo
This week finds the chefs in Barcelona, Spain. Turns out Barcelona is a wellspring of memories for a couple of our friends: Nookie lived as a professional poker player (?!) in the city for a year, while Nicole once visited the city with her ex-wife, before her chef-related stresses tore her marriage apart; she's still heartbroken. And BAM — just like that, Nookie and Nicole are my favorite contestants.
After hearing these stories, Cheven decides to share a humorous tale about sleeping with a hermaphrodite — then admits he made up the story, just to be amusing. And BAM — just like that, my opinion of Cheven drops another 10,000 feet. Now James Cameron can investigate it in his submarine.
There's another one of ATWI80P's famous challenges, which is basically "Run as fast as you can from this place to that place." Red Team (all the guys, except Nookie) wins.
Curtis Stone administers the first food-related contest of the day: Our gang must fillet and break down three different kinds of fish, including something that looks like one of those rubber vomit patties you'd order from the back of a sixties comic book. (My chef friend tells me it's lungfish, then adds, darkly: "You don't wanna fuck around with lungfish.")
They also have to extract ink from squid! Ink is like gold in Europe, you see, because the Euro is collapsing.
Red Team gets right to it. Black Team (all the girls, plus Nookie) show up fifteen minutes later and scramble to catch up. Avery's family is from Alaska and she loves breaking down fish, so she's stoked. (My notes: "Avery looks incredibly sexy with all her tattoos, taking apart fish.")
Chaz doesn't seem to know how to fillet, so Cheven takes over. Per Cheven, Chaz is "a coattail rider" who knows nothing about fish.
Nookie, on the other fin, is a master fish-destroyer, and describes his monkfish deconstruction technique like so: "I take out the liver and chop off the head," which would be a great tagline for a vodka brand.
Nookie taunts the Red Team, who are fighting and squabbling like the famous squabbler squid of Madrid, the most argumentative delicacy in all of Europe.
Black Team extracts 3.88 ounces of ink; Red Team clocks in with 6.7 ounces. They win! Appropriately enough, Red Team's Exceptional Ingredient is the gamba roja, or the famous red prawn of Barcelona.
Because Barcelona only has one good restaurant (I guess), both teams will work in it. The place is called Dos Cielas, and it's really fancy. It even has a Michelin star, the best kind of star a restaurant can have. (Although by the time the light from the Michelin star reaches earth, everyone at the restaurant will have died.)
Dos Cielas is run by twins named Sergio and Javier Torres. They are close personal friends with José Andrés, a chef so famous and talented my chef friend said, "Whoa" with an intonation suggesting "Why is that guy appearing on this dumb show?"
The teams buy ingredients at La Boqueria, the famous market in Barcelona. They use the money they earned during the fish-gutting contest.
Nookie knows tons about this region's cuisine from his year as a professional gambler, so he takes the lead, although Jenna continues to display her mastery of foreign languages by yelling and barking at the shopkeepers in Spanish. Listening to her is like getting hit over the head with a shoe.
While Red Team shops, Chaz and Cheven keep cutting each other off. Nick observes: "Cheven does not ever stop talking, ever." Chaz is growing impatient and says there's too much fruit-smelling going on. (Not a euphemism.)
After the shopping expedition, everyone gathers at the hotel pool to chat and bond and introduce personal backstories that will further invest us in their fate. It turns out Avery has two daughters. She misses them! BOOM — I'm further invested in Avery. Chaz won a medal in the junior Olympics for the long jump! BOOM — now I love Chaz. Gary's dream is to build a time-travel device that can send him back to "Bible times" so he can reign as a God. BOOM — now I love Gary. (JOKE)
Meanwhile, crafty Jenna tries to enlist Nicole in a strategic alliance; the ol' "If you don't kick me off, I won't kick you off." This gives me Big Brother–recapping flashbacks, and I almost smash a wine bottle over my head in despair. Fortunately, Nicole refuses to play that game. BOOM — now I love Nicole.
Enough poolside chit-chat: Let's cook! Our teams move into the kitchen at Dos Cielas. Nookie and Cheven razz each other across the stainless-steel counters that serve as the DMZ. Chaz resents Cheven's over-solicitous team-leader act. (If we could just figure a way to harness the energy of Chaz's resentment of Cheven, our world's energy crisis would be solved forever.)
Jenna will run front of house for the Black Team. Apparently this entitles her to stand around with a notebook asking questions and getting in everyone's way while they cook.
Chaz is getting crazy amounts of grief for how long it's taking him to break down fish for the Red Team. Has Chaz ever cooked a fish before? He's pulverizing the thing like he wants to use it to grout a bathtub.
Before you know it, the diners arrive! (My notes: "The diners are all supermodels.") Cheven is supposed to be front of the house, but he's still in the kitchen, giving orders. (My notes: "Cheven sounds like Andy Dick.")
The diners can hear Red Team arguing because it's an open kitchen. (Restaurants sometimes do this to save money on walls.) The few times I've eaten at a restaurant with an open kitchen, I've never heard anyone raise their voice.
Sergio and Javier Torres arrive with José Andrés. My chef friend describes Andrés's cooking style thusly: "He'll do a dish of deconstructed tomato." As I try wrapping my head around that comment, Curtis Stone says he's really excited to be eating with these luminaries, and I believe him. He has a guileless, goofy grin on his face. Ah, Curtis. How you vex and charm me!
Red Team's first course is merluza crudo with gambas rojas, lemon aioli, and squid ink. (My notes: "Big red prawn thing with oils and droplets all over the plate.") Andrés is not impressed with the texture: It's "almost like baby food in the mouth."

Black Team responds with a tapas trio: chorizo croquettes, merluza crudo, and stuffed dates with ham. Diners love the croquette. (I'm not surprised; one of the few meals I remember eating in my life was the first time I ate chicken croquettes in Barcelona — they were amazingly delicious.)
Red Team brings out monkfish with white beans, monkfish-liver mousse, and chorizo. It all looks like old hummus to me.The beige factor is off the charts. Not appetizing. But the diners love it. Red Team nailed the cooking of the monkfish!
Black Team offers up serrano-wrapped monkfish with liver, sautéed greens (I look in vain for any sign of kale), and pan con tomate. One diner's verdict: "The salad is burnt." I don't know much about cooking, but I know this is rarely a good verdict. Also, why did they cook the ham? It's too dry now. (My chef friend knew it was a mistake to cook the ham; he takes a little victory lap as I type.)
Dessert will be the tie-breaker! Liz (Black Team) wasn't able to brulée the custard; she bruléed the figs instead. Jenna is "beyond frustrated" and "freaking out" because of this — it defies the menu description, so she must do damage control. Liz is crying because she screwed up the dessert. Nookie and Avery are disgusted with her emotionalism.
Red Team' dessert is cava sabayon, cake crumbs(!?), marconas, and fresh fruit.
Finally the meals are deposited inside the flat and flawless bellies of the supermodel patrons, who have enjoyed themselves. It's interrogation time!
Curtis and Cat start right in: Red Team, what's up with the crudo? Chaz gets defensive about his over-mashing of the fish. In other Red Team fish news, Curtis and Cat thought the monkfish was perfect.
Black Team is praised for their croquettes. But why did they wrap the monkfish in Serrano ham? Nookie takes the blame. Liz is relieved to hear that the diners enjoyed her whackadoodle dessert. I think she dodged a bullet.
The winning team, by a margin of two votes: Black Team! The girls beat the boys. And Nookie wins most valuable chef.
Red Team must now smash and tear each other apart like the fish. It's a frenzy of accusation and self-justification. As I mentioned last week, this is my favorite part of the show, because all of a sudden they start using technical terms to justify their decisions: "It never should've been called a mosaic — it should been a ceviche with a crudo twist because you par-broiled the lime/fig reduction, you idiot!" (Or whatever.)
Okay Red Team, enough technobabble: Who's getting the boot? Cheven votes for Chaz; Chaz votes for Cheven. No surprise there. Then Nick axes Gary! Gary chooses Cheven, as does John. I'm stunned: The series bad guy has been kicked off the show! Who will we loathe and despise from here on? A weepy Cheven insists he lost "not because of my failure, but because I'm too much of a force of nature," which almost makes me feel guilty for hating flash floods and tornadoes.
The remaining chefs are told where they'll be traveling next: Morocco, where they will cook a three-course dinner made entirely of hashish. (JOKE)
See you next week!