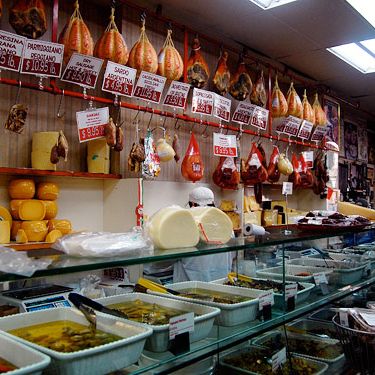 More hanging ham for the neighborhood.
Photo: Patrick Siggins
If you've ever visited the compact storefront of standout Italian importer D. Coluccio & Sons in Bay Ridge — a favorite among chefs like Andrew Carmellini — you've no doubt been impressed by the bins of baccalà and mini-kegs of castelvetrano olives. Perhaps you've even raced a cutthroat gang of nonnas to score the best wedge of grana padano. (For the record: Grub Street would never do such a thing.) If this describes you, you'll likely be thrilled: The Brooklyn Paper is reporting that a new Coluccio will soon open a second shop in the heart of Bay Ridge, at 86th Street and Third Avenue (awfully close to the newly closed Gold Coast Deli). [See update, below.]
Michael Kogan, who cooked at Blue Hill and Eleven Madison Park and is currently the consulting chef at newish wine bar the Owl's Head, will oversee prepared foods. He tells us the new Coluccio shop's menu has not been finalized, but will likely include porchetta, roast chickens, panini, and salads. There will also be coffee and frittatas in the morning, espressos in the afternoon, and a vibe to match.
Update: A rep for D. Coluccio writes in to let Grub Street know that the new spot, A.L. Coluccio, won't be affiliated with the current shop: "[W]hile there is a blood relationship between the respective owners, there is no business connection whatsoever between the two businesses."
It's food gossip time! [Brooklyn Paper]