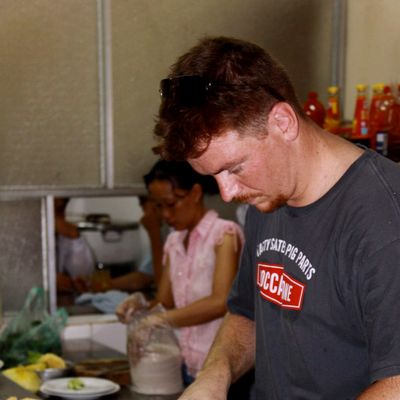 Gallagher, at work in Vietnam.
Photo: Courtesy of Cornelius Gallagher
In April, Cornelius Gallagher opened Dragonfly on the Upper East Side. The opening was a homecoming of sorts for the chef, who first garnered acclaim during his time at the original Oceana. But it's been six years since he left the restaurant. Roughly eighteen months ago, while traveling through Asia, Gallagher fell so in love with the food that he made it the focal point of Dragonfly's Asian–influenced menu. We caught up with the chef to see how his first month in business has been, and to get his take on the trip that changed his career.
How's the opening been?
It took a lot of work to actually get it open. [The space] had been a Mexican place for 28 years, and I did the new design and systems by myself for the most part. I even ran the cable. It was killing me and I broke down and got some help at the end, but I saved money and learned a lot along the way. We've been very busy so far, mostly with local people. We are aspiring to be a local place with tasty food.
Tell me how you first came up with the idea of an Asian restaurant.
I first fell in love with Asian flavors when I worked with Gray Kunz in '97; I learned to blend spices and contrast textures. Then, I went on a road trip to Vietnam, Hong Kong, China, and Thailand and I've never before been impacted so deeply. I got so immersed. It changed the way I look at Asian food.
What was the most impressive restaurant?
We started at Yan Toh Heen in Hong Kong, which is Michelin starred. I was eating a shaking beef — called that because it shakes when placed on a hot rock — served with golden coin turnips. The people at the next table were served a Peking Duck. The fat was completely rendered, and the skin was served as a separate course; it was stunning. I stared so hard that the table sent over a piece of skin to our table and then we ordered it ourselves. It was the best duck of my life.
We had shark fin soup in China, which was very gelatinous; more texture than taste. Flower crabs were delicious, in a sauce made with yellow wine and crab innards, but we paid about $200 for them. Things are so fresh. A truck rolls in with buckets of water — everything arrives live. You can choose your fish while it is still swimming.
Any surprises during the trip? Things you weren't expecting?
My friend Jason Casey, who I worked with at Daniel, had been the pastry chef at Jean Georges Shanghai. He brought me to a strip joint because he said they had the best pork knuckle. It was amazing. The skin was paper thin, blistered, and crispy, and we ate it with our hands.
The trip wasn't only about being a customer, right? I heard you worked in a few kitchens while you were there, too.
Yes, and I got to make rice paper in a hut on the side of the road in Vietnam. They had canvas drums that fit over boiling water, and there were two old ladies inside a hut with a bucket of rice milk. We spread it over the drums like sauce on a pizza, and after it cooked for a minute we would roll it off the drum onto wicker strips that look like room dividers, and let the rice paper dry in the sun. I also made thin rice-milk crepes at Banh Xeo in Ho Chi Minh City, and cooked lunch in a restaurant along the Mekong delta.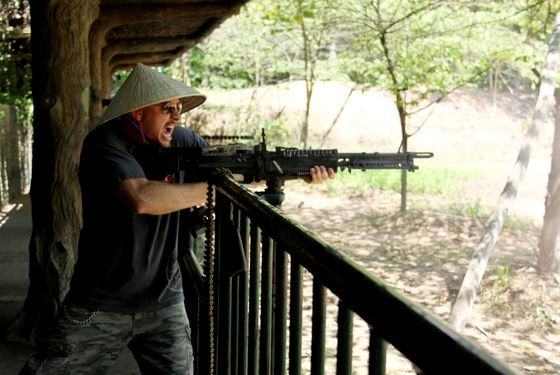 Gallagher, with an M60 in Vietnam.Courtesy of: Cornelius Gallagher

And you of course got to try all the street food, right?
Yes. There were outdoor woks filled with wood. They had holes in the bottom where hair dryers would blow air to stoke the flame. The heat that generates is unreal.
We went to Jay Fai, which is supposed to have the best street food in Bangkok, and the chef was cooking alone on two woks at once. She threw an egg on one and the wok was so hot that the egg souffléd up to the size of a softball. She also made millionaire's crab, which is called that because they use so much crabmeat.
Any ideas you want to use at Dragonfly?
We had live mantas prawns. They were swimming around a tank, and each had about 50 legs; they looked like snakes. I've been speaking to purveyors, trying to get them here for satay, which would be cool because they are so long.
There was pork neck cooked over charcoal that had great flavor, and I sourced it for Dragonfly from Mo Se Fund farms. And I'm trying to get fresh durian.
How has the restaurant's menu changed since you opened?
I've been tweaking things. I've just added a whole branzino wrapped in baby bamboo, stuffed with lemongrass, Thai basil, and kaffir lime leaves, served with shredded vegetables in fish sauce, and garnished with mint and basil.
I'm also now doing head-on jumbo shrimp rolled in chopped phyllo with yuzu remoulade.
Any souvenirs in the restaurant from your travels?
Yes! There is a bottle of cobra-and-scorpion snake wine on the bar. The creatures are actually floating in the alcohol. Diners are always trying to grab the bottle.
Earlier: Cornelius Gallagher Returns to Manhattan With Dragonfly