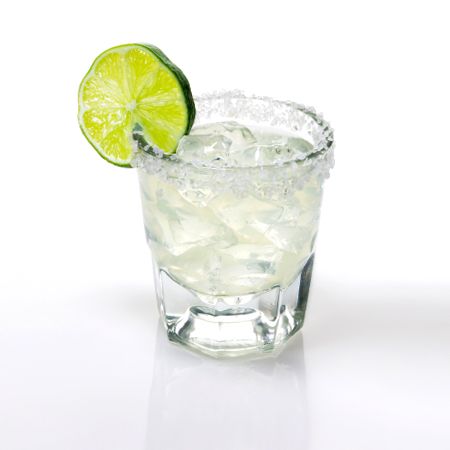 Derby Day vs. margarita day.
Photo: iStockphoto
With Cinco de Mayo and the Kentucky Derby falling on the same Saturday, you're probably conflicted about where and what to booze on. Fear not! We've done all the hard work for you, comparing the various specials around town and prescribing a holiday to celebrate depending on whether you're feeling dressy, hungry, broke, etc. Your livers won't thank us, but you will.
• Budget Drinking
Derby Day: Mable's Smokehouse is offering $5 Maker's mint juleps, bourbon specials, barbecue, and Derby pies, all of which should sufficiently fill you up, even if you don't have the budget for a bespoke hat.
VS.
Cinco de Mayo: Tortaria's specials couldn't get much cheaper. Nearly their entire bar will be priced at $5. That's "real-deal" marg pitchers and Mexican beer.
Winner: Cinco de Mayo, because bourbon juleps aren't for everyone, but el cheapo margaritas and beer most definitely are.
• High-End Drinking
Derby Day: With cocktails averaging $16 and entrees around the $40 mark, classy new Saratoga Springs import Siro's has both an upscale vibe and the pedigree of its original horse-racing location.
VS.
Cinco de Mayo: Ritzy Forty Four at Royalton is offering tequila cocktail and small-dish combos, house DJs, and surprise live performances throughout the evening.
Winner: Derby Day, because if you're feeling fancy, there's nothing better than donning a hat and hanging out with horse people.
• Most Interesting Food Special
Derby Day: Stone Rose Lounge will serve chef Marc Murphy's batch of Southern specialties, including honey-baked ham biscuit sandwiches, lobster truffle mac-and-cheese, Derby pie, and more.
VS.
Cinco de Mayo: Dos Equis and iadventure will host an exclusive holiday food-truck festival, featuring over fifteen trucks parked across the South Street Seaport, each serving at least one Cinco de Mayo–themed menu item.
Winner: Cinco de Mayo, because what could be better than a Mexican holiday food-truck festival?
• Dress-Up
Derby Day: Given the day's penchant for pastels, seersucker, and ornate headwear, plenty of bars are having costume contests. The Plaza's Rose Club has them all beat with their "Best Hat" competition: The winner scores special-edition Woodford Reserve Kentucky Derby bourbon.
VS.
Cinco de Mayo: Tacombi will host a costumed military ball to celebrate what Cinco de Mayo's really about, the Battle of Puebla. Guests are encouraged to dress like it's 1862, representing either French or Mexican forces.
Winner: Cinco de Mayo, because monocles, moustaches, military garb, and bullet belts are way cooler than Easter colors and pleated pants.
• All-Day Drinking Potential
Derby Day: Williamburg's Maison Premiere will kick off their Derby Party at noon on Saturday, complete with a specialty julep menu. The best part? The specials don't run dry till 8 p.m.
VS.
Cinco de Mayo: Most barroom fiestas will launch in the evening, but Maya will start serving shots of over 150 different tequilas starting at 3 p.m.
Winner: Derby Day, because the event was practically created for an excuse to start boozing in the afternoon.
• Most Festive
Derby Day: With a restaurant named Seersucker, you figured they'd be built for Derby Day festivities, and it's true. The eatery will debut a mint julep menu, throw a costume contest, and even broadcast the race in old-timey fashion via radio.
VS.
Cinco de Mayo: La Esquina will deck out both their locations in celebratory fashions come May 5. Mariachi bands, trays of tequila shots, themed DJs, and more will fill each indoor/outdoor space to the brim.
Winner: Cinco de Mayo, because on Saturday night, you want a party where you can let loose, not button up.
• Hangover Potential
Derby Day: Pitchers of anything make for surefire morning-after headaches, which makes Lowcountry's discounted ginger julep pitchers so tastily dangerous.
VS.
Cinco de Mayo: The Wayland knows how to celebrate the fifth of May the right way, and by that we mean they'll be using tequila and mezcal only in every one of the drinks on their cocktail menu.
Winner: Cinco de Mayo, because agave always inspires a special brand of hangover.