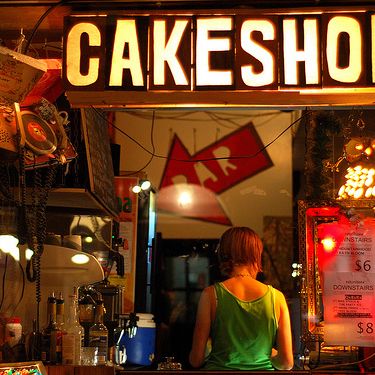 "We never seem to have any breathing room," says co-owner Nick Bodor.
Photo: Courtesy Cake Shop
Following the news that Cake Shop was in danger of shutting down, we popped by yesterday and were pleased to find business as usual. Co-owner Nick Bodor confirmed that several generous individuals had assisted with the $10K the café-bar-music-venue needed to avoid closing Monday, but that the LES fixture is by no means safe yet. Because of some real-estate taxes the landlord is passing on, plus fines and legal fees, Cake Shop needs to come up with almost $50K by June 20, or it could be curtains. "We're looking for an equity partner," Bodor said. "We want to sell a part of the company off to the right partner."
Aside from taxes, Bodor says costs are up and revenue has been down owing to recent policy changes for Lower East Side bars (which we've delved into a bit on this blog). The venue now must have a rope and security outside each evening to insure no underage folks get in. They used to let minors into the café at all hours, but can't take the risk that a bartender fails to check someone's ID. So "now you have to be 21 to buy a piece of cake," Bodor laments. Increased requirements for IDs also mean that foreign driver's licenses don't pass muster (passports only), which causes Cake Shop to turn away tourists, a loss since "we're in every edition of Let's Go!" Bodor says.
Should an investor or investors step forward, Bodor and his business partners have some more ideas in the works. They "would love to grow into S.F., London," and they hope to make cake-shop.com a Pitchfork-ish music site. "We've been filming bands with high-def cameras" and posting video on the site, he told us. A crowd-funding campaign of some sorts is in the works. Meantime, if you're interested in pitching in, e-mail cakeshopusa@gmail.com.