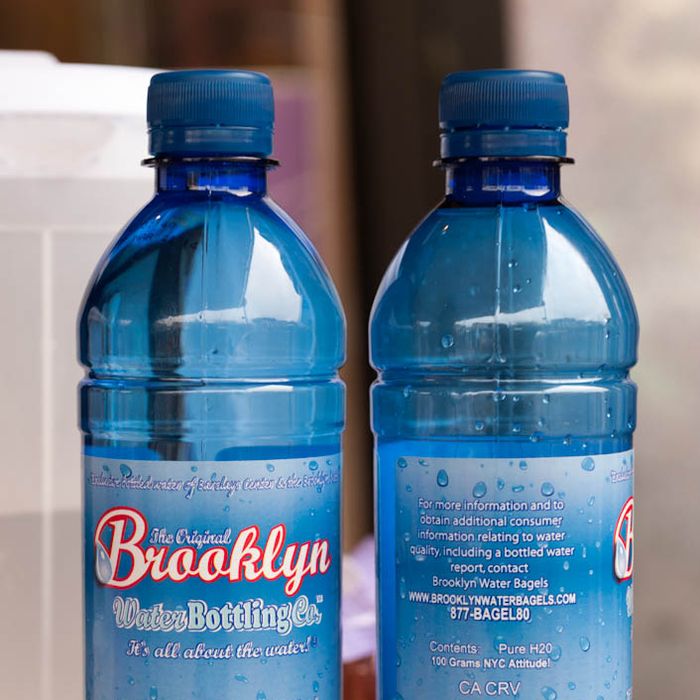 Not actual Brooklyn water.
Photo: Tracy Collins
In March, we first learned the official water of the new Barclays Center in Brooklyn would be produced by the Original Brooklyn Water Bottling Company … which is based in Boca Raton, Florida. The water itself is "Brooklynized," which the company says is marketing schtick a process that makes the water taste more like water that's actually from Brooklyn. I managed to get my hands on some and took to the streets of Kings County to see if the borough's residents could tell the difference between the bottled stuff and New York City's beloved tap, and to find out which one they preferred.
On Wednesday afternoon, I set up a testing station — paper cups and two unmarked pitchers, one containing tap water, the other full of the bottled "Brooklynized" water — on Flatbush Avenue near the Seventh Avenue stop. (As I discovered during the 90 minutes I was out there, it was far easier to attract the 13-and-under crowd than it was to convince suspicious adults to even stop walking.)
The stats: Five out of seven of the the 17-and-over crowd correctly ID'd the bottled water. John Holder of Crown Heights said he preferred tap "because I know the flavor." Two 17-year-olds, Nichezraa F. of Carnarsie and her friend Elom A. of Flatbush, also got it right, saying the bottled water tasted, in Elom's words, "cleaner" than tap.
By contrast, Greg Milner of Prospect Heights, a devotee of real eau de Brooklyn, passed the test but deemed the bottled water as having "a harshness." And Marcos Reyna of Prospect-Lefferts Gardens found an aftertaste in the tap water, even though he originally thought it was the bottled water.
Among those 13-and-unders, six identified the tap water correctly — but seven got it wrong. Those who nailed it variously said tap water had "more minerals" or was "bitter." Among those who couldn't correctly tell the tap from the bottled, many thought the bottled (which they thought was tap) was cleaner. (Then again, youthful palates may be undeveloped: one pre-teen said she preferred the choice that was "colder.")
Seeking more adult input, that evening I hauled my bottles, pitchers, and dispensary cups to a meeting at Brooklyn's Borough Hall — a captive audience. Among eleven adult testers, seven got it right, calling the bottled water, on a positive note, "cleaner," or, less enthusiastically, "processed."
For those keeping score at home, twelve of the eighteen adults I tested could tell the difference between tap and bottled, and so could six of the thirteen people aged 13-and-under. As for which water the participants preferred, the group was split about 50/50. But perhaps the most telling tasting note came from one participant who, due to his service in government, asked to remain anonymous. He accurately identified the tap water and declared it redolent of "the pipes of Brooklyn." He preferred it because "it feels like home."
Earlier: Brooklyn Arena Will Sell 'Brooklynized' Water, Formulated (and Facing Legal Scrutiny) in Florida