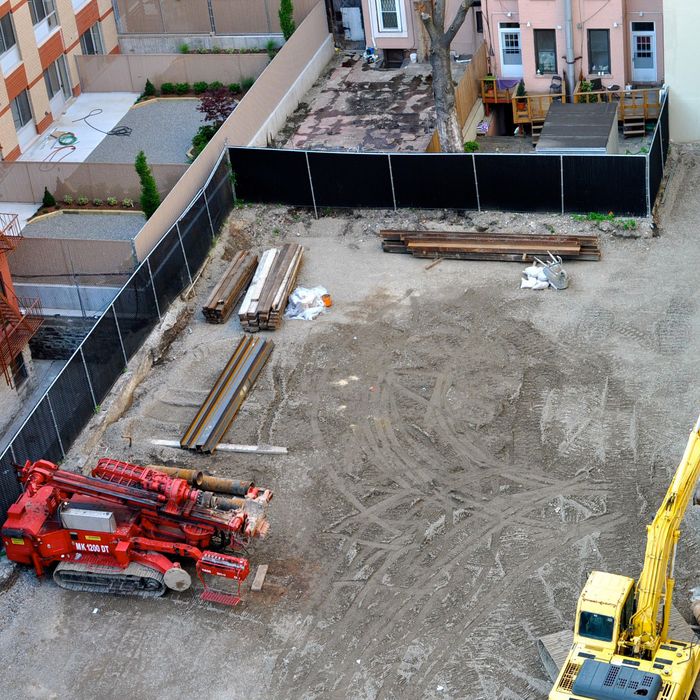 On East 117th Street, a place for riblets.
Photo: Hugh Merwin
The "no place like the neighborhood" chain has found its newest New York neighborhood to colonize: Applebee's will open its fourth Manhattan location on East 117th Street, near Pleasant Avenue, this fall. The future home of riblets and sizzling chicken fundito is currently an empty and dusty lot adjacent to the big-box retail hub that is the East River Plaza, but don't be fooled — northern Manhattan is ceding rapidly to big franchises. Earlier this month, blogger Harlem Bespoke noticed that Red Lobster, set to open next to the Apollo, has already initiated its liquor license application process though almost no construction has occurred on-site. Similarly, while no building exists yet at the future Applebee's, at 509-513 East 117th Street, its future operators have already initiated their own licensing process.
According to sources, the new Applebee's will be LEED certified and, paradoxically, the new Applebee's is blocks away from Rao's, one of the world's most exclusive restaurants.
It's easy to understand why Applebee's continues to expand in the city: Last year the Times reported that metro-area locations routinely gross double the Applebee's nationwide average. Franchiser Zane Tankel, co-owner of 34 regional Applebee's, told the paper that the Times Square restaurant is the single largest-grossing location for the company, with $13.5 million in annual revenue. Perhaps Applebee's East River should ditch its "There's No Place Like the Neighborhood" slogan for something more accurate, like "There's Actually No Other Place in the Neighborhood to Eat."